The Sweet Reason Meghan Markle Shows Prince Harry This Extra Display of Affection
Meghan Markle often holds tight to Prince Harry when they hold hands. Find out the reason for their sweet PDA.
It's so sweet to see Prince Harry and Meghan Markle holding hands, but fans have noticed something a little extra that Markle does — she not only holds her husband's hand, but she typically holds on to his arm as well.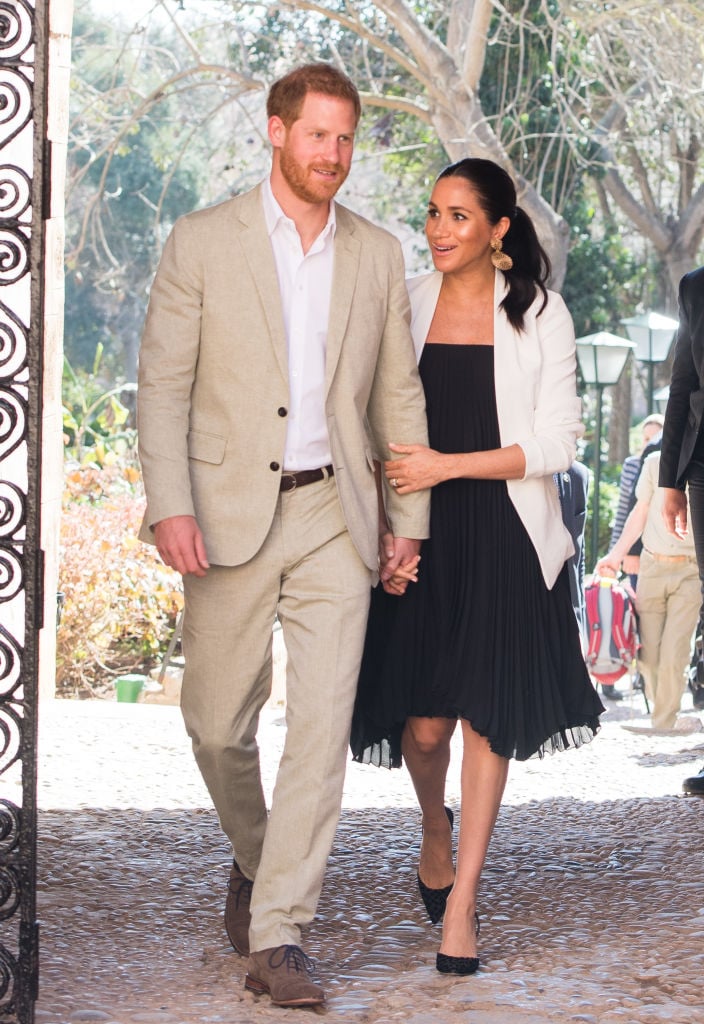 Prince Harry and Meghan Markle often hold hands publicly
There's no denying that Prince Harry and Meghan Markle are pretty into each other and that extends beyond just holding hands in public. They've never been shy about public displays of affection since there are no royal rules that prohibit them from doing so. They do, however, keep their PDA pretty low-key.
Markle has an interesting way of holding on tight
Beyond the hand holding, however, Markle is often seen using both of her hands, one to hold Prince Harry's hand and the other to hold on to his arm.
The reason why, according to a body language expert, might be surprising. Judi James analyzed the affectionate gesture, and explained why Markle does this, telling HELLO! Magazine: "With her royal role profile firmly established she has adopted a more stand-alone look, either attending events by herself or taking the lead when she is with her husband."
She continued: "This hand and arm clasp suggests a less secure trait though as she tucks in behind Harry's arm, holding both his hand and placing her free hand on his lower arm, gazing up at him as though seeking attention and/or reassurance."
Further analysis of Prince Harry and Meghan Markle's display
During their recent trip to Morocco, Markle was seen holding on to Prince Harry's arm quite a bit, as James noted: "The pose focuses the attention back onto Harry while making him look rather more alpha as he walks ahead with his chest splayed."
On the other hand, James explained that holding Prince Harry's arm might have been for a slightly different reason when the couple were interviewed following their engagement. The body language expert noted: "During their engagement interview Meghan even used her left hand to gently rub Harry's arm in a gesture of reassurance so this pose could be more about boosting his confident profile than her own."
Is the gesture calming for the couple?
Last year, Jane Greer, Ph.D., relationship expert and author of What About Me?, took a closer look at Meghan and Harry's body language on multiple occasions and noted that the way Markle holds on to her husband is a way for Prince Harry to calm her nerves.
Greer told Women's Health magazine: "Even while engaged in the crowd, they remain connected to one another." When Markle holds on to Harry's hand and arm, it's believed that she finds some comfort and calm in this connection.
Greer further analyzed their public affection and explained that Markle is "open to sharing their intimacy with the world," adding that, even with cameras on them, "she is relaxed enough to be publicly demonstrative with an intimate gesture."
One small body language clue that the couple are connected
Since the Duke and Duchess of Sussex are photographed often, it's easy to pick up on some of their body language, including their close connection, as Harry is often seen making sure his wife is by his side. Greer said of this: "He never leaves her behind even if he is a step ahead. He remains connected."