Prince Harry, Meghan Markle, Prince William, and Kate Middleton's Body Language at Commonwealth Day Service Showed Tension, Expert Claims
Prince Harry and Meghan, Duchess of Sussex attended their final royal engagement at the Commonwealth Day service and all eyes were on the couple as they reunited with Prince William and Catherine, Duchess of Cambridge. There wasn't much to see, however, as royal fans witnessed what appeared to be a rather icy exchange between the two. One body language expert broke down the Fab Four's reunion and the obvious tension between them.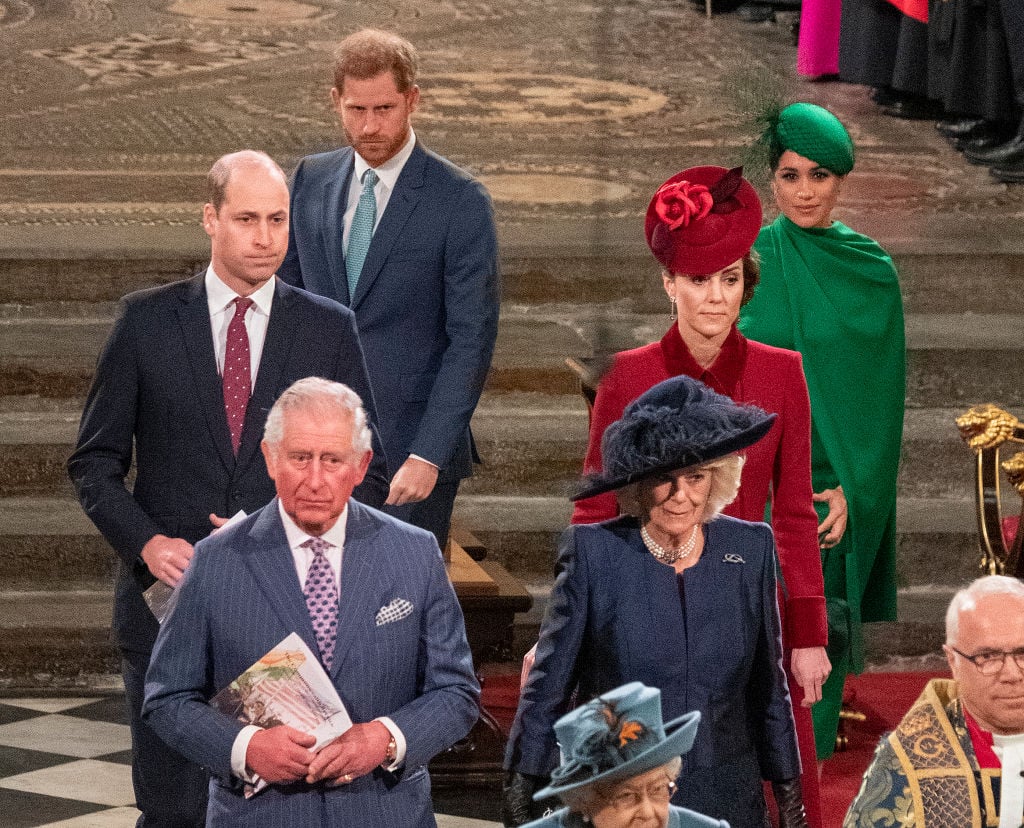 The couples greeted each other but it was brief
Neither the Sussexes nor the Cambridges participated in the Commonwealth Day service procession, but instead were shown to their seats, with Prince Harry and Meghan sitting in the second row with Prince Edward and Sophie, Countess of Wessex. Prince William and Kate sat in the front row.
It appears that Meghan mouthed "hi" and gave a small wave to Prince William and Kate, and said "hello" as Harry also said "hello" and smiled. There wasn't much warmth reciprocated, however.
Was there tension between the couples?
Body language expert Judi James believes that Harry's "tension was palpable" when Prince William didn't greet him.
"It wasn't the warm reunion that we were all hoping for," James shared with The Mirror. "The tension in Harry's body language especially was palpable. When Harry arrived, the minute he and Meghan had to drop hands, he immediately reached for his wedding ring which is a self comfort."
She continued, "Even when she was beside him after they had stopped holding hands, he was missing her, needing her support."
"As Harry walked up the aisle, they both waved at the children, but his face otherwise was quite tense and unsmiling," James added.
"Harry and Meghan looked a lot more genuinely cheerful, and Harry especially, threw a really affectionate smile at Kate," James explained. "As they took their seats Harry threw Kate an open-mouthed smile and 'hello' of what looked like genuine pleasure and Meghan raised her brows and smiled in an equally friendly ritual."
The greeting wasn't the same for his brother, however, as James noted, "But when it was William, you could see Harry was slightly more rigid and his lips were closed."
The Sussexes seemed more relaxed afterward
James believes that, once Prince Harry and Meghan were away from the other royal family members, they appeared more relaxed. "With the other royals gone Harry and Meghan became an animated, tactile double-act again," she noted.
She continued, "Laughing and joking with the people outside, Harry's relief looked so tangible that his sudden eyes to heaven and raised hands looked awfully like a signal of thanks."
"He became animated and far more relaxed and holding Meghan's hand again he looked like a man who felt he's got the most difficult moments over and who could now return to being 'Just Harry' again with his wife and son," James concluded.
Perhaps with their last royal engagement behind them, they were feeling the weight of all of the exit drama had finally been lifted.