Prince Harry and Meghan Markle Reportedly Planning On Spending Christmas With Queen Elizabeth as Concerns About Her Health Grow
ARTICLE HIGHLIGHTS
Prince Harry reportedly went into a panic when he learned of Queen Elizabeth's hospitalization.
Harry and Meghan have not returned to the United Kingdom together since they became a family of four.
Meghan Markle and Prince Harry are reportedly planning on spending Christmas with Queen Elizabeth as her doctors order further rest.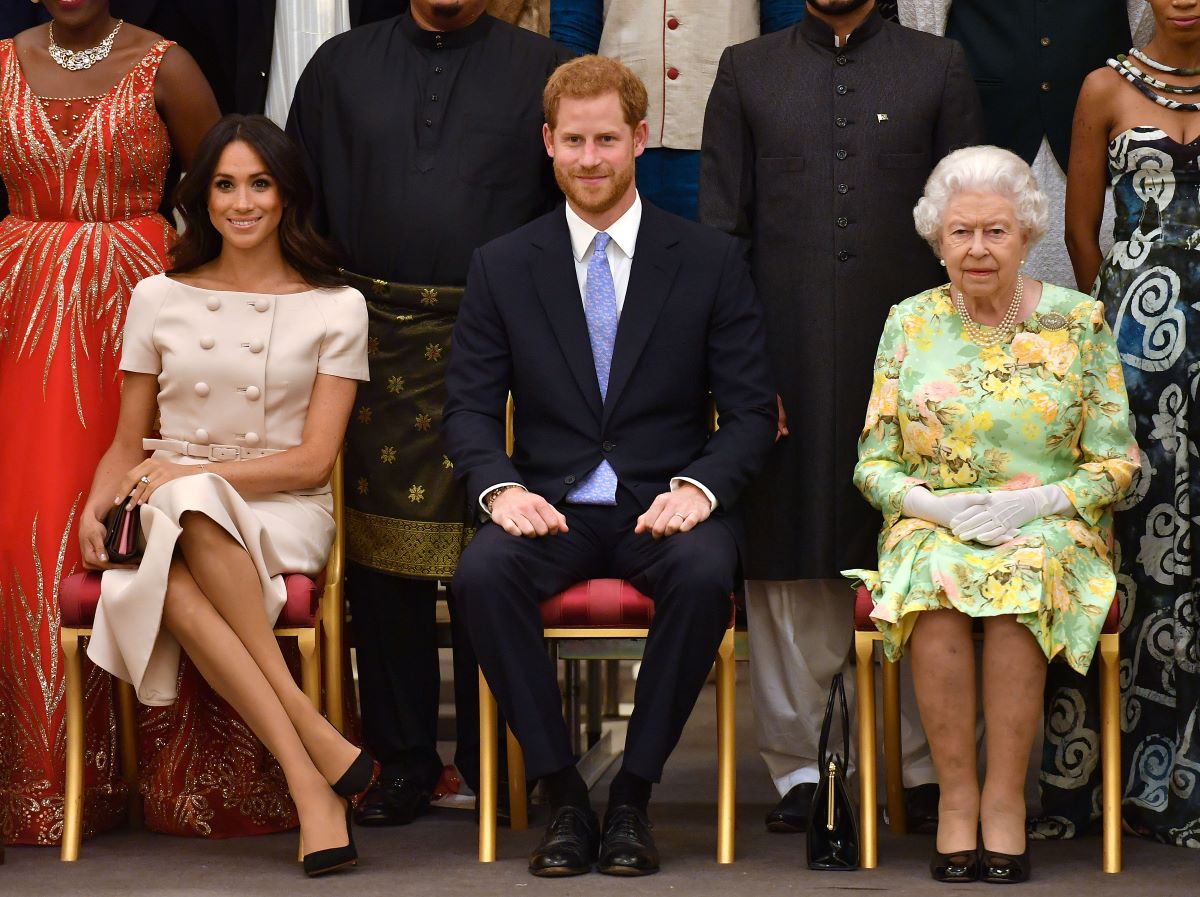 Prince Harry and Meghan Markle have never been to the UK together with both of their children. The family of four — which now includes son Archie Harrison, 2, and daughter Lilibet, six months — have mostly remained at their new home in California since the famous Megxit in early 2020. The only exception being Harry's trip home when his grandfather, Prince Philip, passed away in April.
Now, rumors are starting to swirl that Harry and the Duchess of Sussex are planning on taking their children to Sandringham to spend Christmas with Queen Elizabeth. As concerns about the 95-year-old monarch's health continue to worsen.
Prince Harry was in 'panic mode' after learning of Queen Elizabeth's hospitalization
In mid-October, Queen Elizabeth canceled a number of engagements and was taken to the hospital, but the palace hasn't given any specifics as to why. According to Us Weekly, when Harry found out about his grandmother's health situation, he went into "panic mode."
"He felt helpless being 5,000 miles away in Montecito, [California,] and has been checking-in non-stop with her," an insider dished.
The source added that the 37-year-old prince still "feels guilty about not saying goodbye" in person to his grandfather before he passed.
Doctors have advised Her Majesty to rest even more
The queen canceled her trip to Northern Ireland because her doctors advised her to rest for a few days. According to Buckingham Palace, she reluctantly accepted the medical advice.
"Her Majesty is in good spirits and is disappointed that she will no longer be able to visit Northern Ireland, where she had been due to undertake a series of engagements today and tomorrow," the palace statement read.
Royal reporter Omid Scobie revealed that Her Majesty spent the night in the hospital on October 20 to undergo "preliminary investigations."
Prince Harry and Meghan Markle are reportedly spending Christmas with the Queen
Because of Harry's regrets over his grandfather, the insider says that he will not let the same thing happen with his "beloved grandmother" because he "would never forgive himself."
The source shared that Harry is "hoping to go back home for Christmas with Meghan, if not before."
His hope is that Queen Elizabeth will finally get to meet her great-granddaughter Lilibet. And also see Archie for the first time in more than a year. It's also possible that this could be Harry's last chance to spend the holidays with his grandmother.
According to Cosmopolitan, royal biographer Angela Levin says that if Harry and Meghan do make the trip across the pond, it will make the holiday "difficult" for the Mountbatten-Windsors. The royals still have trust issues when it comes to Harry and Meghan.
The royal family is nervous about a possible Netflix documentary and Prince Harry's memoir
According to Levin, the two things that the royal family is concerned about are Harry and Meghan's rumored Netflix documentary, as well as Harry's upcoming memoir. Queen Elizabeth might be happy to see Harry, but that might not be the case for the other royals.
"The Queen would be delighted because she adores Harry — and also, you love a child even though you disagree with everything they are doing –but I think for the other royals, it is quite a stiff time where everybody has a very explicit diary of changing five times a day and what they have to do at what time," Levin told The Sun.
"I think it will be very, very difficult if they come over because the feeling is you can't trust them and they might use this for their next documentary or for his next book."
Queen Elizabeth is currently resting at Windsor Castle
Her Majesty is still following her doctor's advice and resting easy at Windsor Castle. Instead of appearing at the COP26 in Glasgow with other world leaders, the queen addressed the delegates in a recorded video.
She's also conducting her weekly meetings with Prime Minister Boris Johnson via telephone instead of face-to-face. However, Queen Elizabeth did make an appearance at a reception for the UK's investment summit last week. Her Majesty welcomed Prime Minister Johnson, Bill Gates, and other guests.
Her Majesty is expected to take part in Remembrance Day this month. But, future public appearances will most likely become rarer.