Prince Harry and Meghan Markle vs Prince William and Kate Middleton, Which Royals Have a Higher Net Worth in 2021?
Prince Harry and Meghan, Duchess of Sussex left their jobs as working royals last year. What is their net worth compared to Prince William and Catherine, Duchess of Cambridge?
When Prince Harry married Meghan, Duchess of Sussex, people had high hopes that the pair would join forces with Prince William and Catherine, Duchess of Cambridge. Sadly, the Fab Four, as the two couples were affectionately named, was a short lived fantasy. Now that the couples are living completely different lives, who is worth more? Is Prince Harry and Meghan's net worth higher than his brother and sister-in-law's?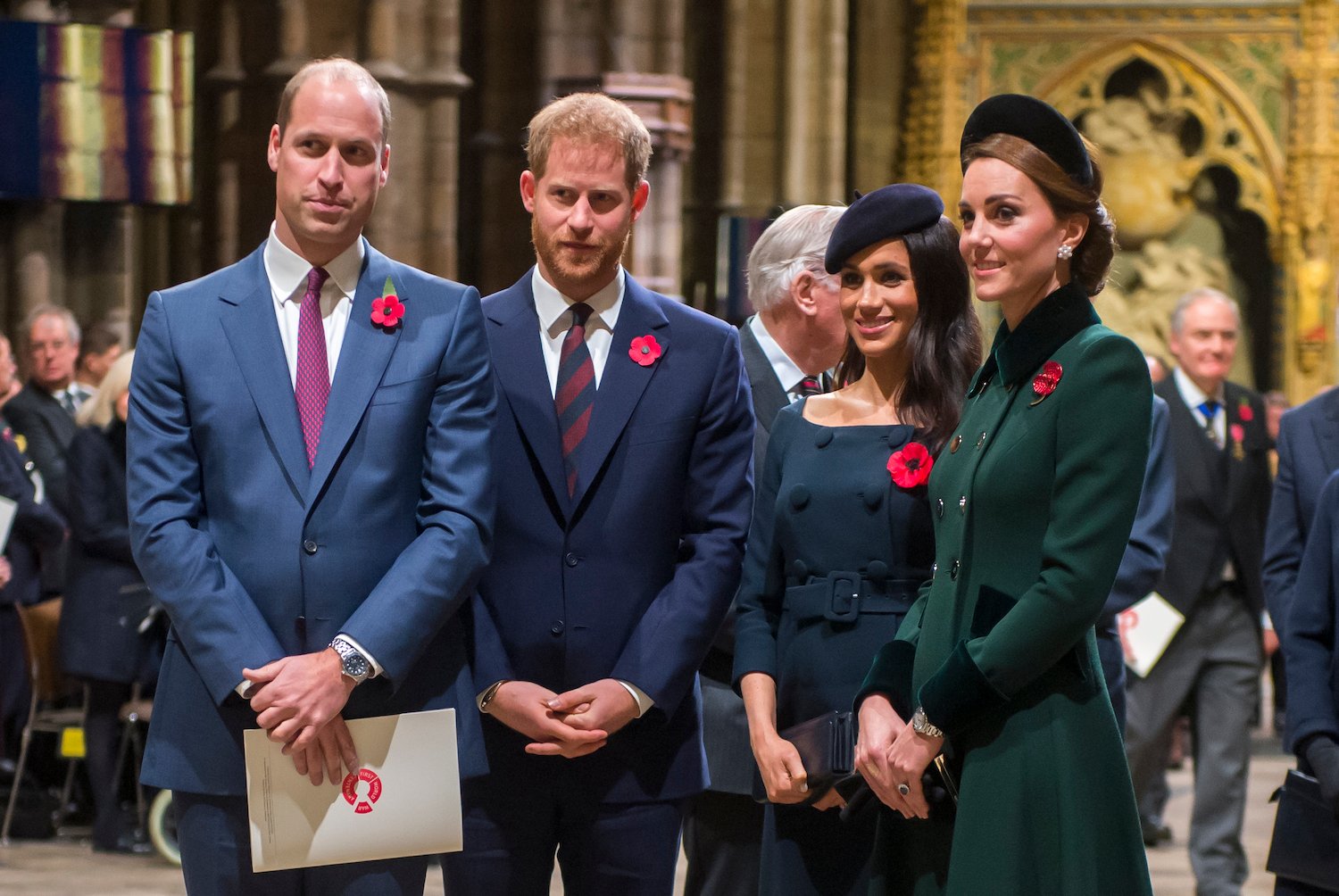 What is Prince Harry and Meghan Markle's net worth?
Prince Harry's net worth has probably changed the most in recent years as when he stepped down from his job as a senior working member of the royal family, he decided to become financially independent. He and Meghan repaid the nearly £2.4 million that was paid by the royal family for the refurbishment of Harry and Meghan's former home, Frogmore Cottage.
When the royal pair first left their jobs as working royals, 95% of funding for their private office came from Harry's father, Charles, Prince of Wales's estate, according to Newsweek. But that is not the case anymore.
The Sussexes now work to make their own money, and they are doing quite a good job at it. The two scored a Netflix deal to produce documentaries, films, scripted shows, and more for over $100 million, according to Elle.
The pair has also landed a three-year deal will Spotify for their new venture, Archewell Audio, that is said to be worth $15 million to $18 million, according to Forbes.
This is all in addition to the money that Harry inherited from his late mother, Princess Diana. In 2014, when Harry turned 30, he reportedly received over £10 million from his mother's estate, which is around $13.8 million dollars.
Much of that money was used to support Harry's family when they left England.
"I had to afford security for us," Prince Harry told Oprah Winfrey earlier this year in a tell-all interview. "[I was cut off] in the first quarter of 2020. But I've got what my mom left me and without that, we would not have been able to do this."
Meghan also contributes to the couple's wealth. When she starred as Rachel Zane in Suits, she earned about $57,500 per episode of the show. In February, Forbes deemed Meghan to be worth around $2 million and the couple as a whole to be worth $10 million.
What is William and Kate Middleton's net worth?
Though she was not an actress like Meghan, Kate was indepently wealthy before marrying William.
She was worth between $7 million to $10 million in 2018, according to reports from Money. Much of this fortune was gained from her family's business, Party Pieces.
According to the outlet, William is worth around $40 million. He also inherited around $13.8 million from his mother. While in the RAF Search and Rescue Force, he earned around $70,000 per year, according to Harper's Bazaar. He also receives money from the Duchy of Cornwall and the Sovereign Grant.
So, it seems that by leaving the royal family, Prince Harry and Meghan also left behind a lot of wealth.