Prince Harry and Meghan Markle's Lawsuit Had Prince William Making a 'Really Unexpected' Move, Documentary Says
Shortly before Prince William and Kate Middleton's tour of Pakistan in 2019, Prince Harry and Meghan Markle announced they were taking legal action against the media. Following their announcement Prince William did something 'really unexpected,' according to a documentary, by speaking to journalists.
Prince William did something surprising when word of Prince Harry and Meghan Markle's lawsuit reached him in 2019. The future leader of the royal family embraced journalists in a "really unexpected" move.
William thanked reporters on his way to Pakistan for a royal tour 
In The Princes and the Press reporters reflected on what happened during and after Harry and Meghan's 2019 Africa tour. During that time they filmed the documentary, Harry & Meghan: An African Journey. In an even bigger headline-making move, they also and took legal action against British tabloids and their publisher. 
Less than two weeks later, William embarked on a tour of Pakistan with his wife, Kate Middleton. As the tour got underway the Duke of Cambridge gathered the journalists who were joining the tour for a conversation. 
Rhiannon Mills, royal correspondent for Sky News, recounted what happened in The Princes and the Press per Newsweek. "We were on the plane to Pakistan and asked to go to the front of the plane," she recalled. From there William essentially told everyone 'thank you for coming.'"
Mills continued, describing William's actions as "really unexpected." William didn't just thank the journalists, according to the royal correspondent. He also said, "'You should all take this as a group hug.'" 
William, Kate, and the rest of their team appeared 'upset' over Harry and Meghan's documentary
Later, as the Duke and Duchess of Cambridge's tour continued, Mills could see the ITV documentary had bothered not only William and Kate but their staff too. "What was fascinating though, as that tour went on we were seeing promo clips of Harry and Meghan's documentary be released that week," she said. "You could tell that it was upsetting the apple cart to put it lightly when it came to William and Kate's team, but also the couple as well."

As royal fans might recall, the documentary, which premiered shortly after the Pakistan tour, included major statements from both Meghan and Harry. Meghan said she wasn't OK amid intense press scrutiny. Meanwhile, Harry suggested there were problems between him and William.
A royal author considers William's move 'really mature'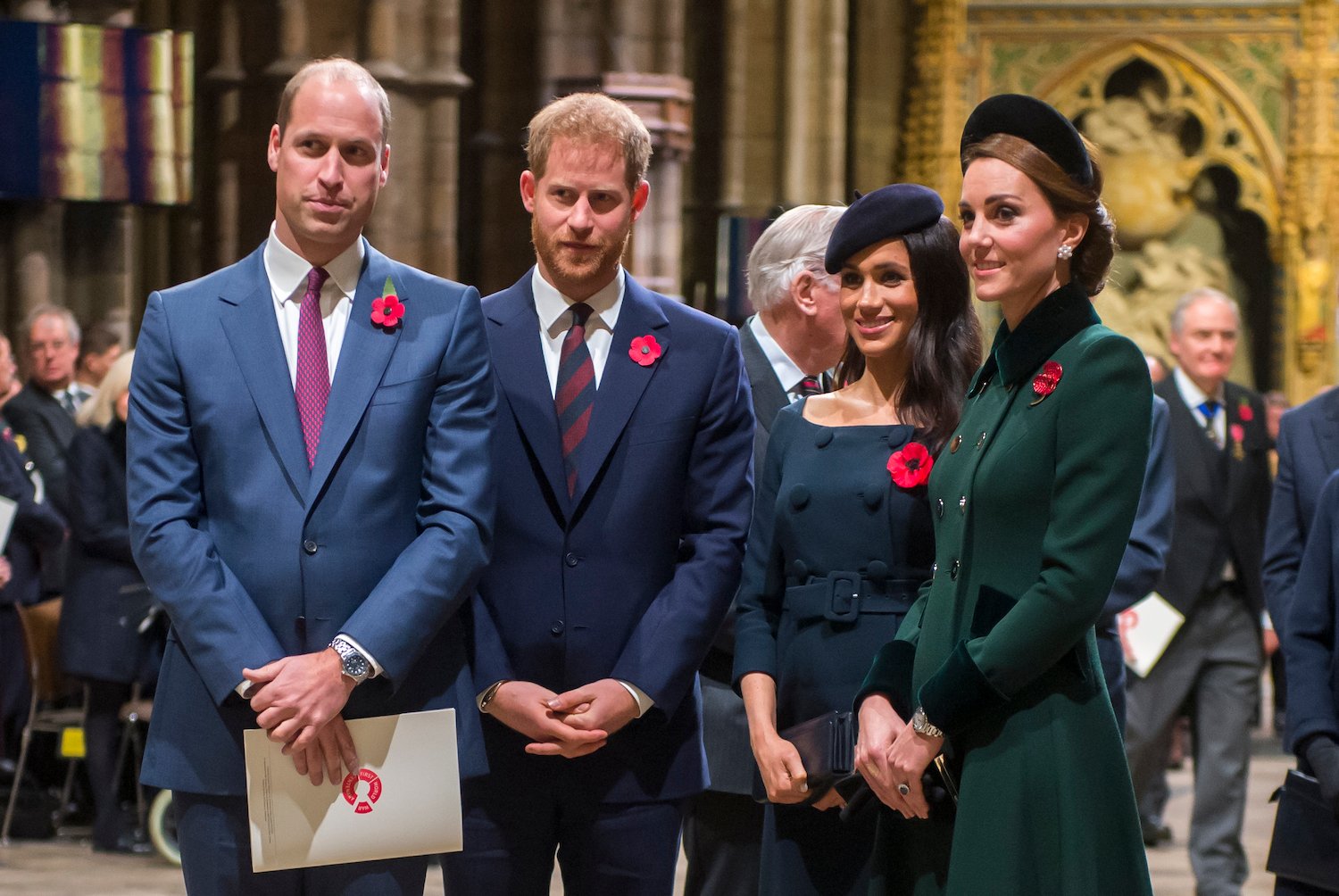 While it may have been unusual for William to gather journalists at the start of a royal tour, it may have marked a moment of maturity for the 39-year-old. Author Robert Jobson said in the BBC documentary he considers William's level of interaction with the press "the pinnacle of professionalism in terms of handling a royal tour."
Jobson added that he witnessed William "really mature," saying he was "discussing all sorts of issues, why were we here why were we going to Pakistan the importance of security, all of these things, all off the record."
Now, more than two years later, Harry and William's relationship — and Harry and Meghan's relationship with the wider royal family — continues to be a topic of discussion. Most recently, royal fans have wondered if Meghan and Harry will spend Christmas with the royal family. 
Another event that could mean a lot for William, Kate, Harry, and Meghan? Whether or not William and Kate will stay with Meghan and Harry when they visit the U.S. in 2022.