Prince Harry Once Reportedly Ended Up In a Bathroom With a 'Real Housewives' Star
In 2018, Prince Harry tied the knot with Meghan, Duchess of Sussex. However, when he was still a young bachelor, Harry reportedly had a colorful romantic life. He was linked to many different women, including one person who went on to star in a Real Housewives franchise.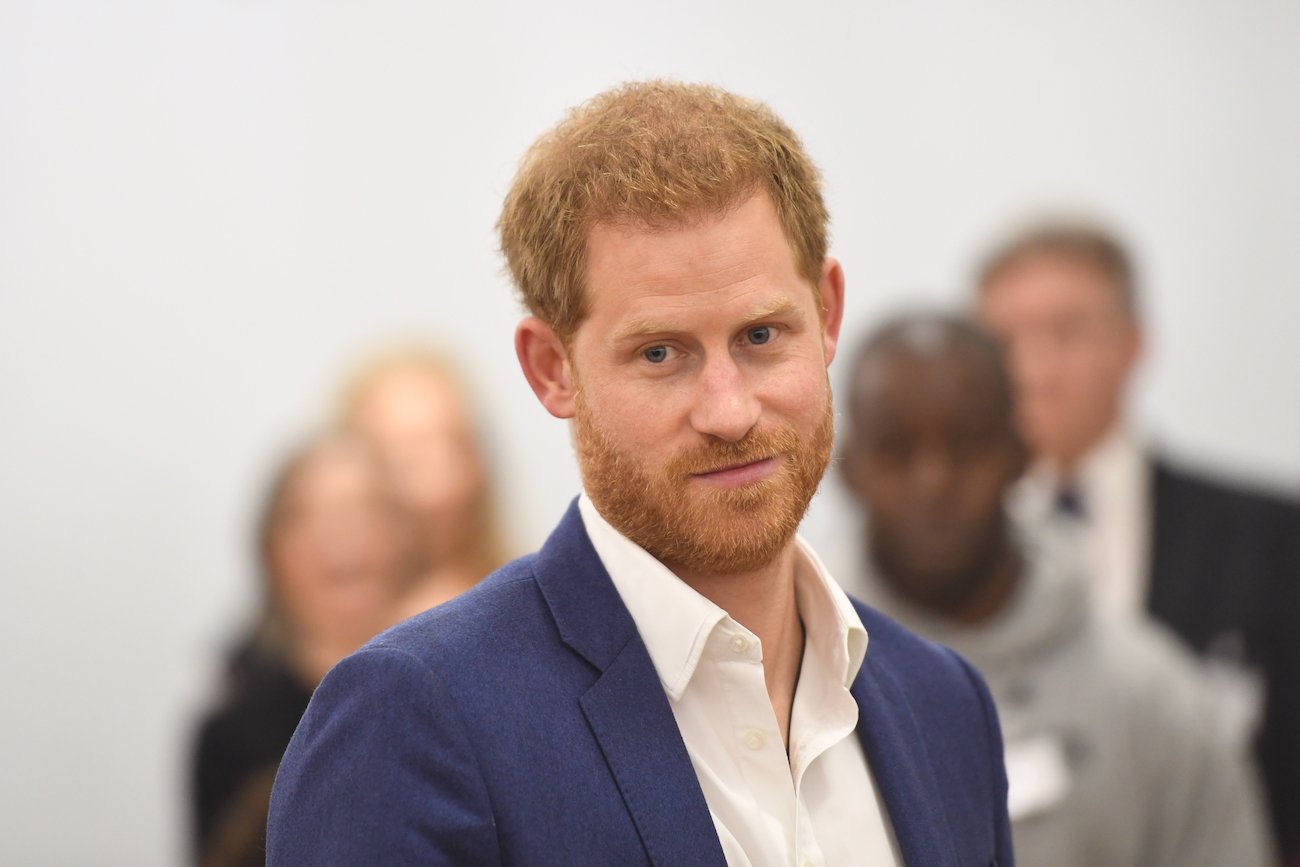 Prince Harry was linked to many women before his marriage
Harry had two serious girlfriends before meeting Meghan. One was Chelsy Davy, the daughter of a Zimbabwean businessman. Harry and Davy had an on-and-off relationship from 2004 to 2010. Then, from 2012 to 2014, Harry dated socialite/actor Cressida Bonas.
In between these relationships, Harry was linked to numerous women, such as Natalie Pinkham, Astrid Harbord, and Caroline Flack. He also had a rumored fling with singer Ellie Goulding.
Prince Harry reportedly was in a bathroom with a 'Real Housewives' star
RELATED: The 'Pathetic' Way Prince Harry Tried to Find a Date Before Meeting Meghan Markle, According to Royal Author
One person Harry allegedly was romantically involved with is Catherine Ommanney, who went on to star on the show The Real Housewives of D.C. Ommanney was 35 at the time, while Harry was 21.
According to Hollywood Life, mutual friends introduced Harry and Ommanney to each other at a bar in London. She told the Daily Mail in 2006, "We had a great time and a fun evening. We started talking and that was it for the rest of the evening. I was quite taken aback by him!"
She also added, "He's not like a 21-year-old. He's also got a cheeky sense of humor!"
After going to a club, the pair and their friends went back to a pal's house. Ommanney said they found themselves "play fighting" in the bathroom together.
"One of us shoved the other and ended up in the empty bath," she shared. "We then both sat in it with our feet hanging over the edge!"
When they said goodbye to each other, Ommanney alleged that Harry gave her a "long and lovely kiss." However, they did not have another romantic encounter after that.
Prince Harry's exes could not handle media attention
RELATED: One of Prince Harry's Ex-Girlfriends Thought He Was 'Damaged' and Neurotic, Royal Expert Claimed
It's not clear why many of Harry's romantic flings ended. However, Harry's serious relationships ended because his then-girlfriends could not cope with the media attention that came with dating a royal.
"It was so full-on: crazy and scary and uncomfortable," Davy recalled in 2016, according to the Daily Mail. "I found it very difficult when it was bad. I couldn't cope… I was trying to be a normal kid and it was horrible."
Bonas also reportedly walked away from the relationship after seeing how much attention Prince William and his wife, Catherine of Duchess, had to endure.
"In 2014, she was said to have been 'completely spooked' after watching the TV coverage of William and Kate touring New Zealand with baby George in tow," author Robert Lacey said, according to the Daily Star. "That was not the way she would want to enjoy her eight-month-old son, she regretfully explained to Harry."