Prince Harry and Meghan Markle Recently Reunited With the Royal Family After Stepping Down as Senior Royals More Than Two Years Ago
Royal watchers think that Prince Harry still owes the Royal Family an apology more than two years after he and Meghan Markle stepped away.
Prince Harry and Meghan Markle returned to the UK earlier this month for the Queen's Platinum Jubilee. But the Sussexes' reunion with the royal family wasn't exactly a happy one. According to royal watchers, both sides feel they are owed an apology after the famous Megxit breakup of 2020.
But instead of mending fences, the royal family kept their distance from Harry and Meghan. And the Duke and Duchess of Sussex jetted out of town before the holiday weekend was over.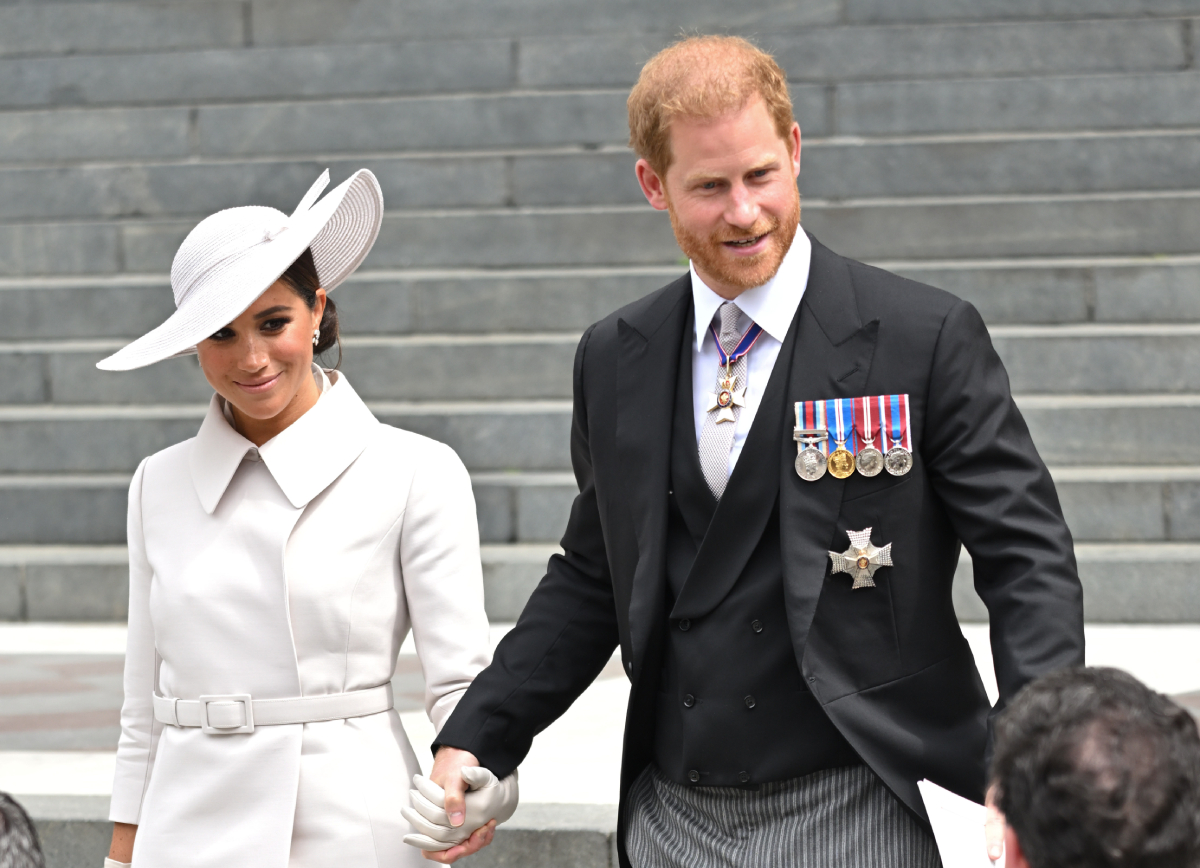 Prince Harry needs to apologize, says royal watcher
More than two years after quitting their jobs as senior working royals and moving to California, Harry and Meghan returned to the UK for a once-in-a-lifetime event — the celebration of Queen Elizabeth's 70th year on the throne.
The couple brought their children — Archie Harrison, 3, and Lilibet Diana, 1 — along for the trip, which gave the queen her first opportunity to meet her second youngest great-granddaughter. 
However, the majority of the Sussexes' reunion with the royal family was kept behind closed doors. When they were out in public, Harry and Meghan were relegated to seats away from the rest of the royal family.
"If Harry was looking to mend fences, then he should have started with an apology. He has trashed them," royal watcher Kat told Us Weekly's Royally Us podcast.
"Even though we barely saw Harry and they really didn't do much during the Jubilee, they were still so much a part of the conversation," noted host Christine Ross. Host Christina Garibaldi added: "It seems like a lot of people were on the royals side to all this."
Prince Harry 'feels he's owed an apology'
After Harry and Meghan aired out their grievances in an interview with Oprah Winfrey in the spring of 2021, royal biographer Angela Levin says that Harry "feels he's owed an apology" from the royal family. 
"I think he would have been very, very upset that he was largely ignored. He still feels he's owed an apology," Levin said, per Express.
"But he's the one who should apologize. He said during the Oprah interview that Charles and William were trapped, he said he'd been cut off by his father. You can't just go around being rude about people and expecting them to open their hearts to you again."
The Duke of Sussex looked 'angry' at the Platinum Jubilee
When Harry and Meghan arrived at St. Paul's Cathedral for the Service of Thanksgiving, they did make a solo procession while holding each other's hand. However, they sat across the aisle from the Prince of Wales, the Duchess of Cornwall, and the Duke and Duchess of Cambridge. 
The Sussexes were in the second row behind the Wessex Family and the Duke and Duchess of Gloucester. And Harry had no obvious interaction during the service with his brother William or his father Charles.
"The thing that really stood out for me on that day was Harry's anger — he wears his emotions on his face and he looked absolutely furious," Levin told Page Six.
Harry and Meghan didn't spend any private time with William and Kate during their time in the UK, either. And, William's family reportedly declined Harry and Meghan's invitation to Lilibet's first birthday party.
After Harry and Megan were booed at the Jubilee event on Friday, they left the UK on Sunday before the celebration was over.