Prince Harry Just Revealed Archie's Very First Word and It Was Three Syllables
Meghan, Duchess of Sussex, and Prince Harry are still public figures. However, their resignation as senior working members of the British royal family means they've been able to shield their son, Archie Harrison Mountbatten-Windsor, from the prying eyes and scrutiny of the public.
Not only did the couple feel that royal life was toxic and unsustainable for them, but they also wanted to give their young son and expectant baby normal childhoods. Though we've only seen quick glimpses of Archie since he was born in May 2018, the Sussexes have given us updates on their baby boy here and there.
Prince Harry has just revealed Archie's obsession with waffles and his very first word.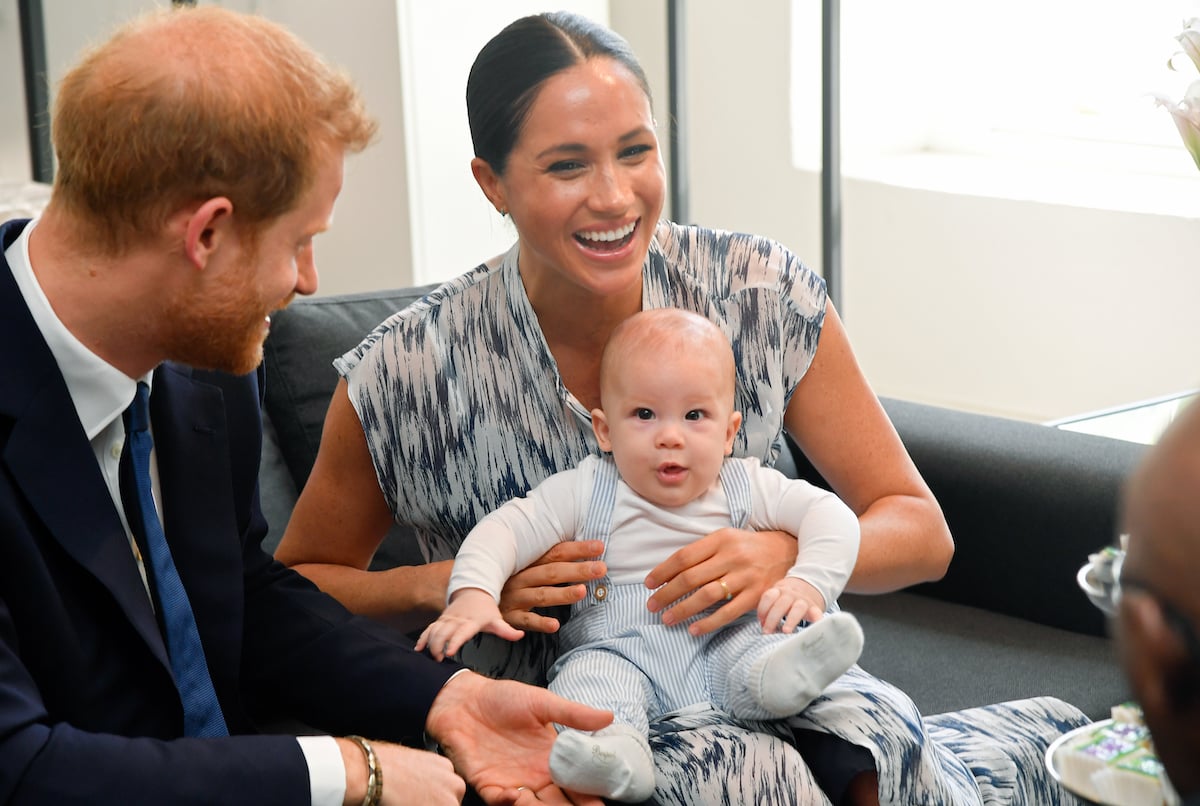 Will the British royal family ever see Archie?
Amid the forthcoming interview, Oprah with Meghan and Harry: A CBS Primetime Special and a bullying allegation against Meghan, things are tense with the royal family and the Sussexes, at least when it comes to The Firm. However, when it comes to just family matters, the relationship between the couple and the remaining senior working royals is much improved.
Amid the coronavirus (COVID-19) pandemic, Meghan and Prince Harry often video called with Queen Elizabeth II, Prince Philip, Prince Charles, Camilla, Duchess of Cornwall, and the Cambridges. The royals were able to interact with Archie that way.
Royal expert Katie Nicholl told Vanity Fair that on a video call for Prince Harry's birthday in September 2020, the queen was absolutely delighted by Archie's red hair and the toddler delighted his grandfather, Prince Charles by calling him, "Pa."
RELATED: Queen Elizabeth II Had Hoped Meghan Markle and Prince Harry Would Cancel Megxit
Meghan Markle and Prince Harry gave some updates on Archie in 2020
Though they will certainly not be thrusting Archie into the spotlight, Meghan and Prince Harry have given fans some updates on their soon-to-be 2-year-old son in 2020.
"We are doing well. [Archie] is so good," Meghan revealed on a video call with the Evening Standard. "We are very lucky with our little one. He is just so busy, he is all over the place. He keeps us on our toes. We are just so lucky."
Prince Harry was also eager to gush about Archie being able to play outside safely and privately on the grounds of their Santa Barbara estate.
"What I need is a few mini rugby balls that I can get Archie involved with the game…I've got a little bit of space outside, which we're fortunate enough to have, "he explained via Daily Mail. "We've got a whole Rugby League world cup coming next year. I definitely plan on coming back. I would have been back already had it not been for COVID."
Prince Harry has revealed Archie's very first word
Now that Archie is walking and talking and has his own personality, Prince Harry has revealed his son's very first word. During an appearance on The Late Late Show in February 2021, he told James Corden all about Archie's first word.
"Crocodile," Prince Harry shared. "Three syllables!" Corden responded: "Crocodile! That's a big word!" The prince went on to delight viewers about Archie's Christmas gift from the queen, his own personal waffle maker, which has become a staple for him at the breakfast table each morning.