Prince Harry Sings 2 Words of 'You'll Be Back' From 'Hamilton' in Front of Lin-Manuel Miranda
"You'll Be Back" may be the "break-up" song between America and the eccentric, yet forceful King George, but even Harry, Duke of Sussex enjoys the song.
In fact, King George's sixth great-grandson surprised one audience in London, singing a few words from the Tony Award-winning musical Hamilton. Here's our look at the brief performance.
Lin-Manuel Miranda wrote 'Hamilton,' the story of the founding fathers of America
Even though Hamilton tells the story of America's creation, it's impact extended beyond the states, with some productions taking place in the UK. 
In 2018, Lin-Manuel Miranda travelled overseas, to the Victoria Palace Theater, for a charity event featuring his Tony Award-winning musical. 
However, he wasn't the only celebrity guest joining the actors on stage. Harry, Duke of Sussex surprised the London cast of Hamilton, as well as an audience of fans. 
Prince Harry attended 1 production of 'Hamilton' in 2018
After the performance, the writer behind the musical explained that he came up with the idea of adding King George to the production on his honeymoon. It was there that he began writing the song "You'll Be Back," which is performed by the character.
"Smash cut to 2018 and I am sitting next to his sixth great-grandson," Lin-Manuel Miranda said.
The Duke of Sussex walked forward after his introduction from Lin-Manuel Miranda and sang the first two words of "You'll Be Back." The cast and audience cheered as a response, but he quickly stated, "that's definitely not going to happen. He did try, but I said no."
Reportedly, the then-Duke and Duchess of Sussex attended the special performance to raise money for Sentebale, a charity he set up with Prince Seeiso of Lesotho, which works with children affected by HIV in southern Africa. 
Harry and Meghan, Duke and Duchess of Sussex also took pictures with the cast following the performance.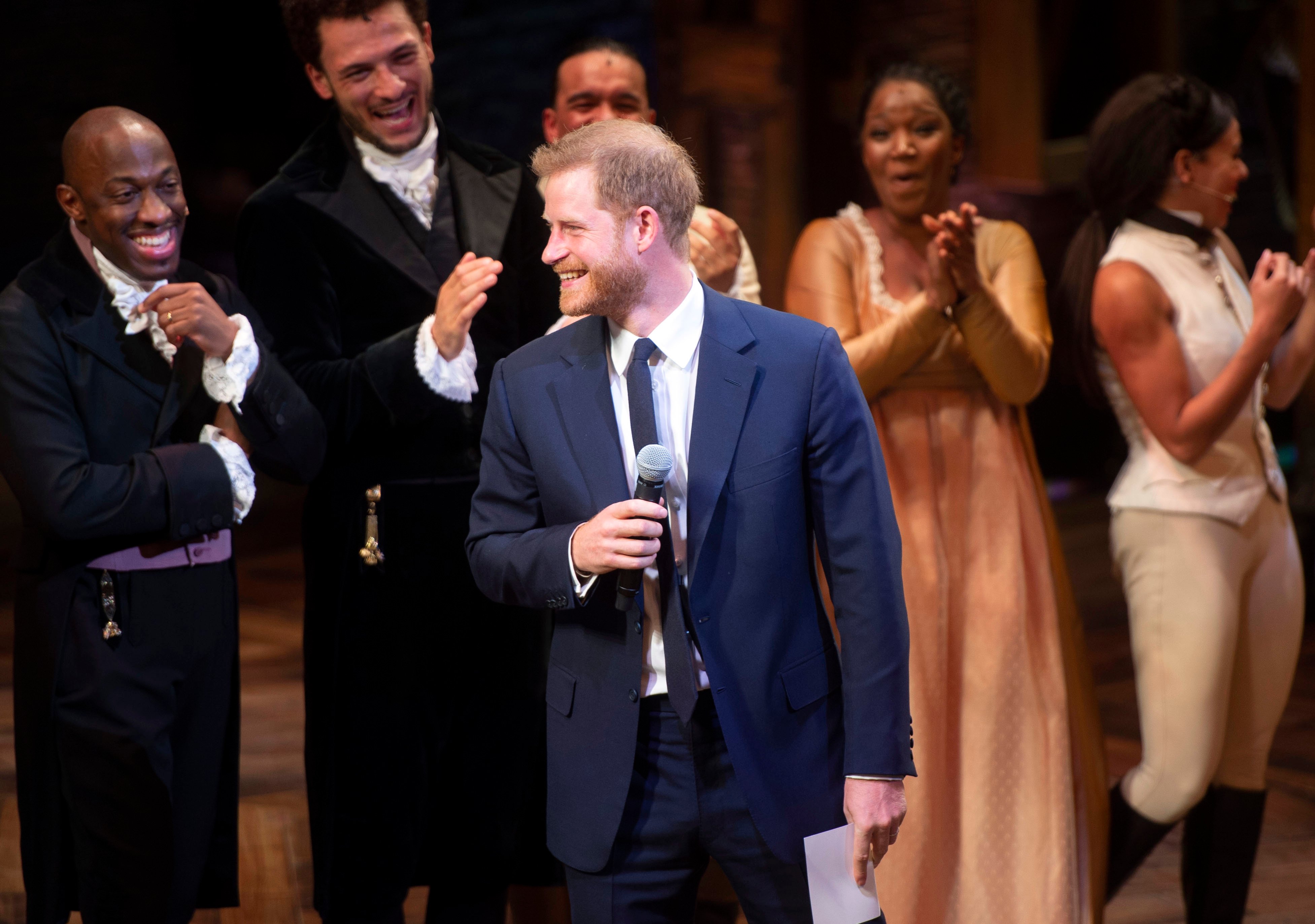 The actor behind King George even earned a Tony Award nomination for this character
Although this wasn't the same actor in the 2018 charity production, Jonathan Groff earned a Tony nomination for his portrayal of King George — Best Performance by an Actor in a Featured Role in a Musical. The character is somewhat of a comedic relief in the show, with Groff even earning admiration from celebrities like Beyoncé. 
This character appears for a number of songs, including "You'll Be Back" and "I Know Him." King George is also present in the Disney+ exclusive version of the musical, which features the original cast and a live stage production. 
Lin-Manuel Miranda's stage production of Hamilton is now available on Disney's streaming platform, as are musicals like The Sound of Music, Annie, and Newsies. To learn more about Disney+ and to subscribe, visit their website.