Prince Harry Was 'Fighting Back Tears' During His Final Royal Engagement, Book Reveals
Prince Harry and Prince William's relationship has been tense for some time. A new book claims Harry was fighting back tears at his final royal engagement.
After spending several months on Vancouver Island in Canada after announcing Megxit in early Jan. 2020, royal fans expected Meghan, Duchess of Sussex, and Prince Harry to be met with a grand farewell when they returned to the U.K. in March for their final royal engagements.
Unfortunately, that is not what happened. Though they attended church with Queen Elizabeth II as well as Commonwealth Day, it was immediately obvious from photos and videos that the tension between Prince Harry and Prince William was palpable.
Though lip readers have already revealed what went down between the brothers at Westminster Abby, a new book suggests that things were so emotionally fraught for the younger prince that he was near tears.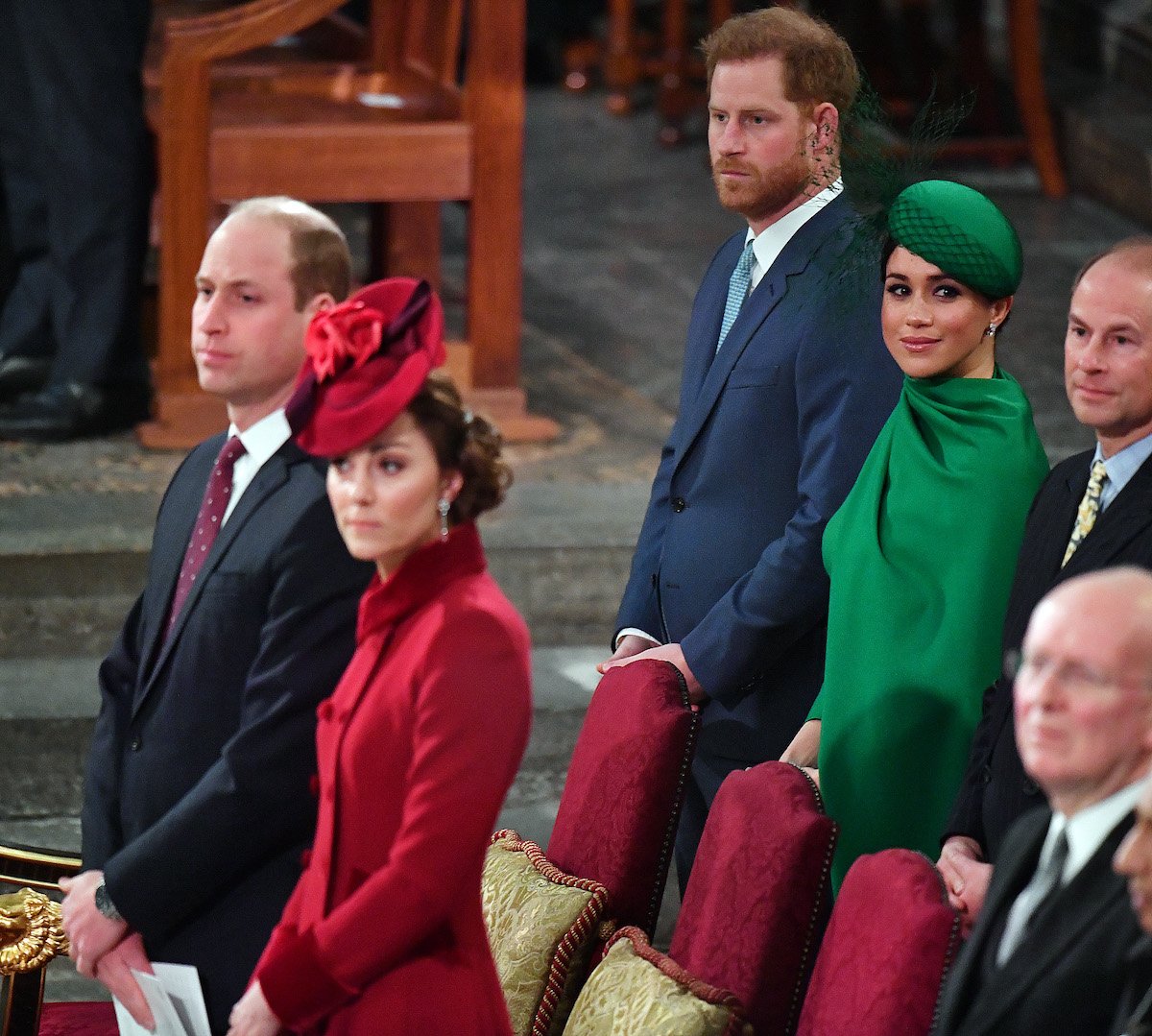 Prince Harry and Prince William have reportedly been distant for several years
Though Prince Harry and Prince William had been close for years apparent strain in their relationship began when the older prince caution his brother about his fast-moving romance with Meghan.
While the pair are reportedly in a better space these days, Prince Harry did speak candidly about the stain between himself and his brother in Oct. 2019.
"Part of this role and part of this job and this family being under the pressure that it's under, inevitably stuff happens," he revealed in ITV's Harry and Meghan: An African Journey. "Look, we're brothers, we'll always be brothers. We're certainly on different paths at the moment but I will always be there for him as I know he'll always be there for me."
This what Prince William and Prince Harry said to each other at Commonwealth Day
Though the Sussesexes and the Cambridges were trying to put on brave faces, it was clear that things were tense between the couples. "When Harry sits down he says to Meghan, 'He just said Hello Harry to me and that was it and he didn't say anything more than that.' and Meghan smiles," royal commentator Camilla Tominey revealed via The Daily Telegraph. "We don't know whether he was referring to William or dignitaries he had just been getting including Boris Johnson."
When Prince William sat down next to Catherine, Duchess of Cambridge he had a similar conversation. "This whole handshaking thing is weird," he said. "We're going to have to put a load of hand gel on after this."
It appears that the prince was hoping for a warm greeting from his brother, but it was never received.
Prince Harry was near tears at his final royal engagement
No one wants to be estranged from or have a conflict with someone they love. Prince William's apparent dismissal of his brother deeply hurt Prince Harry. Knowing that all eyes would be on them during the Sussexes final engagement, the Cambridges did try to defuse the situation by pulling out of the queen's processional to be seated with the Sussexes. However, the programs had already been distributed.
In his new book, Battle of Brothers, royal expert Robert Lacy explains via Newsweek,
"The only problem was that 2,000 orders of service had already been distributed round the Abbey, explaining that William and Kate would enter and process with the main royal party—and making no mention at all of Harry and Meghan. So there was the snub in black and white—set out for all to see. Observers also noted that Harry's face was 'quite tense and unsmiling'—and that when William sat down close to him, he barely greeted his brother. Throughout the service, Meghan megawatted away with her best TV smile but, as the ceremony progressed, Harry appeared to grow gloomier. According to one observer, 'his accelerated blinking even suggested he might have been fighting back tears.'"