Prince Harry 'Close to Tears' After Meghan Markle Kiss at Invictus Games, Body Language Expert Shares Insight
Prince Harry became emotional after Meghan Markle introduced him at the 2022 Invictus Games opening ceremony. A body language expert explores Harry's gestures and facial expressions at the event.
Prince Harry became emotional during the Invictus Games opening ceremony after Meghan Markle gushed about her husband in the introduction. A body language expert provided her analysis of Harry, who appeared to be hit "sideways emotionally" at the event.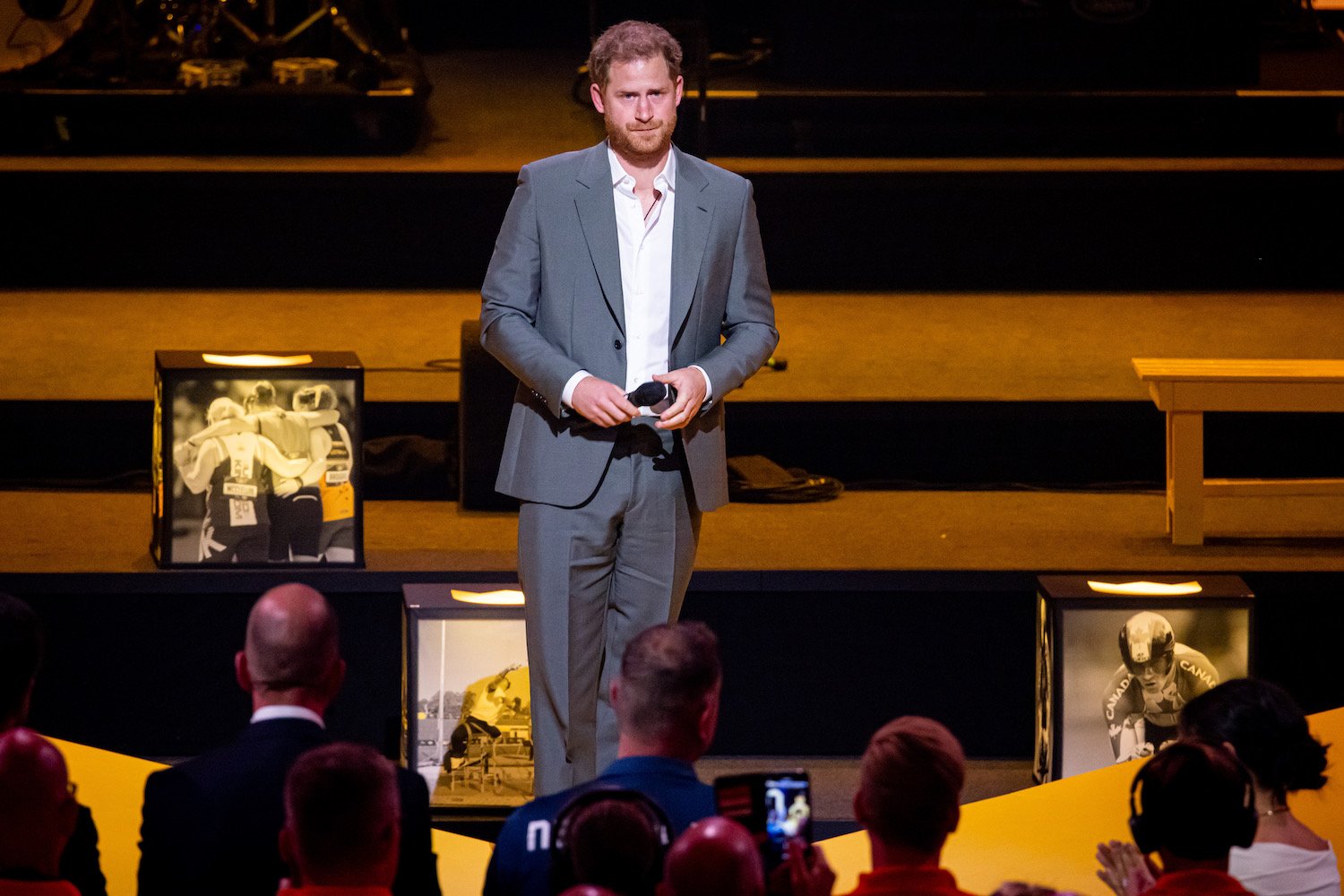 Meghan Markle introduced Prince Harry at the Invictus Games opening ceremony
Meghan provided the introduction for Prince Harry at the opening ceremony for the 2022 Invictus Games.
"It is my distinguished honor to introduce someone that I think you'll all be very excited to hear from … I could not love and respect him more and I know that all of you feel the same," Meghan said.
"He's the founder of the Invictus Games, and the father to our two little ones, Archie and Lili," she continued. "Please welcome my incredible husband, Prince Harry, the Duke of Sussex."
Prince Harry took to the stage and shared a kiss with Meghan. He followed the smooch by saying, "Thank you, my love."
Body language expert analyzed Prince Harry's gestures and expressions after kissing Meghan
Body language expert Judi James provided an in-depth analysis, telling the Mirror how Harry appeared to be very emotional.
James looked first at the kiss as Harry took over the microphone. "As Meghan and Harry do the hand-over of the mic they also perform a kiss that would have been a given in the political world but which is groundbreaking in royal terms," she explained. "It is affectionate but swift, with both smiling proudly as they perform it."
Harry looked "overwhelmed" in the moment, however. "The problem for Harry is that it appears to knock him sideways emotionally," James shared. "Watching his wife exit from the stage he stands in overwhelmed-looking silence for 30 seconds as the crowd carries on their applause."
James continued, "The stunned silence is mutually beneficial as crowds only stop clapping when the mic is raised to the mouth and Harry appears too close to tears to do that for the length of the 30 seconds."
The body language expert called this "an unusually emotional display from Harry" since he typically has "cheeky confidence." She noted, "Instead, he turns his reddened face to the side, wiping the side of his nose with his knuckles in what looks like a partial cut-off to shield his facial expression."
James pointed out Harry's expression and gestures in the moment. "His eyes have the saddest expression as his tongue pokes out from the corner of his mouth and he looks down to suggest tearfulness," she noted.
Harry has "tearful-looking eyes" and appears to display some gestures that offer a "self-comfort ritual," the expert noted. Once the crowd quieted down and took their seats, James said there was "a reboot of a more familiar-looking Harry," with a "re-inflation of his confidence" and "famously naughty grin" as he gave his speech.
Body language expert shared theories about why Harry was so emotional
James further explored some theories about why Harry was emotional. "Harry has done these events for years but without these signals of overwhelming emotion," the expert noted. "Was it the hiatus caused by the pandemic or was it Meghan's powerful intro that included words like 'I could not love and respect him more'?"
She continued, "Was it the meeting with his father and grandmother en-route to the games or was it the 'perfect storm' of all these circumstances?"
James looked at the emotional gestures Harry displayed during his speech, such as placing a hand on his chest as a symbol of a beating heart.
"Whatever other motivational points Harry makes during his speech his non-verbal impact seems to be all about a very dramatic emphasis on love and relationships," she explained.