Prince Harry and Prince William 'Looked a Bit Forced' During Unveiling of Princess Diana Statue, Expert Claims
All eyes were on Prince Harry and Prince William when they reunited for the unveiling of a Princess Diana statue honoring their late mother. One royal expert believes that there was some tension between the siblings at their appearance, noting things "looked a bit forced."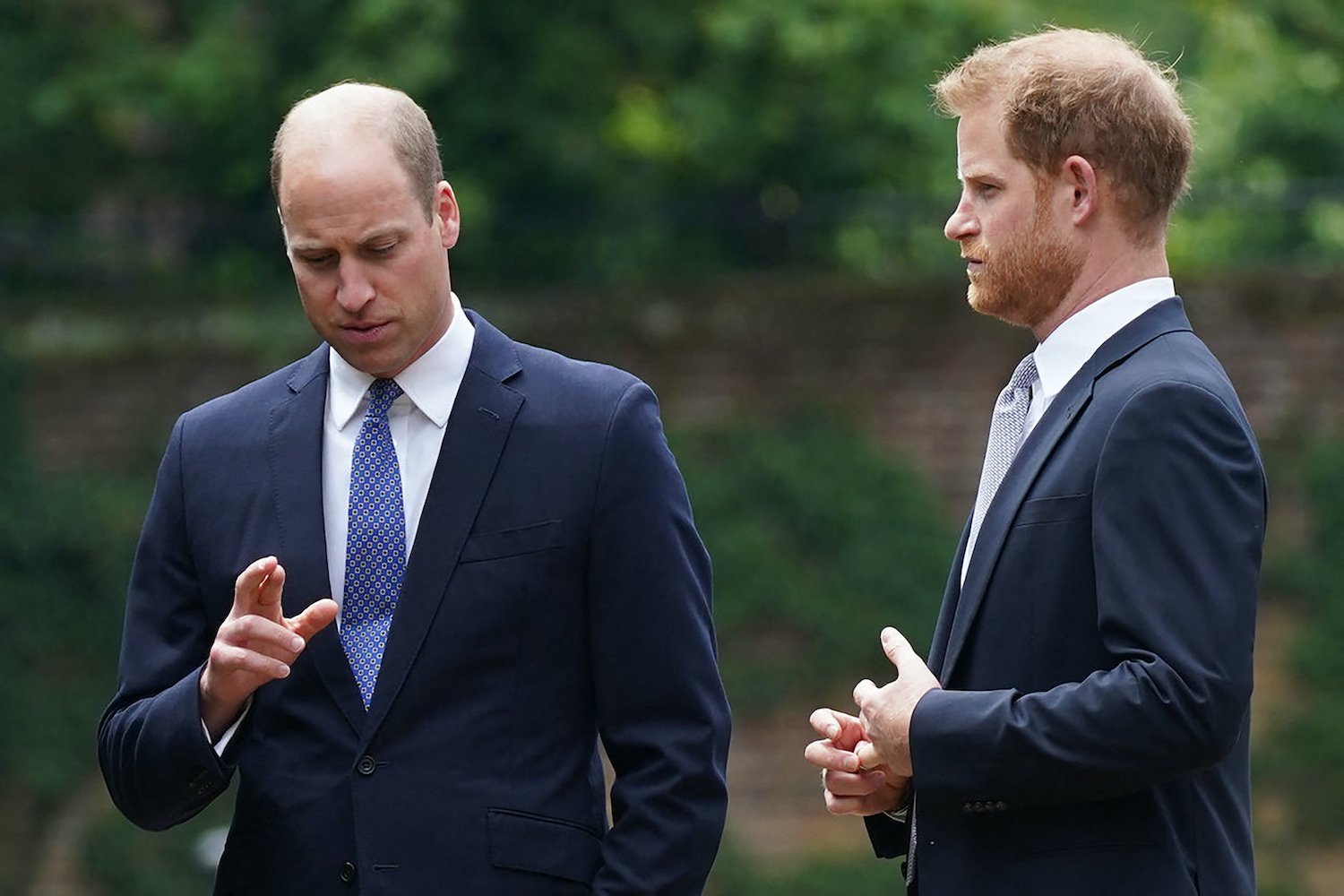 Prince Harry and Prince William issued a joint statement about the Princess Diana statue
Prince William and Prince Harry didn't make any speeches at the event, only pulling a cover together from the Diana statue at Kensington Palace's sunken garden.
During the July 2 Pod Save the Queen podcast, host Ann Gripper discussed the brothers' appearance with Daily Mirror royal editor Russell Myers.
"It was probably the right way to do it," Myers said of their decision to skip any speeches. Instead, Prince Harry and Prince William issued a joint statement that explained, in part: "Today, on what would have been our Mother's 60th birthday, we remember her love, strength and character — qualities that made her a force for good around the world, changing countless lives for the better. Every day, we wish she were still with us, and our hope is that this statue will be seen forever as a symbol of her life and her legacy."
Royal expert believes Prince Harry and Prince William 'looked a bit forced' during the unveiling
Myers did a deep dive into the brothers' body language at the unveiling. "I think they were both grown up enough to realize they needed to call a bit of a truce," Myers said of the two putting aside their differences for the appearance.
"At times, I did think it was quite interesting looking at both of them — Harry bounding down the steps a couple of paces behind William into the Sunken Gardens," Myers continued.
"I almost seemed to be a bit pessimistic on it really — I think that it looked a little bit forced at times," he added.
"No doubt [Harry was] happy to see his aunties and his uncle ‒ Earl Spencer, Lady Sarah McCorquodale, and Lady Jane Fellowes — and they seemed to give him a really warm reception," Myers noted. "I'm sure they haven't seen him for quite some time, so in that sense I'm sure it was a bit of a family reunion."
"But I just got the sense that there was the issue was being a little bit forced," he said. "So William, I think, he looked very, very deep in thought, he looked pensive. Again, just that's probably the emotion running."
"I mean, they're unveiling this project together and they know that everybody's going to be talking about it and I think the pressure of that did show at times," Myers explained.
The brothers showed some 'warmth'
Gripper went on to discuss how pictures of the unveiling might indicate a divide between the brothers, but they had to stand apart in order to remove the statue's cover with two separate ropes.
"It would be easy to look at that photo and think that it represented 'the division' of the two brothers because they are stood separately, but a lot of the photos that I saw in between times, there did seem to be moments of warmth captured between the two of them," Gripper explained.
Additionally, Gripper said she believed that Harry perhaps was a "nervous bundle of energy," in part because of the trauma he feels from "the sound of photographs and that kind of thing" as well as the emotional aspect of unveiling the statue of his mother.
"Hopefully, what I saw or hoped was warmth was genuine and they have managed to sort of improve relations through this visit and that time together," she added.
RELATED: Prince Harry and Prince William's Relationship Is 'Never Going to Be the Same,' Royal Expert Warns