What is Prince Harry's Real Name?
Prince Harry, the Duke of Sussex, is known as just that: Prince Harry. But every prince, no matter how important, has to have a real name, right? While Harry doesn't actually go by his real name, what's written on his birth certificate is far different than how we address him today. Actually, his name isn't even Harry.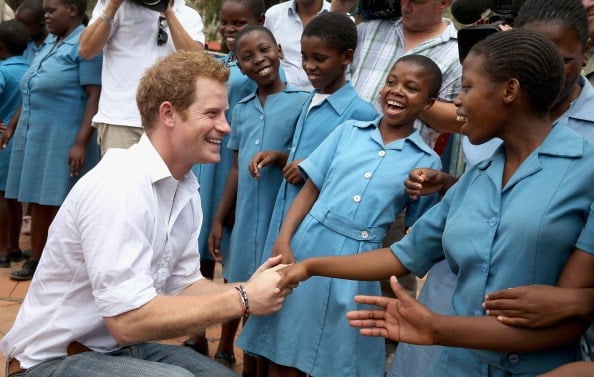 The royal family doesn't need a last name
Technically, everyone has a last name. But when you're the royal family, you don't actually need one because everybody knows who you are. And believe it or not, that's pretty much the reason the family doesn't use one. When you say "Prince Harry," anyone you're speaking to will instantly know that you're referring to Queen Elizabeth II's grandson. When Meghan Markle married into the royal family, she didn't receive a last name. Instead, she became known as Meghan, Duchess of Sussex. The royal grandsons were granted dukedom when they wed. (Prince William and Kate Middleton are the Duke and Duchess of Cambridge.)
But Harry's last name is Mountbatten-Windsor
While Harry doesn't actually use his last name, he does have one. His full last name is Mountbatten-Windsor. According to Time, Windsor became the family's last name back in 1917 when the queen's father, George V, decided to change it. He wanted to prevent anti-German sentiments during World War I (the surname used to be Saxe-Coburg-Gotha). He renamed the family the Windsors, and the queen was born with that last name. When she married Philip Mountbatten, known today as Prince Philip, she decided that she wanted all descendants to share in his name, too. So while the queen's last name is only Windsor, anyone born in her family afterward is known as Mountbatten-Windsor.
His real name is Henry Charles Albert David Mountbatten-Windsor, also known as Prince Henry of Wales
Harry's real name is actually Henry. And there's a lot more where that came from. Harry has four first names: Henry Charles Albert David. The only real reason Harry doesn't go by Henry is simply that Harry is a nickname for Henry, such as Will for William. The only time Harry uses Henry is when it's something very official, such as on his wedding documents.
Harry also has several names beyond his first, which only adds to the complexity. He was given four first names at birth: It's actually Henry Charles Albert David. And when you tack on his last name and his royal title, he becomes Prince Henry Charles Albert David Mountbatten-Windsor of Wales. It makes sense why he doesn't go by that name all the time.
Harry may have duped us with his first name, but he isn't the only one. His wife, Meghan, isn't actually named Meghan. Her name is Rachel, but Meghan is her middle name, which she's gone by for years. Some suspect it's because Meghan Markle sounded more memorable in Hollywood. Either way, the Duke and Duchess of Sussex have been lying to us about their identities for years. But we love them anyway.
Check out The Cheat Sheet on Facebook!