Prince Philip Bonded Most With This Grandchild Because They Competed in the Same Sport
Buckingham Palace announced on April 9, 2021, that Prince Philip had died at the age of 99.
The Duke of Edinburgh and his wife, Queen Elizabeth II, had four children together and eight grandchildren. Not many people are aware that he bonded with one of his grandchildren over a sport they both competed in (and no it's not polo). Here's more on the sport the royal family patriarch didn't take up until he was 50 years old and which of his grandchildren participated in it as well.
Prince Philip's grandkids have been paying tribute to him
Many of Prince Philip's family members have paid tribute to him with pubic messages including Prince Harry and Prince William.
On April 12, the Duke of Sussex published a statement about his grandpop via his Archewell Foundation website which read in part: "He will be remembered as the longest-reigning consort to the monarch, a decorated serviceman, a prince and a duke. But to me, like many of you who have lost a loved one or grandparent over the pain of this past year, he was my grandpa: master of the barbecue, legend of banter, and cheeky right 'til the end… You will be sorely missed, but always remembered — by the nation and the world."
That same day the Duke of Cambridge released a photo on social media of his grandfather and his oldest son, Prince George, sitting together on a carriage. William captioned it: "I feel lucky to have not just had his example to guide me, but his enduring presence well into my own adult life — both through good times and the hardest days. I will always be grateful that my wife had so many years to get to know my grandfather and for the kindness he showed her. I will never take for granted the special memories my children will always have of their great-grandpa coming to collect them in his carriage and seeing for themselves his infectious sense of adventure as well as his mischievous sense of humor!"
The grandchild he bonded with over carriage driving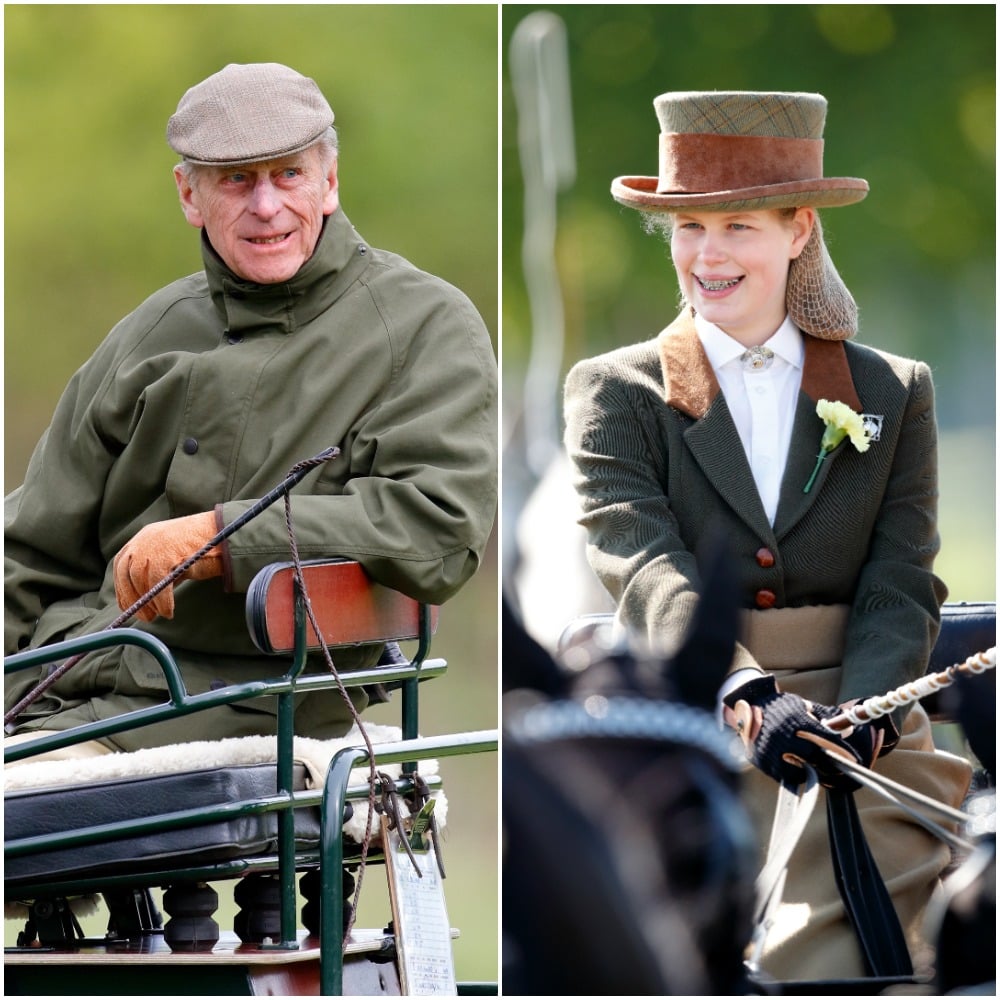 Prince Edward and Sophie, Countess of Wessex's daughter, Lady Louise Windsor, also gave a touching tribute to her grandfather. On the morning of Philip's death, Louise was seen taking his ponies carriage driving around the grounds of Windsor Castle.
Carriage driving is a sport the Duke of Edinburgh helped popularize in the U.K. He introduced international carriage driving to the Royal Windsor Horse Show in 1971 and represented Britain in three European championships and six world championships. Carriage driving is something Louise took up as well. She and her grandfather bonded over their love for the sport.
Following his retirement from royal duties in 2017, Philip remained passionate about carriage riding and as Hello! noted, attended Louise's competitions to cheer her on.
Who is Lady Louise?
Lady Louise is the youngest of Prince Philip's granddaughters. She was born on Nov. 8, 2003, and is 14th in the line of succession to the British throne.
Louise has esotropia, a condition in which one or both eyes turn inward. In 2006, she underwent an operation to try and correct the issue but it was not successful. She had another procedure done in 2013 and that corrected her vision.
RELATED: Video of Queen Elizabeth's Son Prince Edward Shocks Royal Fans With Strange Way He Cuts a Cake