Prince Philip Reportedly Told Princess Diana to 'Fit In' or Face Exile Without William and Harry Royal Expert Claims
Prince Philip had a close relationship with Princess Diana during her marriage to Prince Charles. She affectionately called him "Pa," and the two often communicated via handwritten letters. But when Charles and Diana's marriage was falling apart, Philip's loyalty was to the crown. According to a royal expert, the Duke of Edinburgh threatened his daughter-in-law. Philip told Diana to "fit in" or face exile without her sons, Prince William and Prince Harry.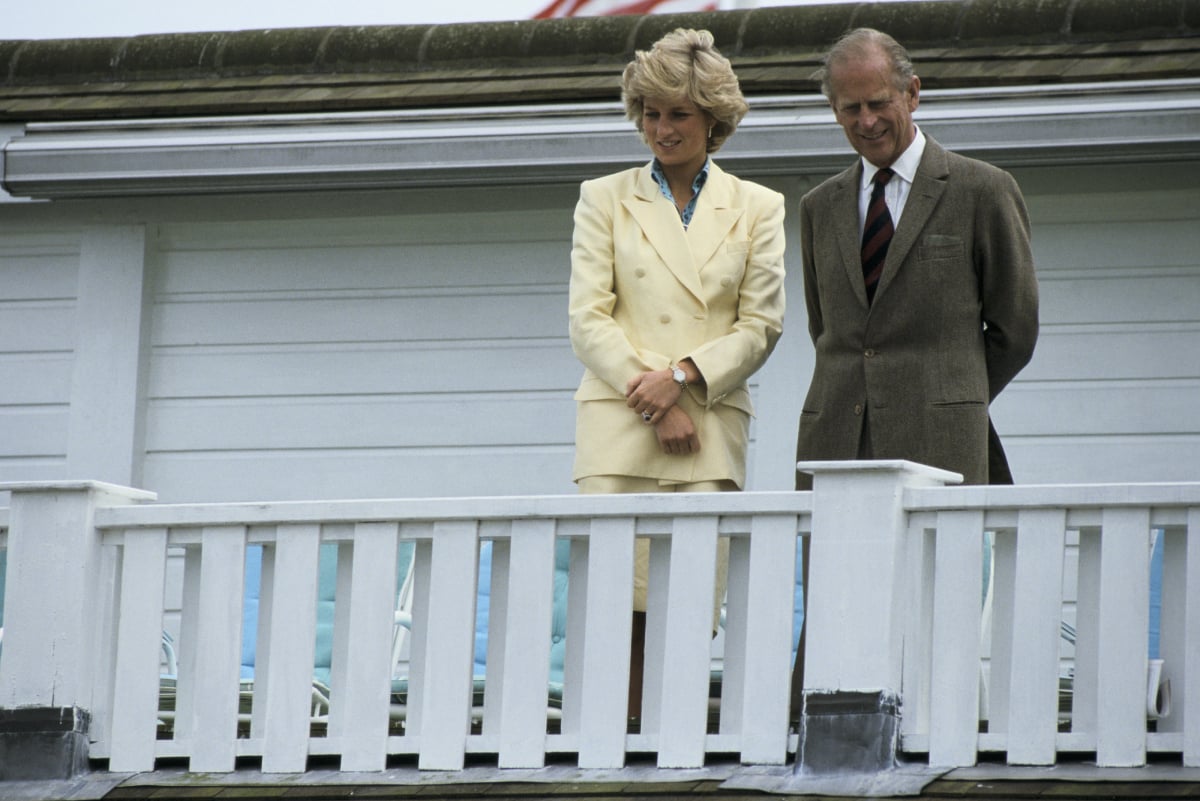 Prince Philip and Princess Diana once had a close relationship
According to The Sun, Prince Philip and Queen Elizabeth did not approve of Charles' affair with Camilla Parker Bowles. Recently unearthed letters between Philip and Diana indicate that the duke supported the People's Princess when things "got messy" in her marriage.
One letter that Philip allegedly wrote in 1992 after Diana and Charles separated shows how much he and the queen disapproved of their son's behavior.
"Charles was silly to risk everything with Camilla for a man in his position," Philip allegedly wrote. "We never dreamed he might feel like leaving you for her. I cannot imagine anyone in their right mind leaving you for Camilla. Such a prospect never even entered our heads."
He added that he would do his "utmost" to help Diana and Charles to the best of his ability. But he conceded that he had "no talent as a marriage counselor." Philip also made it clear to Diana that neither he nor the queen approved of "either of you having lovers."
Prince Philip ended the letter by signing "with fondest love, Pa."
The Duke of Edinburgh's support for Diana seemingly changed when she went public
Patrick Jephson, Diana's private secretary, says that Queen Elizabeth and Prince Philip's support meant a lot. Jephson says the unearthed letters prove they were on her side.
"Here at last was written proof that this was acknowledged, recognized, and there was sympathy for her," he said.
But Prince Philip did have questions about Diana's role in the breakdown of her marriage. He reportedly asked her if Charles' affair with Camilla had anything to do with her own behavior towards her husband.
According to Express, an updated version of Andrew Morton's biography Diana: Her True Story includes a "bitter exchange" of letters between Philip and Diana that resulted in the duke giving the princess an ultimatum.
The original version of Morton's biography came out in 1992 before Diana and Charles announced their separation. Around that same time, Diana said in her interview with Martin Bashir that there were "three people" in her marriage. This is when Queen Elizabeth advised them to divorce, and Prince Philip issued the ultimatum.
Prince Philip told Princess Diana to 'fit in or get out'
Prince Philip knew Diana was unhappy. But after Morton's biography and Diana's TV interview, he told her that she had to "fit in or get out." But if she chose to leave, she would have to do it without William and Harry.
Apparently, Philip thought Diana approved of the biography that exposed her sham marriage. He thought she allowed her friends to be interviewed for the book.
In one of his letters, Prince Philip told Diana to "help maintain the dignity of the Crown." But this allegedly devastated Diana, and she told a friend, "that's it, I'm out." She also responded to Philip's letter and reminded him that her son was the future king.
Diana wanted to be free, but she remained in the marriage a little longer because leaving her sons wasn't an option. It was around this time that Diana joined Charles on their infamous four-day tour of Korea. The pictures from the trip made it so obvious they were on the brink of divorce that the media nicknamed the couple "The Glums."
Prince Charles and Princess Diana eventually divorced in 1996.