Prince William and Kate Middleton Both Hold Secret Meetings Amid Prince Harry and Meghan Markle Drama
Prince Harry and Meghan Markle have been dominating royal headlines in recent weeks thanks to their decision to step down as senior members of the royal family. At the same time, Prince William and Kate Middleton have continued their royal duties as they prepare for their future roles as Prince and Princess of Wales before they one day become the King and Queen of the United Kingdom. Recently, both William and Kate — the Duke and Duchess of Cambridge — held secret meetings for two very different reasons.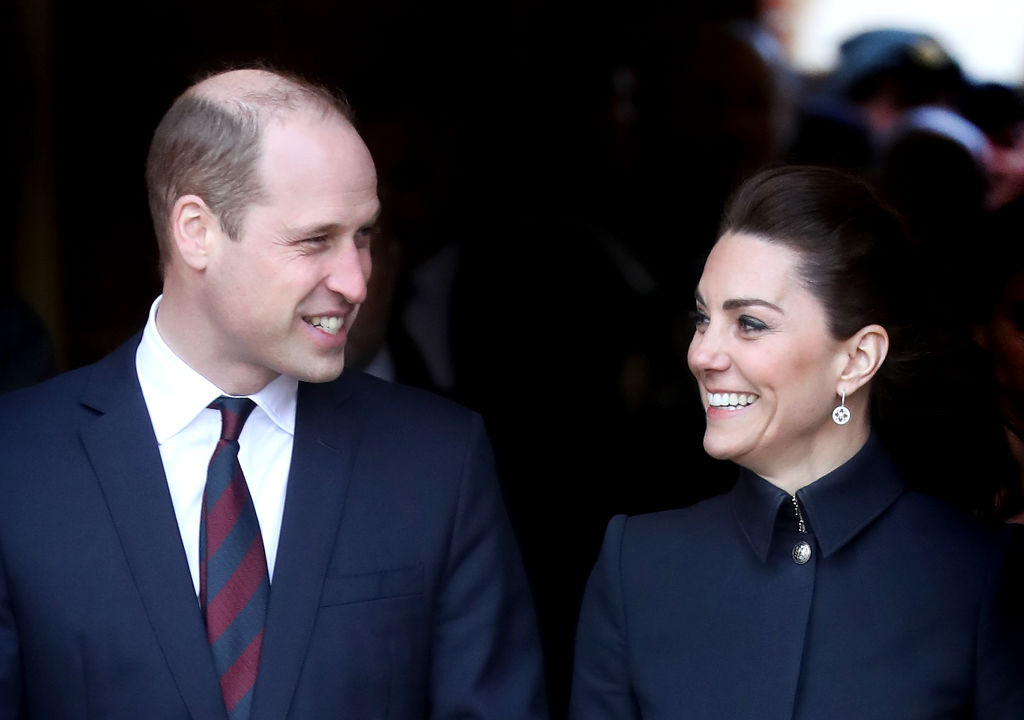 Prince William is preparing to take over his father's role
Queen Elizabeth recently began her 68th year on the British throne and Prince William celebrated his 50th year as the Prince of Wales, the person in charge of the $1 billion Duchy of Cornwall Estate.
There is no doubt that in the coming years there will be major changes in the British royal family, as Queen Elizabeth is 93 years old. It doesn't appear that the Monarch plans to retire, so Prince Charles won't become King until she passes. When that transition happens, Prince William will become the heir apparent and take over the role of Prince of Wales.
Prince William's recent secret meeting at Kensington Palace was with the Secretary of The Duchy of Cornwall about the estate that was established by Edward III in 1337. According to Express, the estate is located in the southwest part of England across 21 counties. It features livestock farms, residential and commercial properties, forests, rivers, and quarries.
The Royal Family's official diary, the Court Circular, revealed that Prince William had a meeting with Mr. Alastair Martin, the Secretary of the Duchy of Cornwall on Thursday, February 20. The editor of Royal Central, Charlie Proctor, says that William is preparing to take over the duties and responsibilities of the Prince of Wales.
"Just like Prince Charles is preparing to become King, William is already preparing to become Prince of Wales ready for the duties and responsibilities he will have to take on," explained Proctor. "As an example, William recently left his job as an air ambulance pilot to become a full time working royal. As time goes on his presence becomes ever more important meaning he has to commit all of his working time to royal duties."
Prince William is preparing to become King
Proctor says that it's important to point out that just like his father, Prince William is also preparing to become King because there is "no chance" he will be the Prince of Wales for more than 60 years like Prince Charles.
The Duke of Cambridge has to "learn the ropes" for two roles at the same time because his time as King will come "sooner rather than later."
Prince William's royal life is vastly different from his father's. Prince Charles was named the Prince of Wales when he was just ten years old and had his investiture at the age of 21.
This has led to Prince Charles becoming the longest-serving Prince of Wales while Queen Elizabeth has been the longest-serving British Monarch. Prince Charles' time as King will most likely be a relatively short run compared to his mother, which means Prince William's term as Prince of Wales will also be relatively brief.
Prince William has admitted that he knows "a tiny amount" about the outdoors compared to his father, so he has a lot to learn about the Duchy of Cornwall Estate.
"I've got the interest and the passion. The countryside is deep in my heart," said William. "I want to learn and know more about farming, but the countryside and the way of life and the best people in the countryside is what I grew up with. I'm not a London boy. My father knows so much about farming. He's in that sector and knows it so well."
Prince Charles has said that Prince William is "quite lucky" that he has the chance to learn about the role instead of going through a "baptism of fire" like he had to do at a young age.
Kate Middleton also had a secret palace engagement
While Prince William is learning about the Duchy of Cornwall, Kate showed off her athletic skills at London Stadium for a short race during an event at SportsAid. The organization is her patronage, and it celebrates how parents play an important role in their children's successful athletic endeavors. She also tried some taekwondo after getting a coaching lesson from Olympic athlete Lutalo Muhammad.
While her time at SportsAid was spent in front of cameras, Kate later held a private Early Years meeting at Kensington Palace for her early childhood initiative. The Early Years initiative includes the survey "5 Big Questions on the Under Fives."
Kate launched the survey in January in an attempt to spark conversation in the UK about raising the next generation. The mom-of-three has been working with different organizations that focus on providing solid psychological, social, and emotional platforms for kids under the age of five. The survey ended on February 21, and the results will be released soon.
At the same time, Prince Harry traveled to Edinburgh, Scotland for his environmental tourism initiative Travalyst. However, he is already changing things up before he officially steps down from his royal duties on March 31. At the event, Harry requested that he be introduced as "just Harry."
Prince Harry and Meghan Markle will make their first joint public appearance in the U.K. since their Megxit announcement on March 5 at the Endeavour Fund Awards. On March 7, the couple is scheduled to attend the Mountbatten Music Festival at Royal Albert Hall.
The Duke and Duchess of Sussex also have separate solo outings before they join Prince William, Kate Middleton and the rest of the royal family on March 9 for Commonwealth Day services.