Prince William and Kate Middleton Broke Royal Tradition By Sending Their Kids to Thomas' Battersea School
Prince William and Kate Middleton are two of the most important members of the royal family. And they're raising their family at a time when it's finally acceptable to break royal tradition. The Cambridges' older children, Prince George and Princess Charlotte, are currently enrolled at Thomas' Battersea School — and William and Kate actually broke royal tradition by sending them there.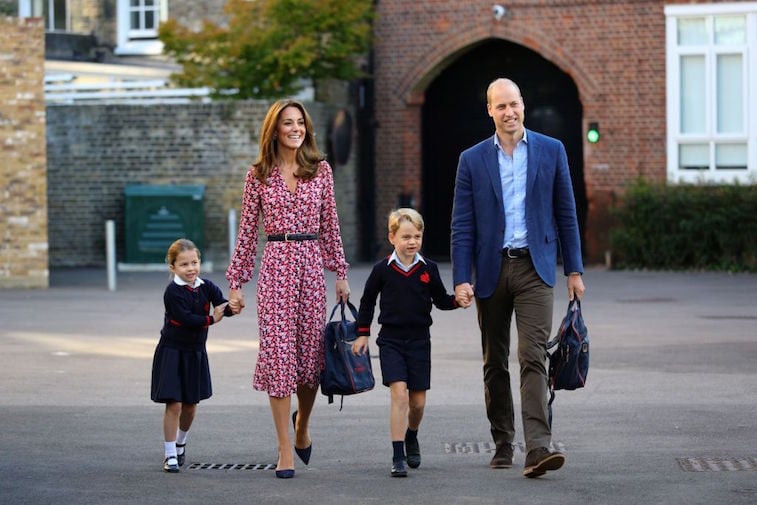 Prince George and Princess Charlotte did not attend the same pre-school
William and Kate have made it clear that they take their children's schooling very seriously. When it came time to decide where to send George to pre-school, the couple opted to go with the school that seemed to be the best fit for him, even if it meant sending him further away than they might have wanted. The two ultimately enrolled George at Westacre Montessori school in Norfolk, which was about 20 minutes from Kensington Palace.
When it came time for Charlotte to attend school, William and Kate did not push their daughter to go to the same pre-school as their son. Rather, they once again found what would be best for her, and ended up sending her to the Willcocks Nursery School in London.
Charlotte recently joined her brother at Thomas' Battersea
Once George was done with preschool, William and Kate took the time to figure out where they should enroll their kids to continue their education. They found Thomas' Battersea to be a great fit, and the couple decided that they wanted George and Charlotte to attend school together. This is what most parents do for their children, and it was likely to create more normalcy in George and Charlotte's lives.
Prince Louis is still a bit young to attend school, and right now, it's unclear where his parents will enroll him.
William and Kate broke the tradition of sending royal kids to boarding school
It was longstanding tradition to send the royal children to boarding school. Prince Philip, Prince Charles, Prince Andrew, Prince Edward, and Zara Tindall all attended boarding school at Gordonstoun School in Scotland. Prince William and Prince Harry studied at Eton. However, Kate and William opted not to continue with the boarding school tradition and instead chose to send their kids to Thomas' Battersea, a day school that does not even have an option to board. But Kate has been adamant about following her own family values when it comes to raising her kids.
Kate has said she wants to raise her children the way she was raised
The Duchess of Cambridge has said in the past that she wants to emulate her own upbringing for her children. Kate grew up in a loving family with two other siblings, and her life was mostly ordinary. William and Kate have made a point to give their kids the most normal life possible; they are trying to hold off on explaining royalty to them for as long as they can.
The parents bond with their children in many ways as well, including spending time outdoors with them and making dinner as a family whenever they can. These are things they wouldn't be able to do if they'd sent the kids to boarding school. It seems to work for their family, so kudos to Kate for wanting to break tradition.