Prince William and Kate Middleton Pressured to 'Pick Up the Slack' After Prince Harry and Meghan Markle Drama
Will Prince Harry and Meghan Markle's exit drama put pressure on Prince William and Kate Middleton to pick up the slack?
Prince Harry and Meghan Markle are moving on from their royal duties after Queen Elizabeth gave her blessing, but what does that mean for Prince William and Kate Middleton? Some royal experts think they will have to pick up the slack, with concerns that Middleton, in particular, will "bear the brunt."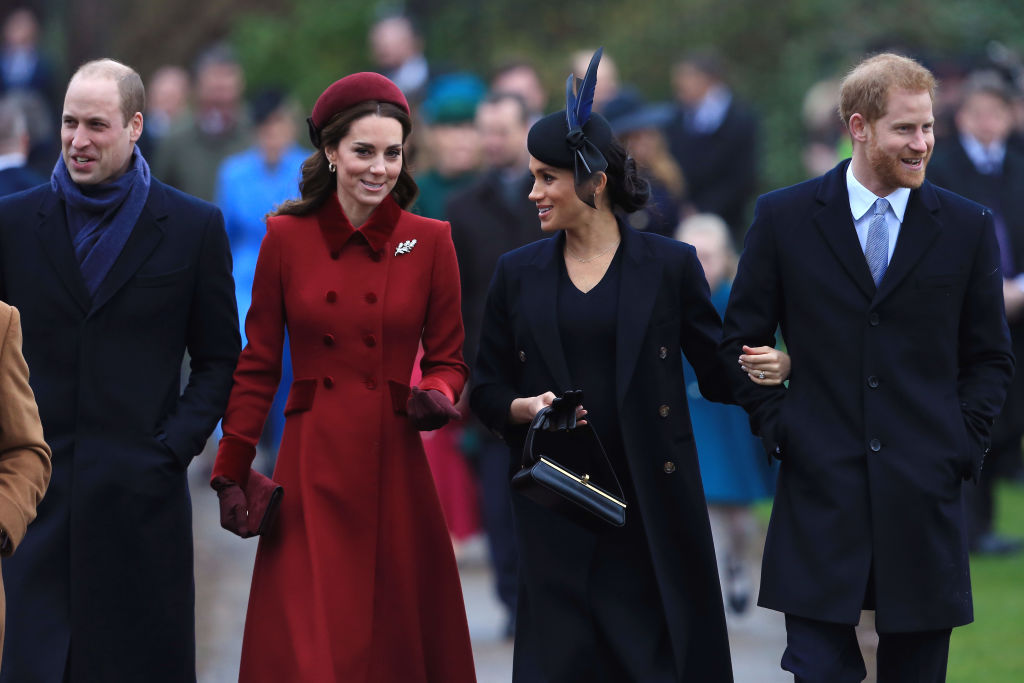 Queen Elizabeth approved Prince Harry and Meghan Markle's exit
After Prince Harry and Markle announced their plans to leave their royal duties, Queen Elizabeth met with Harry, Prince William, and Prince Charles to discuss the matter, releasing a statement that she was supportive of the Sussexes' plan.
When the details were finalized, both the Sussexes and the Queen released statements that laid out the plan moving forward.
A statement from the queen noted: "Following many months of conversations and more recent discussions, I am pleased that together we have found a constructive and supportive way forward for my grandson and his family. Harry, Meghan and Archie will always be much loved members of my family. I recognise the challenges they have experienced as a result of intense scrutiny over the last two years and support their wish for a more independent life."
The statement continued: "I want to thank them for all their dedicated work across this country, the Commonwealth and beyond, and am particularly proud of how Meghan has so quickly become one of the family. It is my whole family's hope that today's agreement allows them to start building a happy and peaceful new life."
The Sussexes' "selfish" plan could leave Prince William and Middleton with more to do
With the Sussexes exiting the royal family, there is concern about how their duties will be handled moving forward. According to The Mirror, royal sources claim the Sussexes' decision to leave is "pretty selfish" and may leave some of their duties on the Cambridges' plate.
A palace source told The Mirror how Prince Harry and Markle's decision to exit the royal family has caused "genuine worry" about the fallout when they're gone. The insider shared: "Harry and Meghan deciding to up sticks and leave without any thought about how it could affect them is pretty selfish."
The source continued: "If the Sussexes are only here half the year then it will fall to William and Kate to pick up the slack with more engagements, more pressure, and that has not even been considered."
Express further reports that, "with the loss of two senior royals, it may now be up to" the Cambridges "to take on more responsibility. An already packed schedule may get busier, and Kate may find herself stretched between home and work in her daily life."
Royal expert Daniela Elser shared that Middleton may face an additional hurdle, writing on news.com.au: "Unfortunately for Kate, she faces having to bear the brunt of this royal world order. There is no getting away from the uncomfortable fact that no matter how unfair (or un-feminist) it is for Kate to be constantly pitched against Meghan, this situation is only going to be thrown into overdrive in the coming months and years."
Why 2020 is going to be a big year for the royal family
During the Heirpod podcast, royal expert Omid Scobie shared that the Cambridges will need to "put in a lot more work" in 2020, with royal expert Victoria Arbiter adding: "2020 will be a big year of adjustment, change and adapting with the Queen being older."
She continued: "So everyone needs to start raising the game a little bit."
As for how the Cambridges are handling the fall out from Harry and Markle's drama, the stress could be seen at their first joint appearance after the Sussexes made their announcement.
Body-language expert Blanca Cobb shared how their posture was quite revealing of the situation. Cobb told Cosmopolitan: "It's unusual to see William and Kate with such rounded shoulders. It could be that they're figuratively feeling the weight or pressure of the situation with Harry and Meghan, so it's weighing them down a bit."