Prince William and Kate Middleton Reportedly Disagreed on What Prince George Should Wear to Recent Euro 2020 Game
Prince William is the president of the Football Association, which oversees soccer games in England. He recently attended a few Euro 2020 matches with his wife, Catherine, Duchess of Cambridge, and their son, Prince George.
As royals, the family had a lot of eyes on them during the games, and their outfits had the potential to catch people's attention. However, William and Kate reportedly disagreed on what George should wear to one of the matches.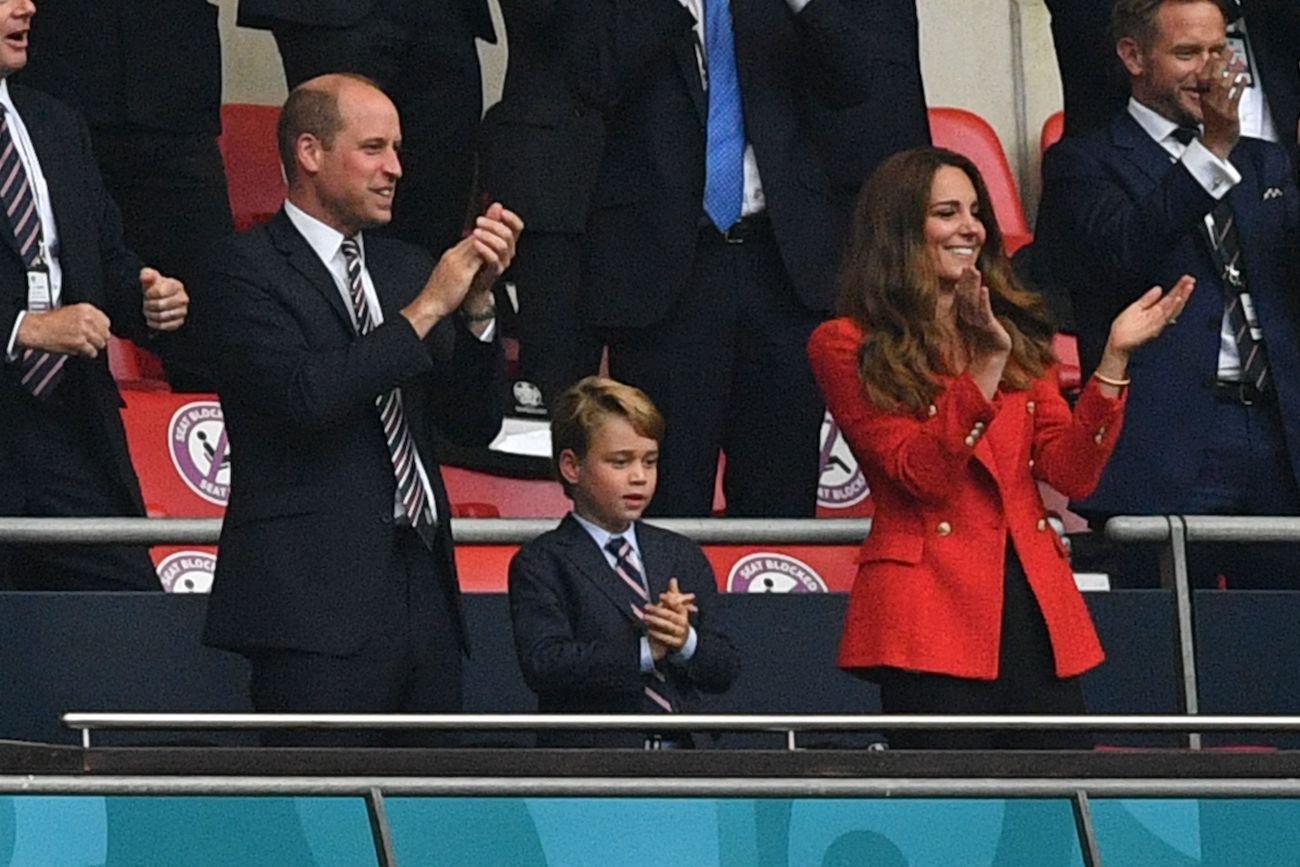 The Cambridges attended Euro 2020 games
The Euro 2020, which lasted from June 11 to July 11, held some games at Wembley Stadium in London, England. This allowed the royal family to attend in between other engagements.
William, Kate, and George all attended the match between England and Germany on June 29.
Then, William attended the match between England and Denmark on July 7 by himself.
William was joined by his wife and son at the Euro 2020 final between England and Italy. The family cheered when England scored a goal during the match, and they expressed sadness when the team lost in the end.
Prince William and Kate Middleton disagreed on what Prince George should wear
RELATED: Prince Harry Once Lost a Relationship Because of Kate Middleton
For both Euro 2020 games that George attended, he wore a suit much like his father. However, William reportedly wanted George to wear a soccer jersey—something Kate was against.
Tennis champion Marion Bartoli shared this tidbit while acting as a commentator for the match between Novak Djokovic and Matteo Berrettini on July 11.
"Yesterday I had an afternoon tea with the Duchess and it was very much a discussion whether George will be allowed to wear the jersey tonight at Wembley or not," she said, according to Express. "William was for it, Kate not so keen, so we'll see."
Nonetheless, George has worn soccer jerseys before. In 2019, the Cambridges took to social media to share pictures of him in an England shirt in honor of his 6th birthday. The official Twitter account for England's national team even responded, "Great choice of shirt. Have a brilliant birthday, Prince George!"
Prince William wouldn't mind Prince George playing soccer professionally
RELATED: Prince William and Kate Middleton's Massive Home Pales in Comparison to Harry and Meghan's 16-Bathroom Mansion
Although George is likely to be a king one day, William once revealed he wouldn't mind his son playing soccer professionally.
When William appeared on That Peter Crouch podcast in 2020, former soccer star Peter Crouch asked William, "What if [Prince George] got really good at football [soccer]? Can he do the job and be up front for [Aston] Villa?"
William—who is a huge fan of soccer club Aston Villa—responded, "Yeah, definitely. I reckon he could. I reckon he could be the all-time goal scorer."
William and Kate are raising their kids in a more normal fashion than royals of the past. George and his siblings are free to explore many hobbies, and the future king is even taking ballet lessons. There's no doubt this will allow him to become a well-rounded royal when he gets older.