Prince William, Kate Middleton, and Rose Hanbury Spotted Attending Church Service Following Affair Rumors
Last year, rumors that Prince William had an affair with Rose Hanbury swirled, as royal fans wondered whether he had really cheated on wife Kate Middleton. The gossip picked up, including buzz that the Cambridges had cut Hanbury out of their inner circle, but eventually, the rumors subsided. Now there's interest in the status of the royal couple's relationship with Hanbury again after they were spotted at the same church service together.
What happened between Prince William, Kate Middleton, and Rose Hanbury?
In March 2019, rumors persisted for a short time that Prince William cheated on Middleton with Hanbury and that, as a result, Middleton "phased out" Hanbury and husband David Rocksavage, the Marquess of Cholmondeley, who were their neighbors.
A source told The Sun: "It is well known that Kate and Rose have had a terrible falling out. They used to be close but that is not the case any more."
The insider continued: "William wants to play peacemaker so that the two couples can remain friends, given they live so close to each other and share many mutual friends. But Kate has been clear that she doesn't want to see them any more and wants William to phase them out, despite their social status."
Why did the rumors fizzle?
While Prince William and Middleton never addressed the cheating rumors, the buzz dwindled down to a whisper and eventually faded away.
Perhaps that can be explained by someone who has been close with William, former press secretary Miguel Head, who worked for the British royal family for 10 years, serving as the first press secretary to Prince William and Prince Harry before working as Prince William's private secretary in 2012.
In a 2019 interview with the Harvard Gazette, Head discussed how the princes had dealt with media scrutiny in the past. He shared: "The royal family is one of the most well-known institutions in the world and the two young princes always have been very popular and well-regarded and sources of great interest and intrigue over the years."
Head continued: "I suppose the way that we dealt with it was really directed by them. They had a very healthy attitude to a lot of what was written about them, which is that they largely just completely ignored it. So, our rule of thumb was we only commented reactively on stories if the stories were judged, in our view, to have a detrimental reputational impact."
Head added, "the only way of coping with that would be to detach themselves from much of what is said about them."
Prince William and Middleton reportedly felt bad for Hanbury
In May, it was reported that the couple was "concerned" about Hanbury, with a source telling HollywoodLife: "Kate and William generally ignore these sorts of nasty rumors. But this one has really rocked them, that's why lawyers are involved. The rumor is so ugly and so false, they couldn't just ignore it."
The insider added: "And it doesn't just hurt them, they are very concerned for Rose. She's a married woman with children, and she's not used to this kind of public scrutiny. She's a friend of not only Kate's but also the entire family, so this is upsetting for everyone."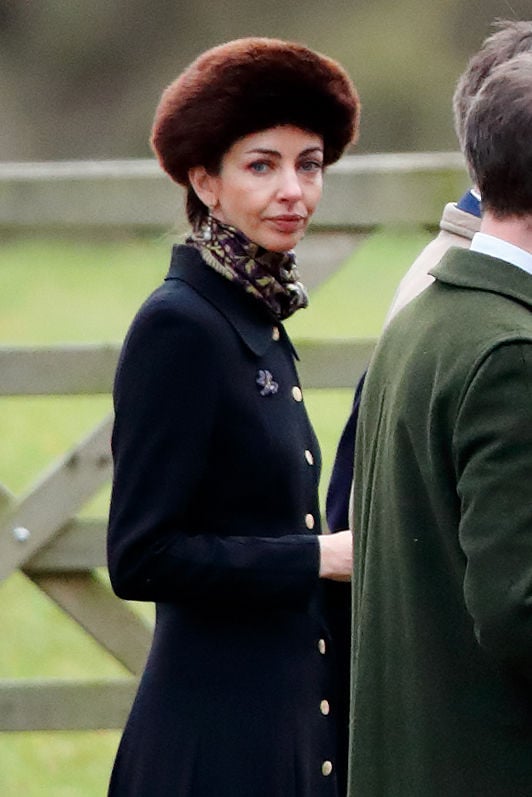 Rose Hanbury was seen with the Cambridges
In June, Hanbury, Prince William and Middleton attended the State Banquet at Buckingham Palace, but the Cambridges were seated far from Hanbury and there were no reports of any interaction among them.
Today, the three were seen outside of St. Mary Magdalene Church in Sandringham, Norfolk, as People reported that Prince William and Middleton are hosting friends at their Anmer Hall home in Norfolk this weekend for the duchess' 38th birthday. Perhaps Hanbury hadn't been booted from their inner circle as rumors suggested, after all.