Prince William and Kate Middleton Have Been Sending 'Secret Messages' to Prince Harry and Meghan Markle, Royal Expert Claims
Prince William and Catherine, Duchess of Cambridge are full-time royals, which means they spend a lot of their days doing work to support Queen Elizabeth. At first glance, it does not seem like William and Kate are doing anything out of the ordinary. However, a royal expert believes the Cambridges are also sending "secret messages" to Prince Harry and Meghan, Duchess of Sussex.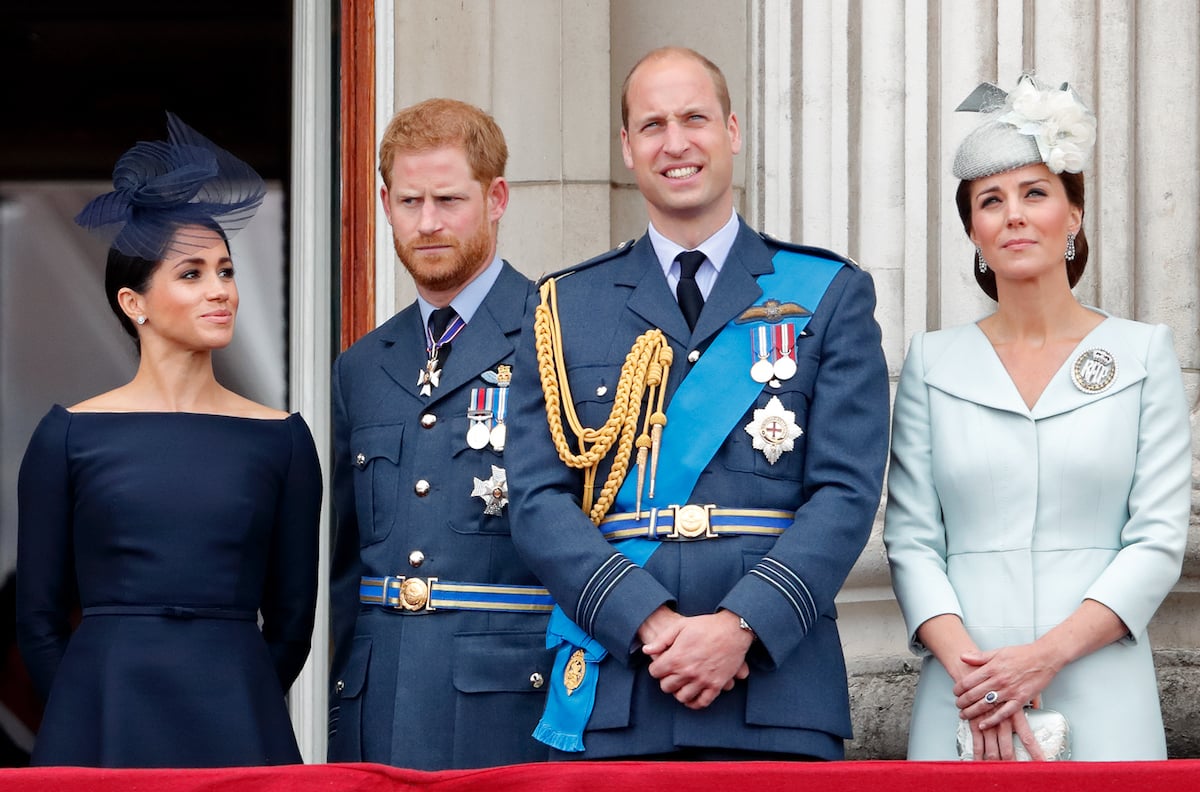 The Cambridges and the Sussexes are reportedly not on good terms
The Cambridges and the Sussexes were once known as the "Fab Four," but they soon split into two different camps.
Some people think the tension happened when Harry and Meghan started dating in 2016. William and Kate allegedly urged Harry to take things slow, but the younger prince went "ballistic." Other people believe William and Harry were already at different places in their lives due to how they were raised, and this led to resentment on Harry's part.
In any case, Harry and Meghan moved far away from William and Kate, started their own charity foundation, and established their own communication team. Then, the Sussexes stepped down as senior royals in 2020 and moved to California.
Since stepping down, Harry and Meghan have shared with journalists grievances they have against the royal family. The couple also spoke negatively about certain royals, including Kate.
Prince William and Kate Middleton have been sending 'secret messages,' a royal expert claims
William and Kate have not publicly responded to many things Harry and Meghan did. However, a royal expert believes they have responded in subtle ways.
"William and Kate are definitely on the charm offensive right now – and it's working," royal author Duncan Larcombe said, according to Closer Online. "While William has always spoken out against racism, his statement this time was really powerful and especially relevant after Harry and Meghan's accusation about the royal family."
Larcombe was referring to William's recent condemnation of the racist messages players for England's national team received. This came a few months after Harry and Meghan alleged that someone in the royal family made racist comments against their son.
Larcombe added, "William and Kate have kept a dignified silence but now they're letting their actions do the talking. It's almost as if they're sending a secret message to Harry and Meghan saying, 'We're going to keep going, we're still here, we're not backing down, we're carrying on'. It's a message to Harry that life continues – with or without him."
The author also pointed out that in one interview, Harry said William is "trapped" in the institution. However, according to Larcombe, William and Kate seem determined to present a different image.
"Kate is full of smiles wherever she goes – she's sending a message back to Harry and Meghan saying, 'We're happy, we're fun – we're not trapped like you said we are,'" Larcombe said.
Prince Harry's upcoming memoir could hurt Prince William, another expert says
Harry recently announced he will be publishing a memoir. Onlookers believe it might contain a lot of juicy secrets about other royals. Author Angela Levin shared that William could end up being hurt the most with the release of the book.
"William is the one who will come out of this the worst of all," Levin said, according to Express. "There is the row between William and Harry, and basically if Harry says things that are inappropriate about the monarchy, that is William's future. It is not Harry's future, he is out of it now, but it is William's future."