Prince William and Kate Middleton Will Leave the Country Upon Prince Harry and Meghan Markle's Return to U.K.
Prince William and Kate Middleton are heading to Ireland when Prince Harry and Meghan Markle come home.
Prince Harry and Meghan Markle are scheduled to return to the United Kingdom for the first time together since they formally announced they would "step back" as senior royals. The two have a full schedule and will reportedly head home in the next couple days and remain in the country through the beginning of March.
But it turns out Prince William and Kate Middleton have scheduled a royal engagement of their own in another country right in the middle of Harry and Meghan's return.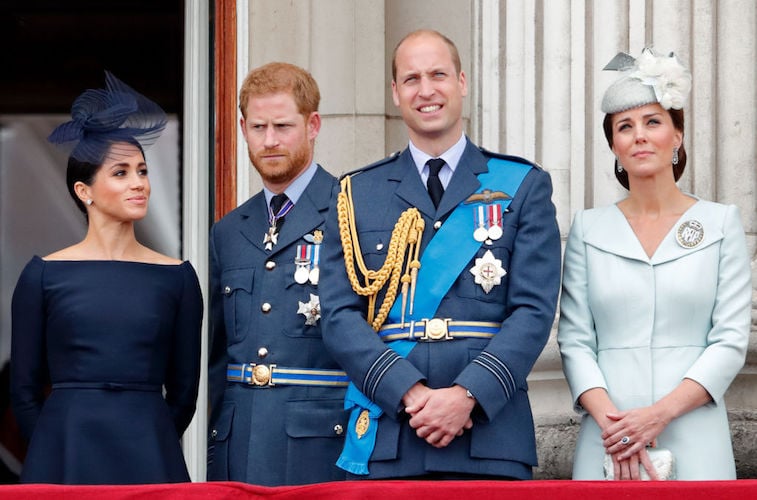 William and Kate have stepped up their royal duties since Harry and Meghan's exit
When Harry and Meghan announced their departure back in January 2020, William and Kate didn't bat an eye. Though it's unclear exactly how things went down behind the scenes, and William was reportedly "sad" about his brother's departure for North America, William and Kate both understood they still had a job to do.
Once Harry and Meghan left, William and Kate seemed to make more royal appearances than ever. Their Instagram account became more active while Harry and Meghan's slowed down.
Harry and Meghan have a full schedule upon their return home, too
Just like William and Kate, Harry and Meghan will still have a job to do when they return home. Though they're no longer living in the U.K, they're still technically working royals until April 1, which means they still have engagements lined up. Harry will be meeting with singer Jon Bon Jovi to prepare for the Invictus Games, and Meghan reportedly has an event lined up for International Women's Day on March 8.
The Cambridges will head to Ireland for several days in the middle of Harry and Meghan's visit
Harry and Meghan's return might be big news for the public, but the royals clearly aren't changing their plans to welcome the two home with open arms. William and Kate recently announced that they will head to Ireland for three days in March — shortly after Meghan and Harry arrive back in the country. William and Kate plan to use the trip to highlight the close ties the U.K. has with Ireland.
For the past couple of years, there have been rumors of bad blood between the Cambridges and the Sussexes. Last year, Harry addressed that he and his brother have grown apart, but it doesn't necessarily mean that William and Kate are purposely taking the trip to Ireland during Meghan and Harry's return. Royal schedules are often made very far in advance, and these two might have had this trip planned before they even knew Harry and Meghan would be leaving the family in the first place.
The two couples are expected to make a joint appearance on Commonwealth Day
Though the couples probably won't cross paths too much during the coming weeks, they are all expected to make a joint public appearance on Commonwealth Day on March 9. The queen and other royals attend Westminster Abbey's annual service, and that routine is expected to continue despite the new way of royal life.
Though William and Kate's trip to Ireland doesn't necessarily mean they're avoiding Harry and Meghan, all eyes will be on the four of them during their first public appearance together since the Sussex's exit.