Prince William Knew All About Princess Diana's Love Affairs When He Was a Child, Author Says
According to Princess Diana's biographer, Prince William was her "confidant" and knew about the men his mother was linked to during and after her marriage.
Prince William spent 15 years with Princess Diana before her tragic death in 1997. During that time, Diana had a tumultuous love life that included a public divorce and several love affairs. According to a biographer, William was very much aware of the happenings in Diana's love life even as a child.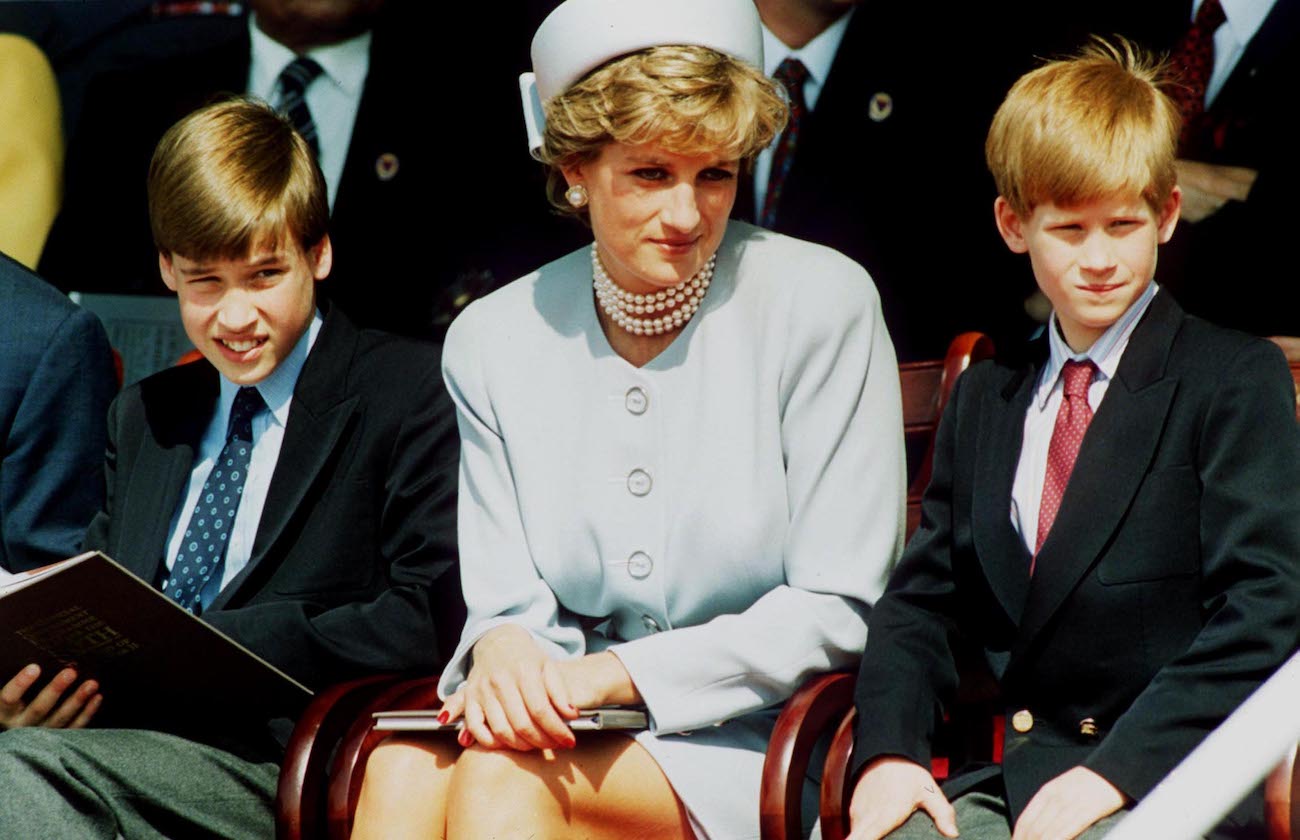 Princess Diana had been linked to several men
Diana was famously married to King Charles from 1981 to 1996. However, the late princess was also linked to several men both during her marriage and after. 
According to Tatler, while married to then-Prince Charles, Diana became close to men such as bodyguard Barry Albert Mannakee, military officer James Hewitt, childhood friend James Gilbey, art dealer Oliver Hoare, and surgeon Hasnat Khan.
Some of these relationships even caused huge scandals. For example, in the early 1990s, a radio enthusiast leaked a phone call between Diana and Gilbey. The pair were heard making kissing noises and calling each other intimate nicknames, including Gilbey calling Diana "Squidgy." The scandal became known as "Squidgygate," though Gilbey also denied that they were romantically involved.
Then, in 1995, Diana had an explosive interview with BBC's Panorama in which she publicly confessed to having an affair with Hewitt. William learned about the interview when he was at boarding school and his housemaster reportedly found him crying.  
At the time of her death, Diana was dating Dodi Fayed, the son of Egyptian billionaire Mohamed Al-Fayed.
Prince William knew all about his mother's love affairs, author says
Although William was still a child when his mother's love affairs occurred, some sources say he was not ignorant of them.
"He was privy to her volatile love life," Diana's biographer Tina Brown wrote for Vanity Fair. "He knew the tabloids made her life hell, but he also knew she colluded with them. By his early teens, he was his mother's most trusted confidant. She used to describe him as 'my little wise old man.'"
Brown also brought up an anecdote shared by Piers Morgan, who used to be an editor of the Daily Mirror.
"He is clearly in the loop on most of her bizarre world and, in particular, the various men who come into it from time to time," Morgan wrote of a meeting with Diana and William in 1996.
Prince William 'shielded' Prince Harry from Princess Diana's 'unhappiness,' another author says
According to Brown, unlike William, Prince Harry "idolized" Diana and "understood her less," especially because the brothers had a two-year age difference between them.
In fact, another author, Ingrid Seward, once reported that William "shielded" Harry from their mother's "unhappiness."
"Any of these very well-known stories which people that follow these things will remember like when Diana locked herself in the bathroom and was crying her eyes out, William pushed tissues under the door," Seward said (via Express). "And then there's another story which I think Diana herself told on 'Panorama' about when she was very unhappy William would go and buy her chocolates and she would tell William about her unhappiness. So this young man, he was 14 or something at the time, probably less 13/14, was taking on his mother's unhappiness and he shielded Harry from all that."