How Much Money Did Prince William and Prince Harry Inherit When Princess Diana Died?
Prince William and Prince Harry lost their mother far too young -- but she left them a hefty inheritance.
Princess Diana's death was the hardest thing Prince William and Prince Harry have ever gone through. She passed away tragically when the boys were only teenagers, and since then, they've both worked to move on from the incident. When the princess died, she left a large sum of money to her two children. How much did they get?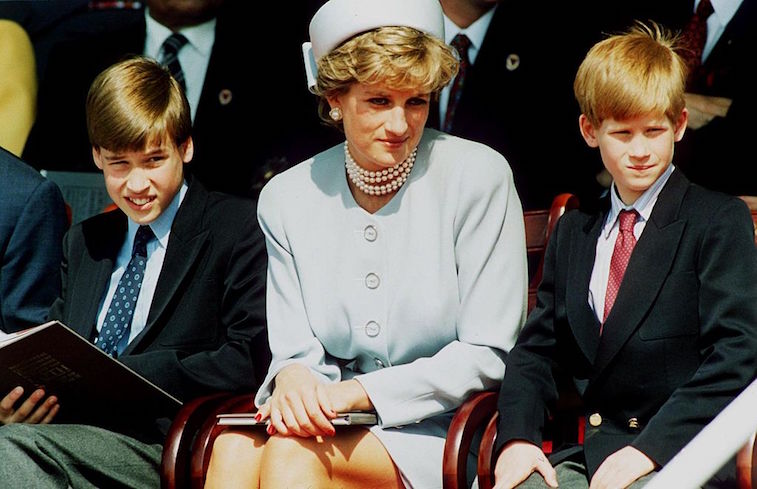 It took Prince Harry years to move on from his mother's passing
When Princess Diana died, both brothers took it very hard. However, Prince William is the future king, and he knew he had to keep up a certain appearance. Prince Harry, however, became a bit out of control growing up and essentially lashed out at the life he lived. Princess Diana was supposedly outrunning the paparazzi when her car crashed, and Prince Harry has since said that he's never forgiven the paparazzi for what happened. While he's now happily married with a baby of his own and has sorted his life out, he'll never forget what happened to his mother.
Diana was worth around $31.5 million when she died
When Diana passed away, she left a massive estate behind. After her messy divorce with Prince Charles, which took place once it leaked that Charles had rekindled his longtime affair with now-wife Camilla Parker Bowles, Diana reportedly walked away with around $22.5 million. She also reportedly received a $600,000 salary, and over the next decade, she accumulated an even higher net worth. By the time the princess died, she was worth an estimated $31.5 million. The princess left money to several people who meant a lot to her, including her butler, her sisters and mother, her godchildren, and her two sons.
When her sons turned 30, each of them inherited roughly $16 million  
While Diana split her estate and left money to many people, the majority of it went to Prince William and Prince Harry. Originally, the boys couldn't touch the trust fund until they were each 25, but Diana's mother and sister, who were the executors of the will, changed those terms after her death. Prince Harry and Prince William were then allowed to collect the interest at 25 but couldn't touch the actual money until they were 30. By the time sons' 30th birthdays came around, they each received a total of $16 million.
The men also inherited her wedding dress and some of her keepsakes
While Prince William and Prince Harry inherited plenty of money, there were also some physical items of their mother's they came away with. Diana left her wedding dress to the two sons, though it was among the things they couldn't have until they turned 30. The men were also allowed to choose keepsakes from her jewelry collection to keep. Prince William chose Diana's iconic gold Cartier watch her father gave her. Today, William and Harry's wives, Kate Middleton and Meghan Markle, both wear rings featuring stones of Diana's and are often seen wearing the late princess' jewelry. Kate Middleton recently wore Diana's earrings to Archie Harrison's christening.