Prince William Is Very Protective of Kate Middleton and He's Angry She Was Mentioned in the Sussexes' Oprah Interview, Expert Says
Prince William and Prince Harry's brotherly relationship does not appear to be on the mend. The royal brothers were always very close growing up. However, in the past several years, the princes have been on very different paths, which has led to an apparent fracture in their relationship.
While Prince William is preparing to become the Crowned King one day, Prince Harry has been pushed toward the sideline as the heir's spare. This became increasingly apparent when the prince introduced his now-wife, Meghan, Duchess of Sussex, to the royal family.
Now, in an interview with Oprah Winfrey, Meghan and Prince Harry have revealed the racism that Meghan endured as a senior working royal and the lack of support they received from the royal family. Meghan also cleared up a rumor about herself and Catherine, Duchess of Cambridge. Prince William is not pleased about the interview, and a source says he's furious that Kate was brought into it.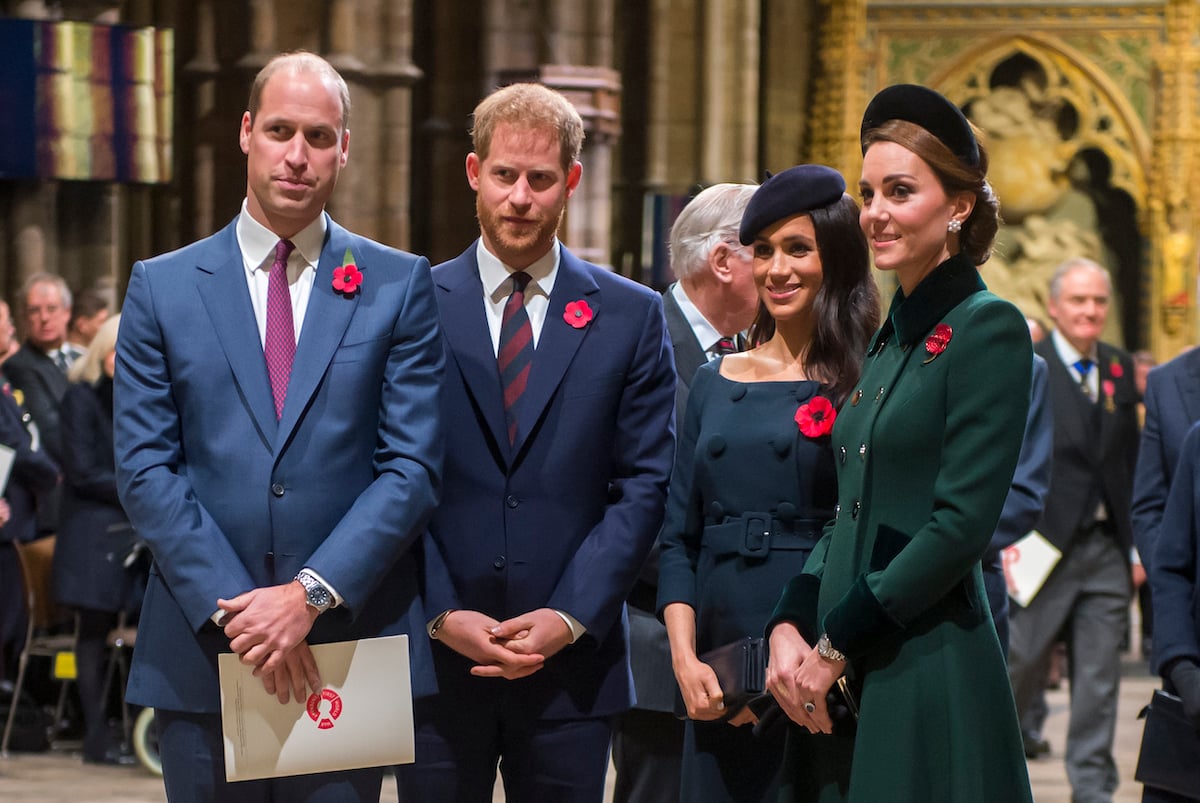 Prince William has spoken to Prince Harry following the Sussexes shocking Oprah interview
Amid their interview with Oprah, the Sussexes revealed that an unnamed family member had some racist comments concerning Archie's skin tone before he was born. Prince William clapped back at accusations of racism once the interview aired in the U.K.
"We're very much not a racist family," he said on March 11 during a visit to School2 in East London. Since then, Prince William and Prince Charles have spoken with Prince Harry. However, nothing appears to be on the mend between the royals just yet.
"Harry has talked to his brother, and he has talked to his father too," journalist Gayle King said on CBS This Morning. "The word I was given was that those conversations were not productive. But they are glad that they have at least started a conversation."
Kate Middleton was mortified she was mentioned in Prince Harry and Meghan Markle's Oprah interview
Prince William's wife, Kate, the future Queen Consort, was also brought up in the Sussexes interview with Oprah. For years, rumors have swirled that Meghan reduced Kate to tears back in 2018 in the days leading up to the Sussexes wedding. "The reverse happened," Meghan told Oprah.
Meghan went on to share that Kate had said something that hurt her feelings, but she apologized for it. "She did what I would do if I hurt someone, right? To take accountability for it," she explained. "What is shocking is that six, seven months after the wedding that the reverse would be out in the world." The duchess brought this up to illustrate that the royals family refused to clear up rumors about her, often hanging her out to be villainized and attacked in the press due to false information.
Kate is apparently not at all pleased that she was mentioned in the interview. "From what I hear, there are different versions of the bridesmaid story, not just the one Meghan discussed," royal expert Katie Nicholls told OK Magazine. "Kate felt it was all sorted, so to have it brought up again was mortifying. Kate is not in a position to respond, and Meghan and Harry know that. Kate is so discreet and respects her personal life."
Prince William is angry Meghan Markle mentioned Kate Middleton in her Oprah interview
While Kate might be "mortified" but Prince William is apparently furious about the whole thing. "William is very protective of Kate and can get very angry," royal biographer Penny Juror told People via Express.
While the Cambridges are said to be fuming, Queen Elizabeth II seems to be hoping for peace and reconciliation of some kind. Following the interview, she released a statement via Buckingham Palace. It read,
The whole family is saddened to learn the full extent of how challenging the last few years have been for Harry and Meghan. The issues raised, particularly that of race, are concerning. Whilst some recollections may vary, they are taken very seriously and will be addressed by the family privately. Harry, Meghan and Archie will always be much loved family members.