Prince William Reveals New Details About His Top Secret Proposal to Kate Middleton
It has nearly been 10 years since Prince William proposed to Kate Middleton, yet the Duke of Cambridge still has fond memories of their engagement. The couple has enjoyed a strong marriage over the past decade, and William opened up about the engagement during a recent engagement at Buckingham Palace. What did William have to say about popping the big question after all these years?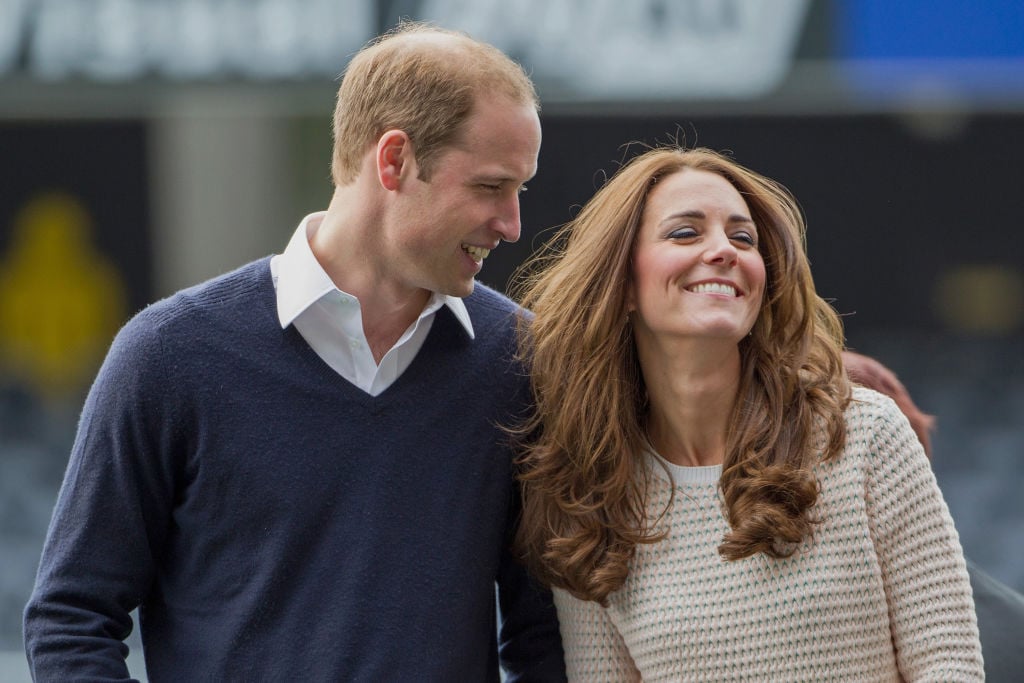 Prince William opens up about engagement
With Queen Elizabeth still on her winter break, William and Kate hosted their first solo event at Buckingham Palace this week. The event was held in honor of the UK-Africa Investment Summit, and William was the special guest speaker.
According to Town and Country, Prince William talked about asking Kate to marry him and why he choose Africa as the backdrop for the proposal.
"The African continent holds a very special place in my heart," William told the crowd. "It is the place my father took my brother and me shortly after our mother died. And when deciding where best to propose to Catherine, I could think of no more fitting place than Kenya to get down on one knee."
Prince William and Kate Middleton decided to get married while during a trip to Kenya in 2010. William set the mood at a log cabin in the region. As royal watchers will recall, he also proposed with Princess Diana's engagement ring.
Prince Harry is the one who actually gave William Diana's ring. William customized the ring and made sure it fit for Kate, who has worn it proudly ever since.
Inside Prince William and Kate Middleton's engagement
William and Kate started dating while attending classes at St. Andrews in the early 2000s. The pair experienced some rocky times in 2007 that resulted in a brief breakup. They got back together a few months after their split and have not looked back.
In the weeks leading up to the engagement, Prince William kept the ring on his person. Not only was William safeguarding the ring, but he was also waiting for the perfect time to pop the big question.
He later revealed that he did not plan out the engagement too far in advance. Instead, he was looking for a time when he and Kate were both comfortable, and Africa proved the perfect setting for it.
Prince William and Kate tied the knot in a gorgeous ceremony inside Westminster Abbey in the spring of 2011. They went on to welcome three adorable children, Prince George, Prince Charlotte, and Prince Louis, and are rumored to be thinking about expanding the family by one more.
How are the Duke and Duchess of Cambridge handling Megxit?
A few weeks ago, Harry and his wife, Meghan Markle, announced that they are stepping down as senior members of the royal family. The move reportedly blindsided the royals, many of whom had no idea Harry and Meghan wanted out.
Although the royals have been scrambling to shut down the drama, William and Kate have actually witnessed a boost in popularity following Harry and Meghan's departure.
The Duke and Duchess of Cambridge reportedly received a warm welcome at an event in Bradford, and crowds at the Buckingham Palace reception were equally happy to see them.
"The warm reception William and Kate received has given them a huge boost," Kate Nicholl, an expert on the royals, explained. "They've stuck to the tried-and-tested approach, promoting a united royal family and it's a success."
Although Prince William and Kate are more popular than ever, they are both under a tremendous amount of stress now that Harry and Meghan are gone. Not only will the two shoulder more responsibility moving forward, but William no longer has his brother at his side.
What's next for the royal family?
While Harry and Meghan are no longer active royals, Prince William and Kate Middleton will continue their usual schedule throughout 2020. In fact, the Cambridges might even take on a heavier workload in the coming years as they prepare to lead the monarchy into the future.
As far as Harry and Meghan are concerned, the Duke and Duchess of Sussex are now enjoying themselves in Canada. After meeting with Queen Elizabeth in Sandringham, Harry reunited with Meghan on Vancouver Island.
The two are reportedly looking to purchase a home in the area, though nothing official has been confirmed.
In their announcement, the two revealed that they want to become financially independent from the crown. They are also splitting their time between the UK and Canada and plan on paying back the $3 million that was used to renovate Frogmore Cottage.
Prince William and Kate Middleton have not commented on their recent boost in popularity.