Prince William 'Shielded' Prince Harry From Princess Diana's 'Angst' and 'Unhappiness,' Author Says
When they were little, Prince William and Prince Harry experienced a lot of turmoil in their family. Most notably, their parents' marriage broke down amid a huge infidelity scandal. 
However, according to a royal author, Harry witnessed a lot less than William due to his age. Reportedly, William also "shielded" his younger brother from seeing much of Princess Diana's "angst" and "unhappiness."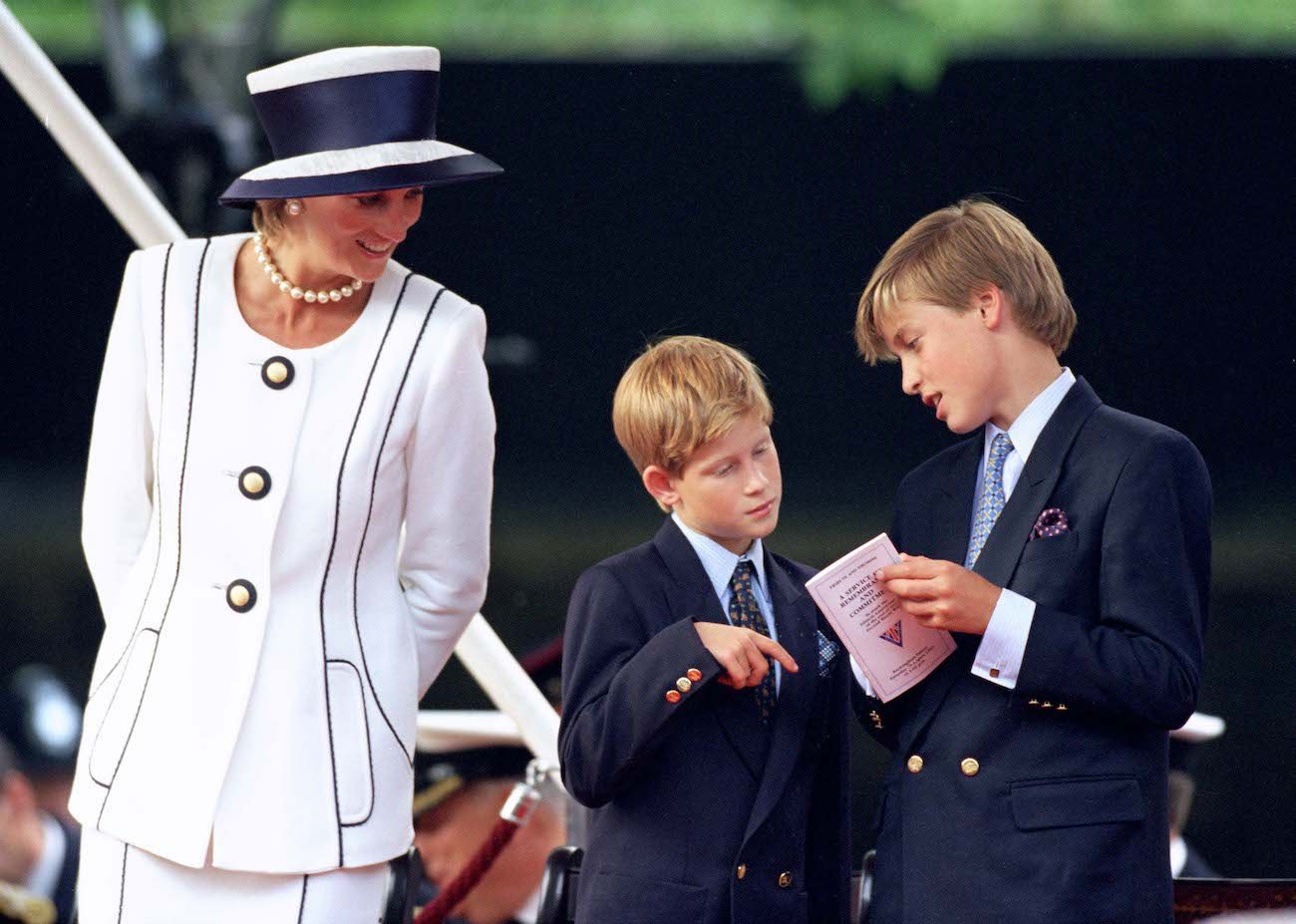 What was Princess Diana's relationship with her sons like?
Diana had trouble fitting into the royal family due to her free-spirited nature. However, the late princess was widely admired for the way she changed royal parenting.
Traditionally, royal parents were not required to be present in their kids' lives. For example, Prince Charles grew up with nannies while his parents, Queen Elizabeth II and Prince Philip, spent a lot of time working away from home. There was also not much emotional closeness between adults and children.
However, Diana tried to be a hands-on parent to her sons—the opposite of what royals did at the time. She gave them hugs and did many activities with them. The press even took numerous photographs of her taking them to school, fast food restaurants, and amusement parks. 
Author says Prince William 'shielded' Prince Harry from tough moments with their mother
RELATED: Princess Diana Would Have Sided With Prince William During 1 Important Argument He Allegedly Had With Prince Harry, According to a Friend
Despite Diana's positive influence in her children's life, by her own account, things in her household could be tumultuous. For example, she dealt with mental health issues. She was also emotionally reactive, to the point where other members of the royal family called her "mentally unstable."
According to author Ingrid Seward, William experienced more of Diana's difficult moments than Harry.
Seward explained, as reported by Express, that examples of these events were "when Diana locked herself in the bathroom and was crying her eyes out, William pushed tissues under the door" as well as when "Diana herself told on Panorama about when she was very unhappy William would go and buy her chocolates and she would tell William about her unhappiness."
Seward noted, "So this young man, he was 14 or something at the time probably less 13/14, was taking on his mother's unhappiness and he shielded Harry from all that."
Prince William was embarrassed by his mother's infamous 1995 interview
RELATED: Prince William Once Showed He Is 'Stubborn' Just Like Princess Diana
William was also reportedly very much affected by the candid way his mother talked to the press. In 1995, for example, Diana sat down with BBC's Panorama and shared many details of her private life, including her affair with military officer James Hewitt.
William was at boarding school when the interview aired, but author Robert Lacey wrote in the book Battle of Brothers that the prince was following the conversation. It allegedly left him in tears.
"Before the 58 minutes ended, William was weeping," Lacey said. He also added that William's housemaster, Andrew Gailey, "told Diana that he found her son slumped on the sofa, his eyes red with tears."
However, William has not spoken about these events in public. The prince has mostly been trying to continue some of her most important charity work and to honor the positive impact she had on the world.