Prince William Thinks Prince Harry 'Disrespected' the Monarchy and the Queen, Royal Expert Claims
Meghan, Duchess of Sussex and Prince Harry's royal exit has done nothing to improve Harry's fractured relationship with his brother, Prince William. According to one royal expert, things between them are "worse than ever" and their last royal engagement together seems to support that claim.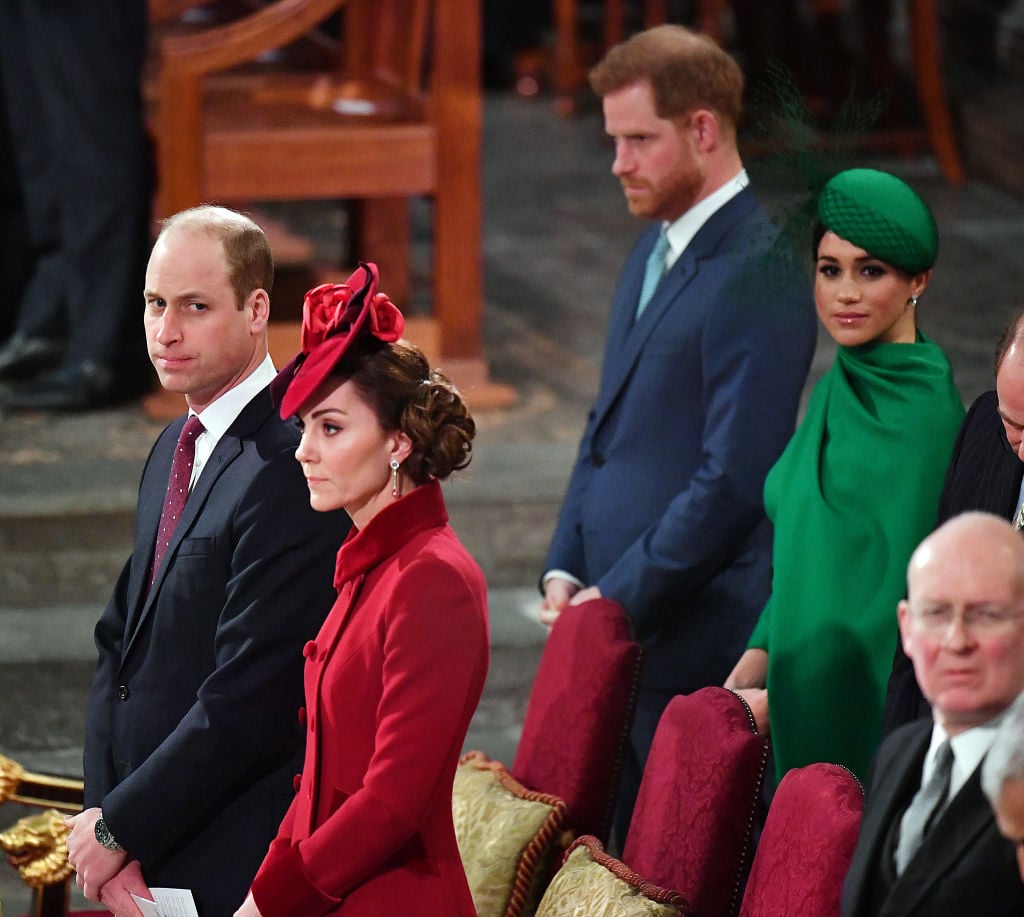 Prince Harry and Meghan attended their final engagement
As the Sussexes prepared to officially exit the royal family, they attended a handful of final engagements, including the Commonwealth Day service. All eyes were on the couple to see if they would share a moment with Prince Willam and Catherine, Duchess of Cambridge. Sadly, there was no brotherly exchange between the two and the couples barely interacted.
Their body language was very revealing, as expert Judi James told The Mirror: "It wasn't the warm reunion that we were all hoping for. The tension in Harry's body language especially was palpable. When Harry arrived, the minute he and Meghan had to drop hands, he immediately reached for his wedding ring which is a self comfort."
She added, "Even when she was beside him after they had stopped holding hands, he was missing her, needing her support."
"As Harry walked up the aisle, they both waved at the children, but his face otherwise was quite tense and unsmiling," James noted.
"Harry and Meghan looked a lot more genuinely cheerful, and Harry especially, threw a really affectionate smile at Kate," James noted. "As they took their seats Harry threw Kate an open-mouthed smile and 'hello' of what looked like genuine pleasure and Meghan raised her brows and smiled in an equally friendly ritual."
Prince William and Prince Harry's relationship hasn't improved
Many royal fans wondered if the brothers would mend their feud as Prince Harry prepared to leave the royal family, but it appears that didn't happen.
"Those close to the brothers say things between them are worse than ever," Kate Mansey wrote in the Mail on Sunday. "William is said to feel insulted by his brother's recent comments, including the stream of remarks on Harry and Meghan's Sussex Royal website, which many have taken as implied criticisms of the royal family."
She added, "William feels his brother has 'disrespected' the institution of the monarchy and — most woundingly of all — their grandmother the Queen."
Are the brothers unhappy?
While William might feel upset with Harry, Mansey notes that Prince Harry "is profoundly unhappy, believing he has been cut adrift by his own relatives, convinced that his wife was not made sufficiently welcome, and feeling that his own work has been seen as less important than that of his elder brother. Harry is even said to believe that his infant son Archie has been abandoned by The Firm."
Many fans have hoped the two could put their differences behind them and reconcile but, according to Mansey, "It seems that whatever has gone wrong between the brothers is likely to dog their relationship for some time to come."