Prince William To Be King Over Charles? How Queen Elizabeth Is Preparing Kate Middleton
Prince Charles may be next in line to the throne after Queen Elizabeth II, but rumors have been running wild that Prince William will actually be the next King of England. In the event that Williams gets the throne, Kate Middleton has been slowing preparing for her new role as Queen Kate.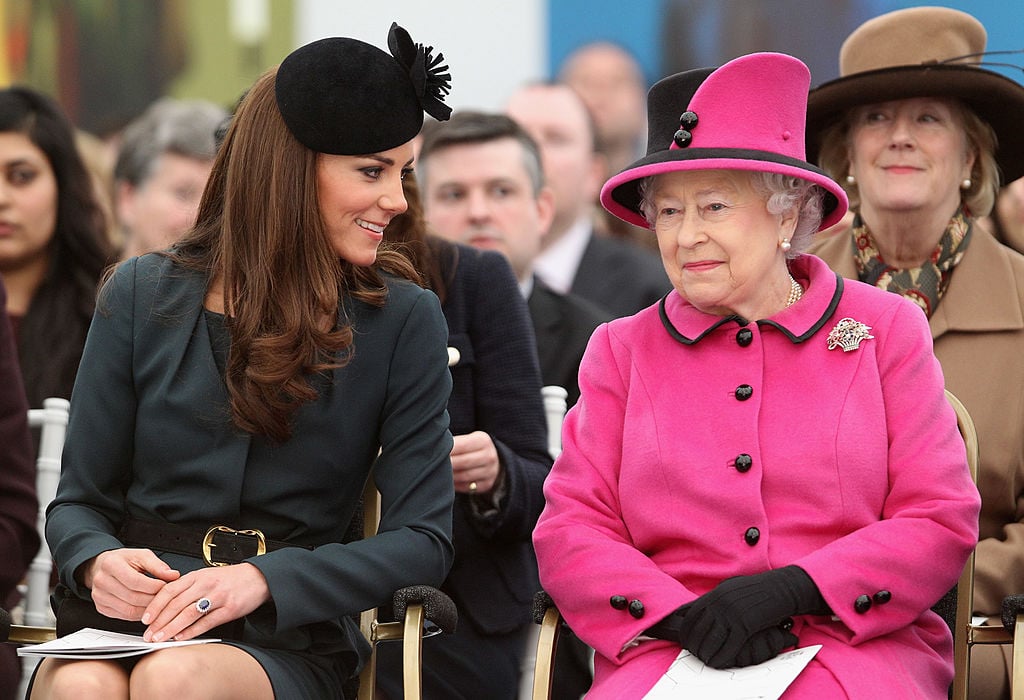 Kate Makes First Solo Appearance With Her Majesty
Last month, Kate had her first solo appearance with Queen Elizabeth. The duo visited King's College in an event that was designed to prepare Kate for her duties alongside Prince William. The outing was the first of its kind for the pair, but it clearly shows that Queen Elizabeth is taking Kate under her wing.
According to US Weekly, royal experts, such as Rebecca Long, believe that the majority of people in the UK want to see William on the throne over Charles. That does not mean Charles will abdicate his place at the head of the table, but it could prompt the family to move in a new direction.
"William and Kate are the favorite royals to take the crown in many generations, so the people of the U.K. are very excited about it," Long shared.
Apart from their recent solo outing, Her Majesty has been spending more one-on-one time with the Duchess of Cambridge. Inside sources claim that Elizabeth and Kate often spend time together discussing where the monarchy is headed and the ins and outs of royal life. The lessons are undoubtedly valuable to Kate, despite that she will likely run things differently.
Are William And Kate Already Preparing For A Major Power Move?
It takes a large team to run the royal family's household, and William and Kate are already putting together a top-notch squad of staffers, many of whom have experience in government. This includes the hiring of a new PR manager in Sarah Latham, who previously worked in the White House during Bill Clinton's administration.
There's also the fact that Prince Harry and Meghan Markle are moving out of Kensington Palace and setting up shop in Windsor. The move gives them more space for their growing family, but it also makes room for William and Kate's expanded role.
William recently stepped down from his job as a pilot for an air ambulance crew in order to focus all of his efforts at Kensington Palace. The timing of the move means that William is preparing to become king, just like his father. Even if Charles takes the throne, he will not have the crown for long. With Charles pushing 70 years old, there is a good chance that William will become king within 20 years.
What Are The Chances That William Is Named King Over Charles?
The fact that Queen Elizabeth has already named Charles as her heir means it is unlikely that her oldest son will abdicate. That said, polls show that William and Kate have a lot of support from the people.
According to International Business Times, some 46 percent of the population in the UK would like to see Charles give up the crown. Another 27 percent want Queen Elizabeth to skip Charles altogether and give the reigns to his oldest child.
The only problem with Charles abdicating is that he has been waiting to become king for such a long time. Although Elizabeth is getting up there in age, she is still in great health and will likely remain on the throne for a few more years at the least. If that happens, Charles will have to wait even longer to claim his birth right, which means he is unlikely to give it up without a fight.
William Wants To Inherit The Crown When The Timing Is Right
With his father prepared to take the throne, royal watchers believe that William does not want to sit on the throne before his time. Instead, William would reportedly rather wait until he is older and wiser, just like his father. Given all the pressures of being king, this is probably a good decision.