Prince William's 'Wandering Eye' Means He's More Like Prince Charles Than We Thought
Prince William has always seemed very different from his father, Prince Charles. William has consistently had high approval rating among the public and has been seen as good-natured — something that his father hasn't been regarded as ever since the infamous affair with Camilla Parker Bowles broke in the 1980s.
Those close to William, though, seem to think that he's had quite the wandering eye through the years — and it means the apple truly doesn't fall far from the tree.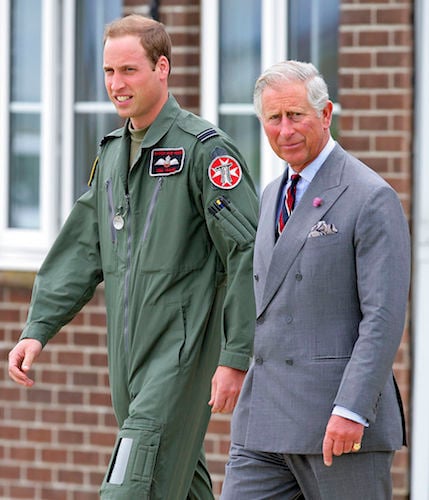 Prince William has always been one of the most-liked royals
William and his younger brother, Prince Harry, are some of the world's most respected royals, along with William's wife, Kate Middleton. The only person they don't pass on the list is their grandmother, Queen Elizabeth. According to a YouGov poll, which measured royal approval among the British public, William is second behind his grandmother with a 65% approval rating.
Members of the public described William as admirable, genuine, and responsible, according to the poll. But there might be a few things the public doesn't know about the prince.
William reportedly had a wandering eye while dating Kate Middleton
Those close to the prince have said that, despite his committed relationship with Kate Middleton, he tended to get too close to other women — though there were no reports of William actually cheating on Kate while they were dating.  
The prince lived far away from Kate after college, and he was photographed with his hand on another woman's breast at a bar one night. Other women who spent nights out with William said he was extremely flirtatious and would never make any mention of Kate.
William likely wouldn't want to end up like his father
It seems that William and Charles (who came under fire for engaging in an affair while he was married to Diana) are more alike than William might want to admit. However, despite the rumors of William's wandering eyes, he was never actually caught cheating while dating Kate. And though he and his dad might be alike in that way, William probably learned from his father's mistakes and realized he would never want to hurt someone like that.
There were rumors back in 2019 that William was having an affair with family friend Rose Hanbury, but he outright denied any wrongdoing. And his past in never going too far in his flirtatious ways might be a testament to the fact that he would never actually cheat on his wife.
Charles even told William to break up with Kate if he wasn't sure about her
Charles might have played a bigger role in William and Kate's future than anyone realized. William reportedly went to his father for advice once he was at a crossroads with his feelings for Kate, and Charles was the one who told him to take a step back if he wasn't certain that Kate was the one.
Charles didn't want his son making the same mistake he did; when there was pressure for him to propose to Diana, he went through with it, despite knowing it wasn't right. Though father and son might have a few of the same negative traits, Charles wanted William to learn from his mistakes.