Prince William Was Once Spotted Doing This Cheeky Move In Public To Kate Middleton
Prince William and Kate Middleton are the subjects of a new documentary titled Prince William at Thirty. The film examines the unexplored elements of William's life, revealing some interesting details about his early days. This includes his budding romance with Middleton and a time when he did something completely cheeky in public to his future wife.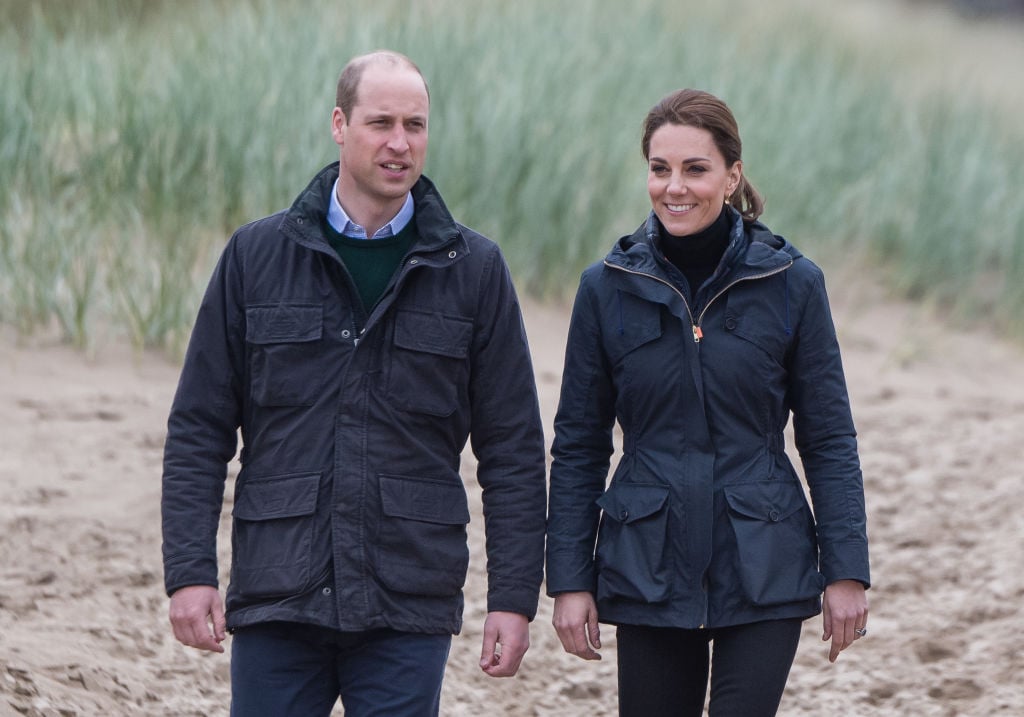 William shows his affection in public
Prince William and Middleton were introduced at the University of St. Andrews and kept their blossoming romance out of the public eye. But some of their fellow classmates remember those days well, including Helen McArdle, who lived next door to Middleton at the time.
According to Express, McArdle discussed a moment when William and Middleton arrived at a local hotspot called Ma Bells and the future King of England did something very cheeky to his girlfriend. In a rare move, McArdle claims that William grabbed Middleton's tush in public, which immediately told her that they were an item.
"I was in the room next door to Kate Middleton in first year," McArdle explained. "She was known as 'Beautiful Kate' almost from day one."
McArdle added that Prince William and Middleton became friends very quickly and formed a tight-knit group. The pair also had quite the social life and frequented some of the nicer bars and restaurants in the area. In fact, McArdle claims that William and Kate drank a lot while they were at the university, something that was not out of the ordinary for students at St. Andrews.
Inside Prince William's days at university
In the documentary, McArdle recalled two times when William and Middleton went home drunk. The first story was about how Middleton drank so much that she had to be carried to her dorm. William also had his share of fun and once fell into a row of bushes because he was intoxicated.
Fortunately, Prince William's bodyguards were on hand to dig him out of the bushes and set him on the right path.
Although William and Middleton drank in public, nobody at the school was allowed to say anything to the media. Students and officials at the school felt privileged that William was attending and did not want anything to ruin his education.
The royal family also struck a deal with the media at the time to leave Prince William alone until after graduation. This is why members of the media were only present for William's first day at the university and his graduation. Given William and Middleton's behavior, keeping his schooling private was a smart move.
Middleton opens new garden
Middleton and William have not commented on the documentary about the early days of their romance. Middleton has had a busy start to the year and recently opened a garden display at the Chelsea Flower Show.
The mother of three was joined by her children – Prince George, Princess Charlotte, and Prince Louis – and Prince William for the big opening and looked absolutely thrilled to be out in public.
Kensington Palace released photos from the garden show on social media shortly after the event. The pics show Middleton enjoying some time with her adorable children, who seemed genuinely pleased to be at their mother's side.
One of the cutest pics to surface was a shot of Prince Louis running away from William as Middleton and Charlotte played in the background. The garden display was part of a new initiative on behalf of Middleton called Back to Nature, which promotes healthy living in the outdoors.
A look at Prince William and Kate Middleton's greatest moments of the year
We are less than halfway through 2019 and William and Middleton have already shared a handful of adorable moments in public. The two started the year with an appearance at the EE British Academy Film Awards, where William and Middleton looked absolutely dashing in their formal attire.
The couple also enjoyed a trip to Northern Ireland this year, where they took time to visit a football team and the Empire Music Hall, where they shared a pint of beer. William and Middleton's university days may be far behind them, but they still know how to have a good time.
Fans can watch the new documentary about Prince William and Kate Middleton, Prince William at Thirty, on YouTube.