Why Princess Diana Was 'Very Grateful' to Prince Philip, According to Royal Biographer
Princess Diana died having had a rocky relationship with Prince Philip, Duke of Edinburgh. The two were on better terms at the beginning of Diana's time as a royal. Although as the years went on their relationship soured. Even as Diana's marriage to Prince Charles ended, she was still "grateful" to Philip for one thing.
Prince Philip welcomed Princess Diana into the British royal family
RELATED: Princess Diana and Prince Philip's Relationship in Photos
When Diana officially joined the royal family when she married Prince Charles in 1981, her father-in-law was there to help. According to royal biographer, Ingrid Seward, Philip welcomed Diana much like he welcomed Meghan, Duchess of Sussex when she became a British royal in 2018.
"When Diana married into the family, Prince Philip really looked after her because he looks after all the girls — including Meghan when she first came into the family — because he knows what it's like to be the new boy on the block or the new girl on the block and suddenly come into this family with all their strange protocols and everything else," Seward told UsWeekly in October 2020. 
Seward continued, saying the Duke of Edinburgh offered support and guidance to newly minted royals. However, in exchange, he expected they'd be loyal to "The Firm" and the family.
"Philip, being a very intelligent man, he knew how to handle all these newcomers, but in return, he expected loyalty, and he expected that they, too, would have a sense of duty like he had," she added.
Diana became the Princess of Wales when she was just 20 years old. During her time as a senior royal, she and her father-in-law developed a close bond. Diana even addressed Philip "Pa" in letters.
Princess Diana was 'very grateful' to Prince Philip she didn't have to 'face' him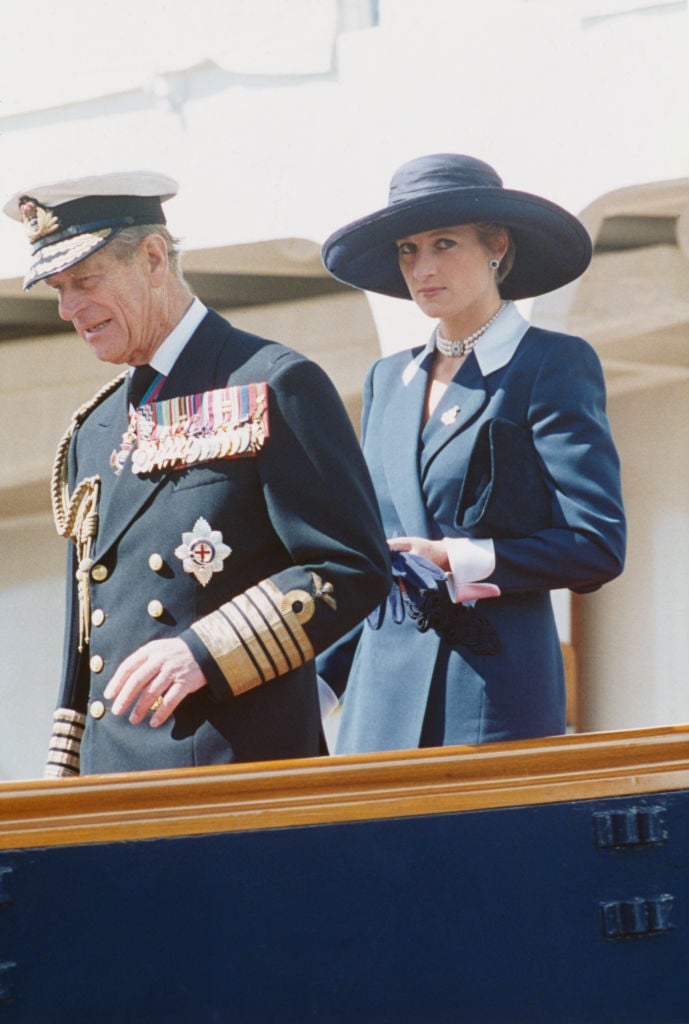 RELATED: Prince Philip Reportedly Told Princess Diana to 'Fit In' or Face Exile Without William and Harry, Royal Expert Claims
As Charles and Diana's marriage headed toward divorce — they separated in 1992 before officially calling it quits in 1996 — Philip offered advice to his daughter-in-law. 
"He decided that in the lack of anything else happening, he would write to Diana," Seward said.
The Duke of Edinburgh exchanged letters with Diana, which she appreciated, according to Seward.
"Diana was very grateful to him because basically, she didn't have to face seeing him that way," she said. "She could just deal with it in the letters, and he was helpful. And he said things like, 'Diana, [you] must remember that this monarchy is not a popularity contest. It's all of us working together.'"
Princess Diana and Prince Philip's close relationship ended because of a 1 comment about Prince Charles
Even though Philip's correspondence helped Diana, one remark in the letters supposedly ended what was left of their good rapport. Philip asked Diana to ask herself why Charles had an extramarital affair with the now Camilla, Duchess of Cornwall. She didn't like having the blame placed on her and decided she was done with her father-in-law.
From then on, Diana didn't take any advice from the Duke of Edinburgh. Then came Diana's bombshell Panorama interview in 1995, which caused further damage to her already fractured relationship with Philip, and the rest of the royal family.