Princess Diana Had an Incredibly Close Relationship With Prince Philip — She Even Called Him 'Pa'
Princess Diana enjoyed a special relationship with Prince Philip, despite her strained relationships with Prince Charles and Queen Elizabeth.
When Princess Diana married into the royal family back in 1981, she developed a close relationship with Prince Philip. According to a royal biographer, he took her under his wing. He taught her things like how to master the art of small talk at black-tie dinners. In fact, Diana, Princess of Wales, and Philip grew so close before her tragic death, she called him "Pa."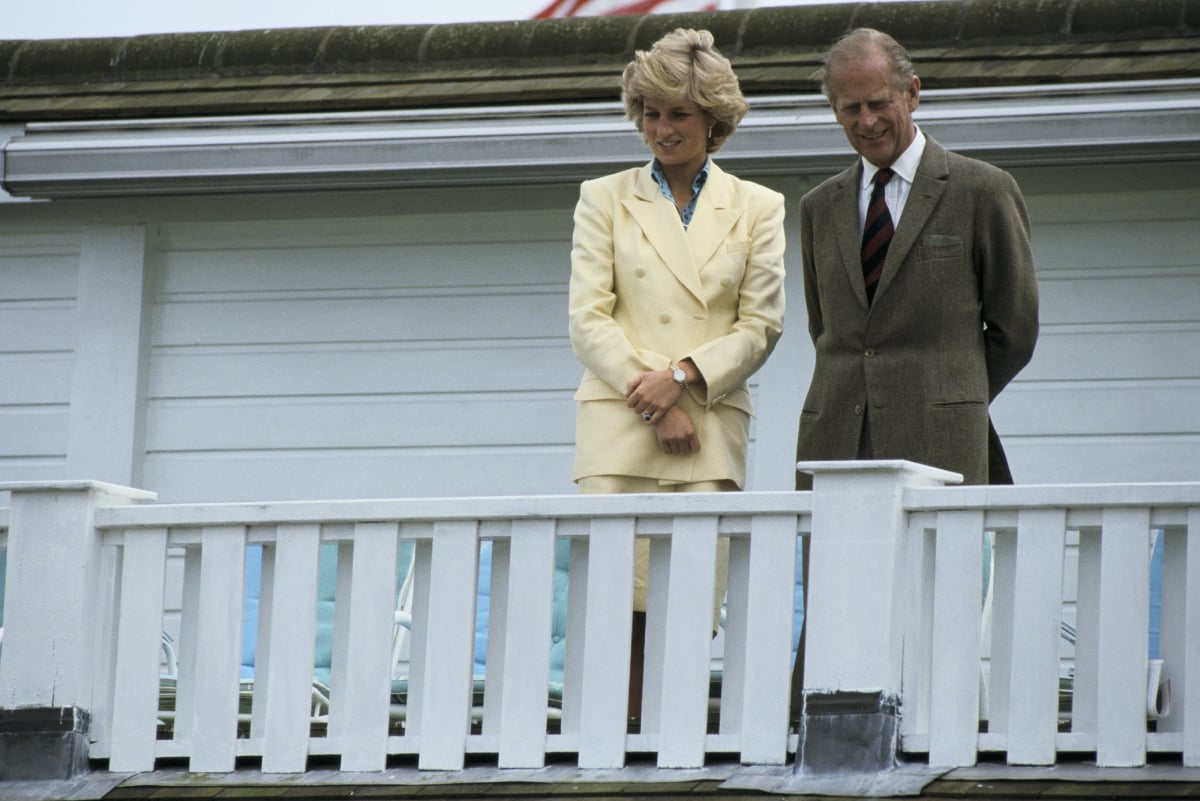 Prince Philip advised his son to propose to Princess Diana or let her go
As royal expert Marlene A Eilers Koenig documents on History Extra, Charles had a romance with Camilla Parker Bowles before she married Andrew Parker Bowles in 1973. Charles and Camilla remained platonic best friends after she married Andrew. But, they rekindled their romance not long before Charles started dating Princess Diana in 1980.
Charles couldn't marry his soulmate, and he reportedly sought Camilla, Duchess of Cornwall's advice about marrying Diana. She was the perfect choice for Charles on paper.
Diana was the beautiful, innocent daughter of an earl with royal connections, and she didn't have a past. Charles didn't have to worry about Diana's former boyfriends selling their story to the tabloids.
But, Charles still had doubts. As the media speculation started going wild, Prince Philip wrote his son a letter. He advised Prince Charles to either propose to Diana or end the relationship completely. He decided to do what was right for "this country and for my family" by proposing to Diana Spencer on Feb. 6, 1981.
Princess Diana and Prince Philip wrote letters to each other when her marriage was crumbling
After Charles and Diana welcomed their sons, Prince William and Prince Harry, their marriage started to fall apart. Koenig says the marriage collapsed by 1986 and Prince Charles confided in Camilla. Years later, Charles insisted that he remained faithful to Princess Diana until their marriage had "irretrievably broken down."
According to the new book Prince Philip Revealed: A Man of His Century, Philip and Diana kept in touch when Diana and Charles split in 1992. Express reports that author Ingrid Seward gave fans a sneak peek with a recent article in the Mail on Sunday.
Seward says that few people outside of royal circles are aware of how hard Prince Philip worked to help Diana.
"As the couple's marriage began to crumble and her increasingly erratic behaviour threatened the image of the monarchy, he [Prince Philip] tried again to help, setting up a highly personal correspondence with her [Princess Diana] and explaining that he understood the difficulties of marrying into the Royal Family," Seward writes.
The Princess of Wales had a sweet nickname for her father-in-law
Prince Philip made it clear in his letters to Princess Diana that he did not approve of Charles' affair. In one of his letters, Philip wrote that Charles "was silly to risk everything with Camilla." The Duke of Edinburgh also told his daughter-in-law that they never dreamt Charles would leave her.
"I cannot imagine anyone in their right mind leaving you for Camilla. Such a prospect never entered our heads," Philip wrote before signing off as "Pa." In June 1992 Princess Diana wrote back.
She started her correspondence with "Dearest Pa," and she told him how pleased she was to receive his letter. Princess Diana was grateful for the honest and heartfelt note. And, she hoped he would read hers with the same spirit. She ended the letter by writing, "With fondest love, from Diana."
Charles and Diana divorced in 1996. One year later, she tragically died in a Paris car crash. Prince Charles and Camilla tied the knot on April 9, 2005.