Princess Diana Memorial Statue Opens to Public 24 Years After Tragic Death
A memorial statue honoring Princess Diana will open to the public 24 years after her tragic death in a car accident in Paris, France. The monument honored the work of the late British royal family member. Her sons Prince William and Prince Harry unveiled the statue in July 2021 in honor of what would have been her 60th birthday.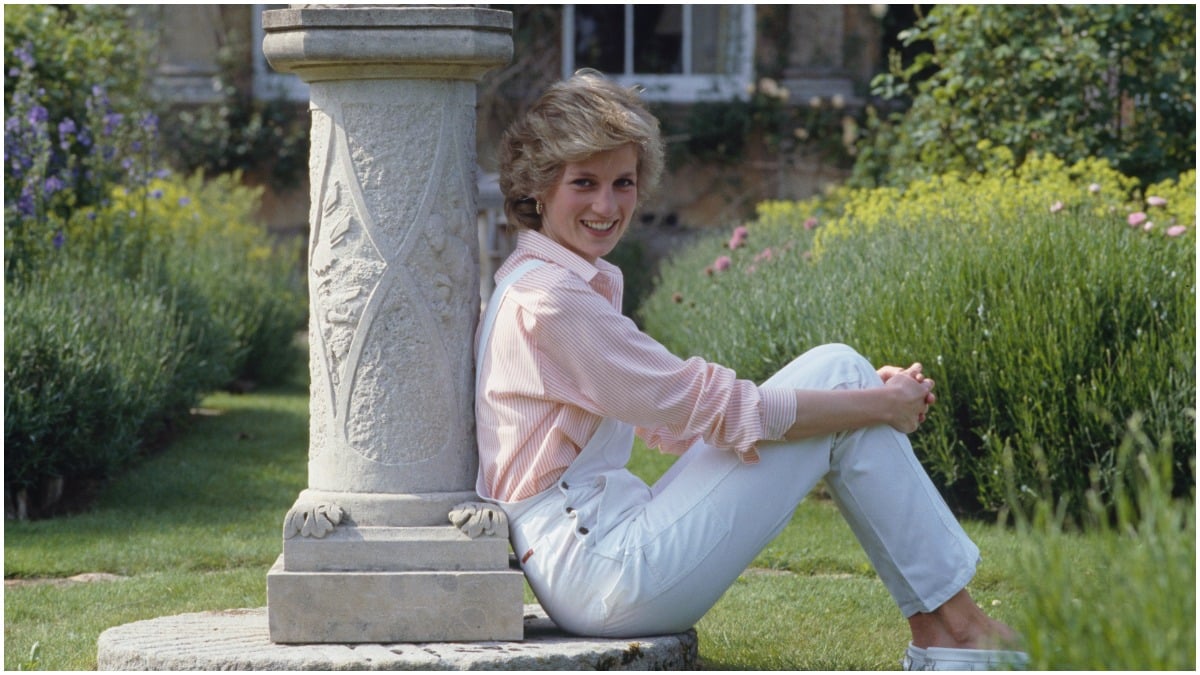 Princess Diana died 24 years ago on August 31, 1997
Paparazzi were pursuing the princess and Dodi Fayed when their driver Henri Paul entered the Pont de l'Alma tunnel in Paris on Aug. 31, 1997. Paul, intoxicated and under the influence of drugs, drove twice the speed limit and lost control of the vehicle. It hit a wall, killing him and Fayed on impact. Bodyguard Trevor Reese-Jones suffered non-fatal injuries. Princess Diana was alive after the accident and transported to La Pitie-Salpetriere hospital, where doctors made a valiant attempt to save her. However, she eventually died from her injuries.
A public outpouring of grief followed in the days after Princess Diana's death. Mourners placed thousands of flowers outside the gates of Kensington Palace. The princess's funeral was broadcast around the world on Sept. 6, 2017. Her procession wound down the streets of London, the coffin of The Princess of Wales pulled by a gun carriage. After a funeral at Westminster Abbey, the cortege drove two hours to Princess Diana's final resting place at her childhood home, Althorp House.
Princess Diana's memorial statue will open to the public on her death anniversary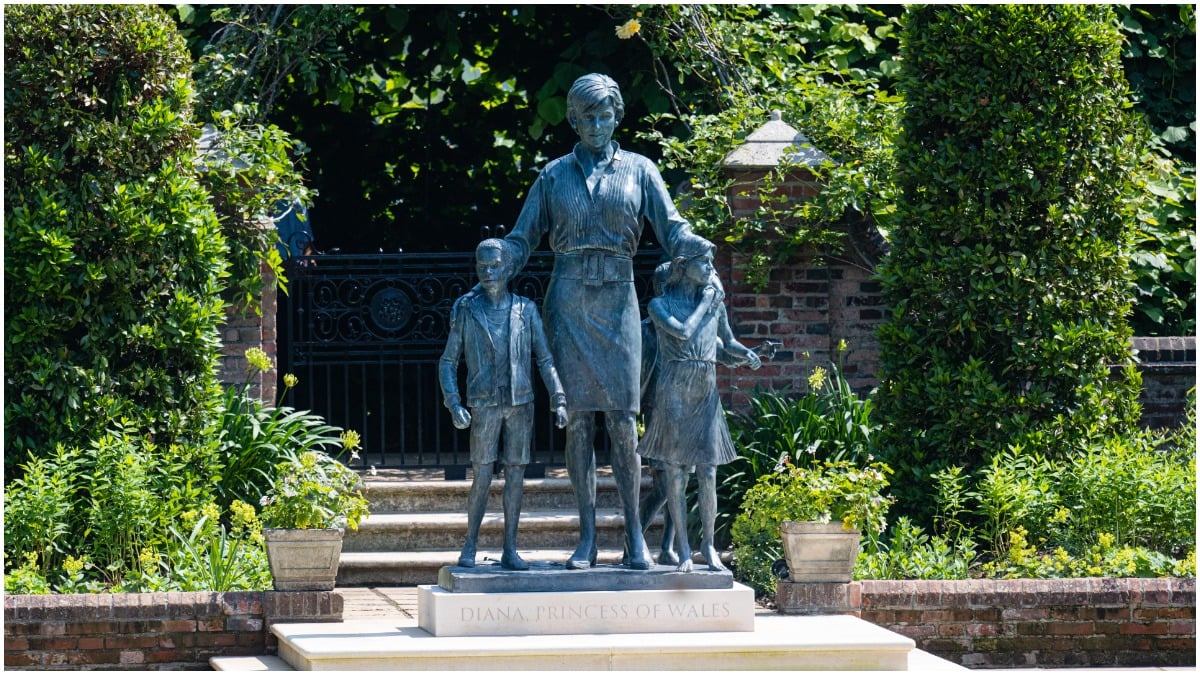 Those who wish to pay tribute to the People's Princess will be able to do so in the Kensington Palace Gardens.
The statue depicts the late royal standing in the center of two children, her arms placed protectively atop their shoulders. The Sunken Garden at the Palace is open to the public from Wednesdays to Sundays and during certain day hours. The garden will open up for special hours on Aug. 31 to coincide with the anniversary of the princess's death.
A spokesman for Historic Royal Palaces said to Hello! Magazine, "We acknowledge that there will be interest in viewing the statue on that day. So we will be providing access to the Cradle Walk, which is essentially the beautiful walkway around the Sunken Garden. We will be opening that up, freely available, for passers-by or anybody who wants to stop and take a moment on that Tuesday, especially for the anniversary."
The garden was one of Princess Diana's favorite places in the palace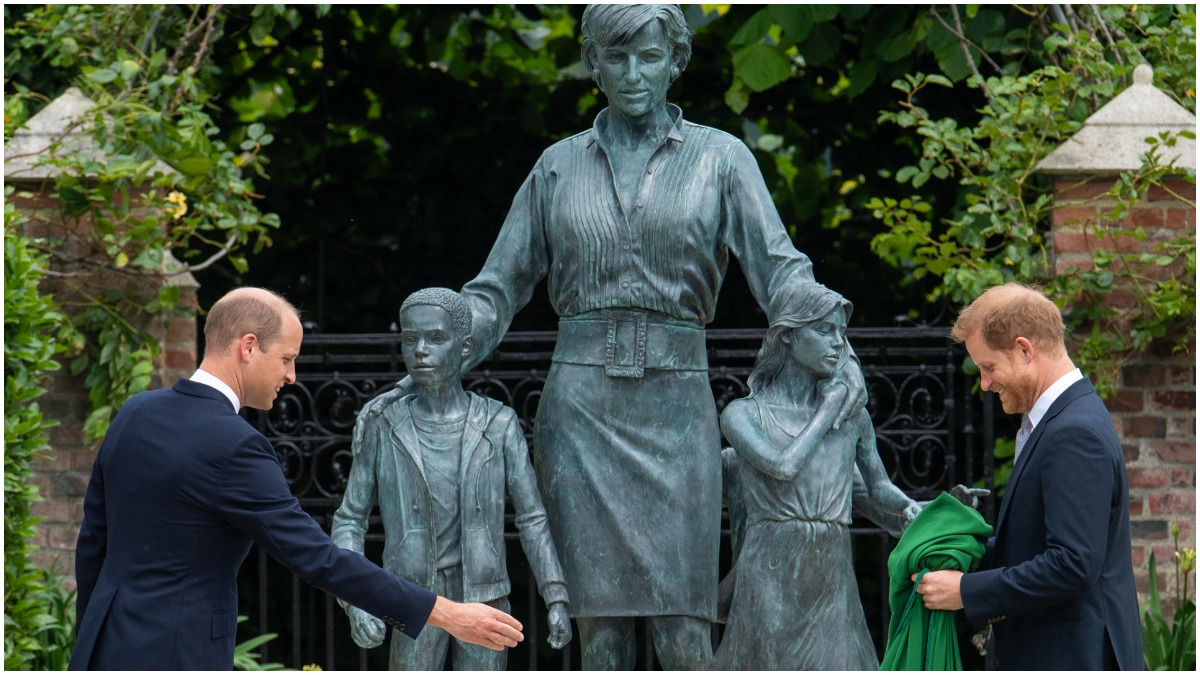 Viewers of the memorial will see a plaque engraved with Princess Diana's name and its unveiled date. In front is a stone with an excerpt from the poem "The Measure of a Man." Per Hello!, the garden has been enhanced with over 4,000 flowers and includes forget-me-nots, a favorite flower of Diana's.
The BBC reported her sons Harry and William remembered their mother and spoke the following words during the unveiling. "We remember her love, strength, and character," they said. "Qualities that made her a force for good around the world, changing countless lives for the better."