Princess Diana's Wedding Tiara Is on Display — Here's How to See It
Princess Diana was arguably one of the most fashionable royals. A quarter-century after her death, her style remains iconic. One of Diana's most jaw-dropping looks came on her wedding day, when hundreds of millions of people around the world tuned in to watch her become Princess of Wales. Her silk taffeta and lace gown — featuring 10,000 pearls, a 25-foot train, and puff sleeves — was breathtaking. Topping her look was a dazzling tiara, which has an interesting history. Now, Princess Diana's wedding tiara is on display. Here's how to see it.
About Princess Diana's wedding tiara, also known as the Spencer Tiara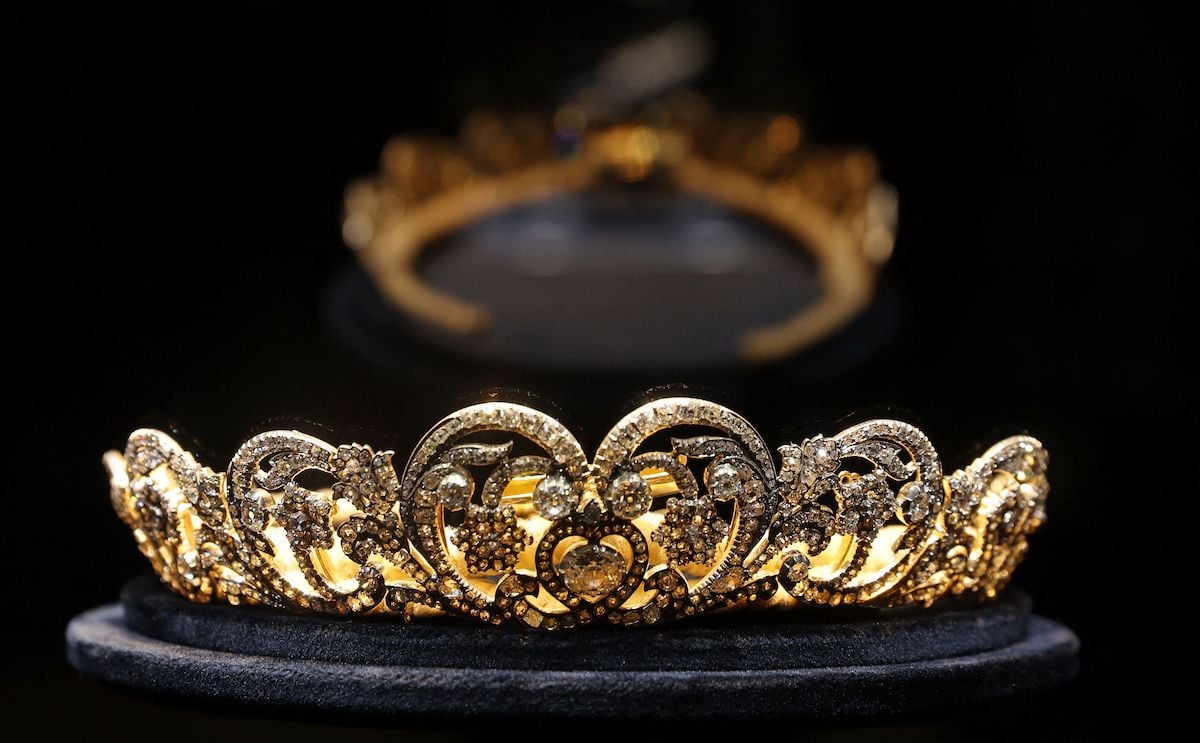 In the British royal family, most brides wear a tiara from the queen's collection. But in true Diana fashion, she did things her way.
According to Reader's Digest, the piece was a favorite of Princess Di's, and she wore it on other occasions, even after her marriage ended. So, what's the story behind the Spencer Tiara?
The jewelry company Garrard created the stunner in the 1930s using stones Diana's family had owned. Diana's grandmother received the heart-shaped floral centerpiece when she married the 7th Earl Spencer. Not only did Diana wear the tiara worn on her wedding day, but also her two older sisters wore it when they got married, making it a true family heirloom.
After Princess Diana donned it on her wedding day — July 29, 1981 — she wore it several times after, including various state receptions and royal engagements.
As many royal fans remember, the Spencer Tiara is sparkly and beautiful, made of tulip-shaped diamonds and surrounded by scrolls. Although it's been decades since Diana wore the piece, fans worldwide still fondly remember it.
When and where can you see the Spencer Tiara on display?
Those hoping to catch a glimpse of one of the world's most famous pieces of jewelry are in luck: The Spencer Tiara is on display this summer in an exhibition of royal and aristocratic jewels.
Titled "Power & Image: Royal and Aristocratic Tiara's," the exhibit runs from May 28 through June 15 at Sotheby's in London.
The show features "40 striking pieces of fine jewelry rarely loaned out for public display, including this important piece of Spencer family history," Vanity Fair reports.
Another piece of good news? Those headed to see the famous tiara won't have to worry about an admission fee — the exhibit is free and open to the public.
Who owns the tiara now?
Princess Diana wore the headpiece on her wedding day, making it the perfect finishing touch to her iconic dress. The piece anchored her 153-yard tulle veil, and altogether, the entire ensemble made jaws drop.
According to Tatler, the choice to wear the tiara was a "sweet nod" to her family. The piece sparkled in the sunlight as Diana and Prince Charles waved to fans while riding through London after their ceremony. It was Diana's favorite tiara — she was said to love it more than the Cambridge Lover's Knot Tiara, another piece she frequently donned.
So, where is the Spencer Tiara when it's not on loan for special exhibits? After Diana's funeral, it was returned to her brother, Earl Spencer, and has remained in her family.
RELATED: Prince Harry Won't Touch This Rumor in His Memoir — It 'Hurt Diana Deeply'