Princess Diana's 10 Most Iconic Red Carpet Looks
Princess Diana was just 20 years old when she was thrust onto the world stage after marrying Prince Charles. During her 15 years in the public spotlight, Diana transformed herself from a young ingenue known as "Shy Di" who wore romantic ruffles and frills to a sophisticated style icon with sleek silhouettes and self-assuredness in her dress.
The Princess of Wales loved walking the red carpet and she knew how to make a fashion statement. More than 25 years after her tragic death, royal fans are still obsessed with her style. And modern-day royals like Kate Middleton have been known to pay subtle tribute to Diana with their own fashion choices.
Some of the best and most popular looks from Diana came when she was walking the red carpet. So, let's take a look back at Princess Diana's 10 most iconic red carpet looks.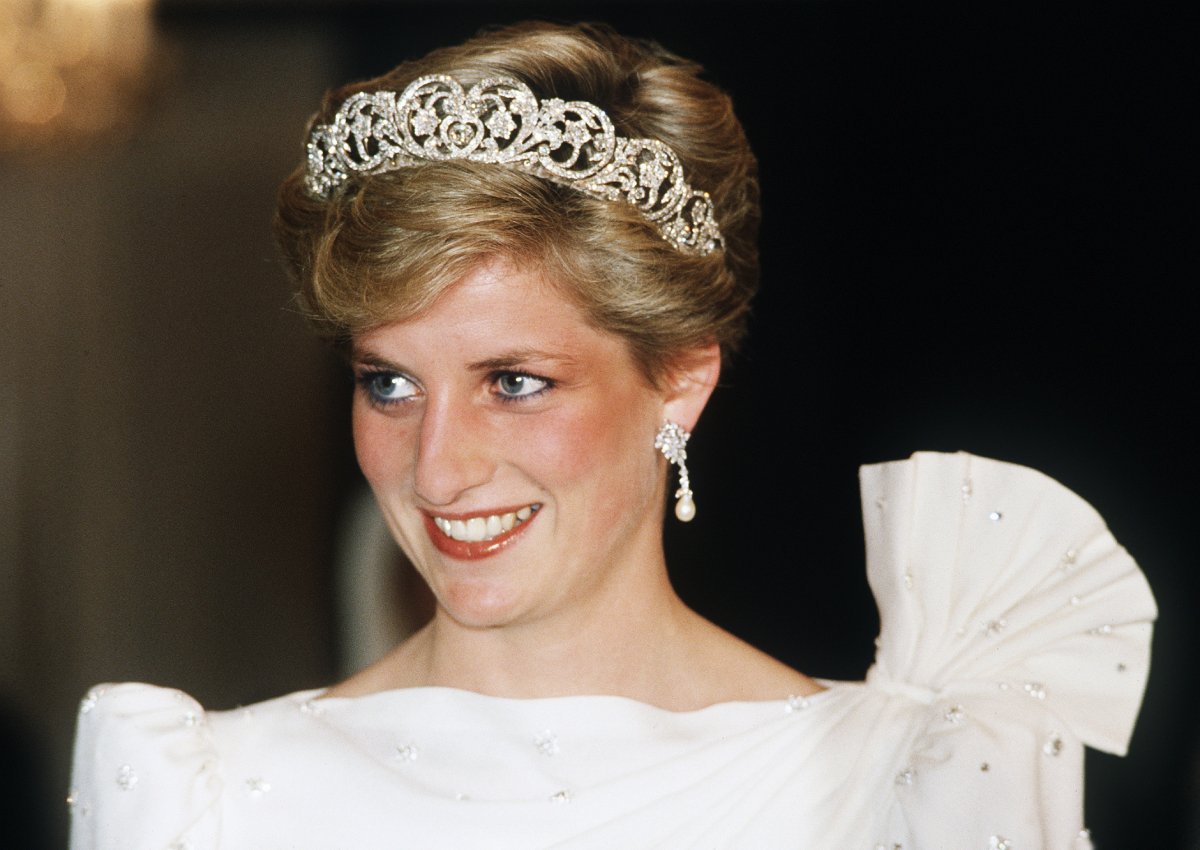 10. Princess Diana turned heads in a red and black Flamenco ball gown
When Diana arrived at the Grosvenor House Hotel in London back in 1986 for a ball, she turned heads by wearing a red and black color-blocked dress designed by Murray Arbeid. The red taffeta and black velvet Flamenco ball gown was pure 80s fashion, with its high-low hem and showstopping gloves. Just like Sex and the City's Carrie Bradshaw and her mismatched shoes, Diana wore one red glove and one black glove.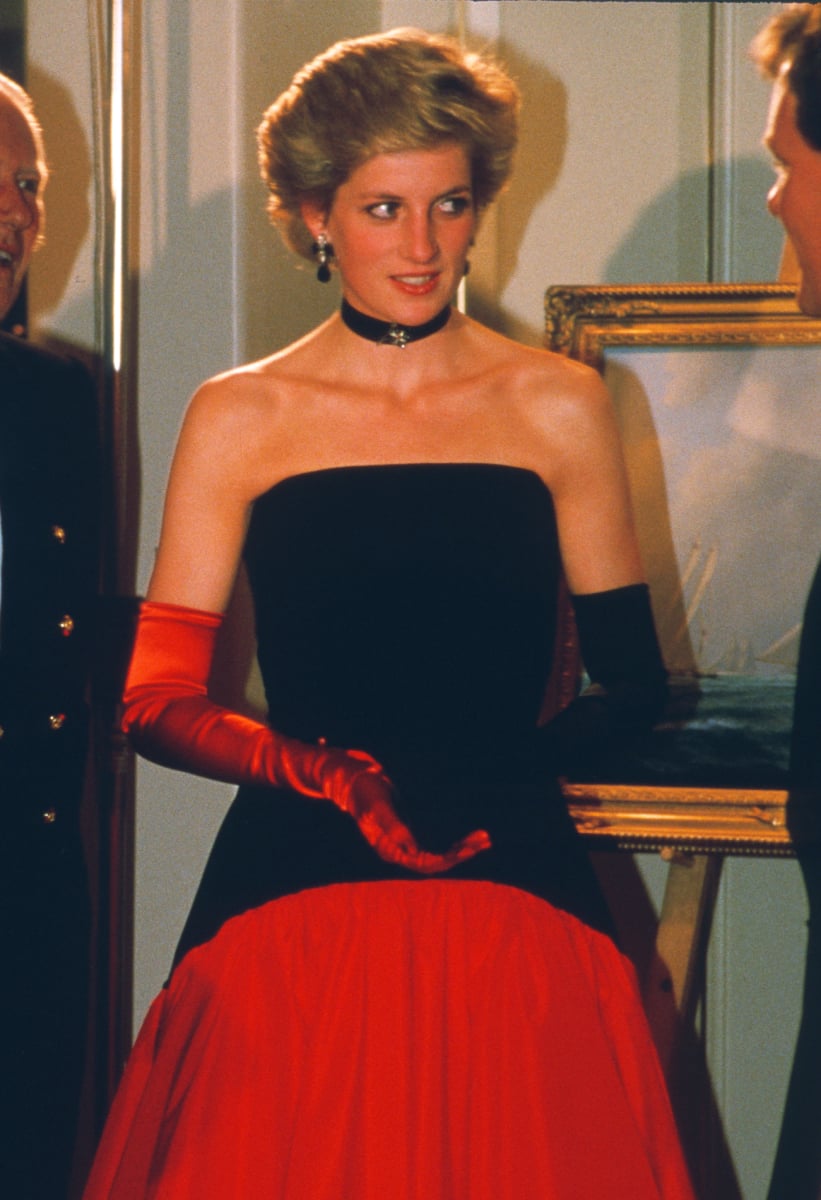 9. Sexy and stunning in Versace
At a 1996 royal charity dinner dance at the Victor Chang Cardiac Research Institute in Sydney, Australia, Diana walked the red carpet in a sleek, sexy, and stunning sapphire blue gown from Versace. Gianni Versace was one of Diana's go-to designers in the 1990s. And the princess reportedly felt confident wearing his sexy, groundbreaking designs.
"I had a fitting with her last week for new suits and clothing for spring, and she is so serene. It is a moment in her life, I think, when she's found herself – the way she wants to live," Versace told Vanity Fair in 1997.
8. 'Dynasty Di' in the mid-1980s
In 1985, Dynasty was one of the highest-rated shows on television. So when Diana arrived at the Grosvenor House Hotel in London that year for a charity fashion show wearing a stunning silver lamé pleated gown from designer Bruce Oldfield, many royal fans assumed she was channeling her inner Alexis Carrington.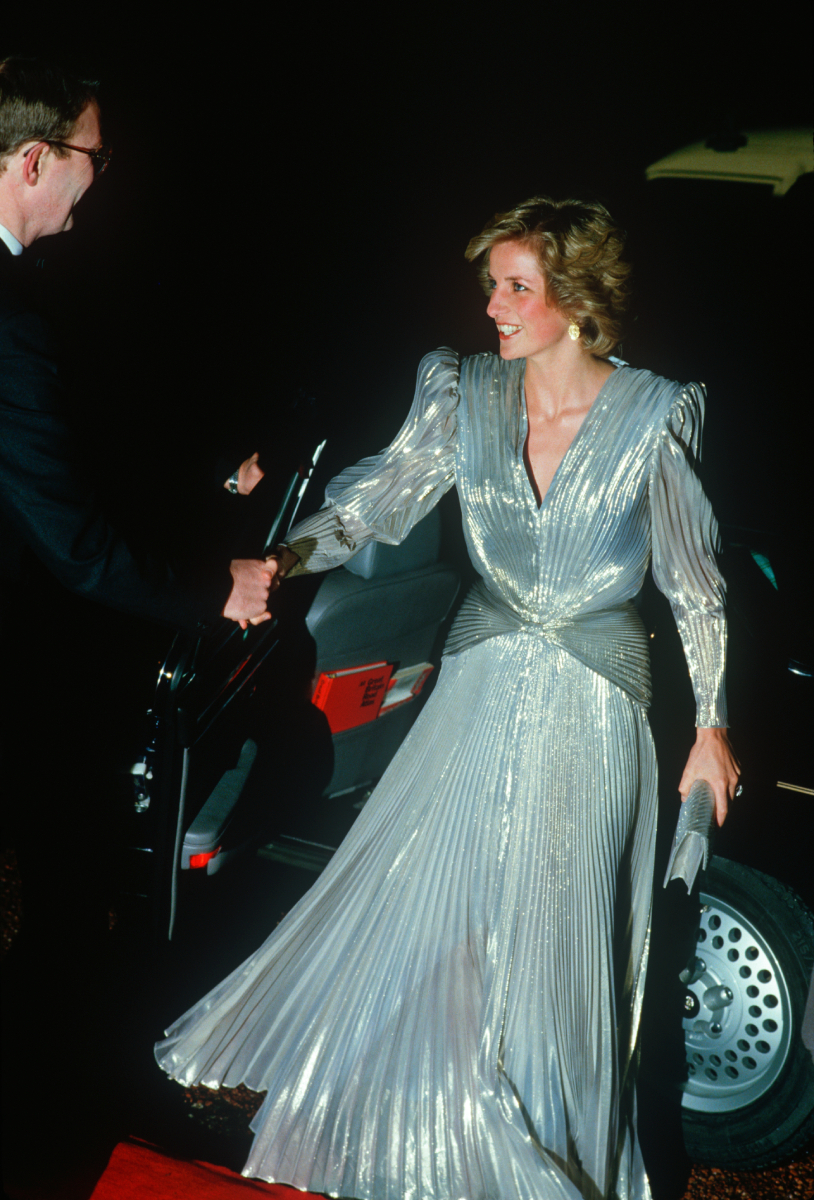 According to Vogue, Oldfield was credited for creating the Princess of Wales' "Dynasty Di" persona. Before she started wearing Oldfield's designs, Diana was known as a young ingenue trying to keep with royal life. Once she stepped out as "Dynasty Di," she was officially a star all her own.
7. Princess Diana's budding sense of style
One of the earliest looks on our list comes from 1982 when Diana was just 21-years-old. When the People's Princess showed up for a charity fashion show in London for Birthright — one of her patrons –it was the first glimpse many royal fans got of Diana's budding style.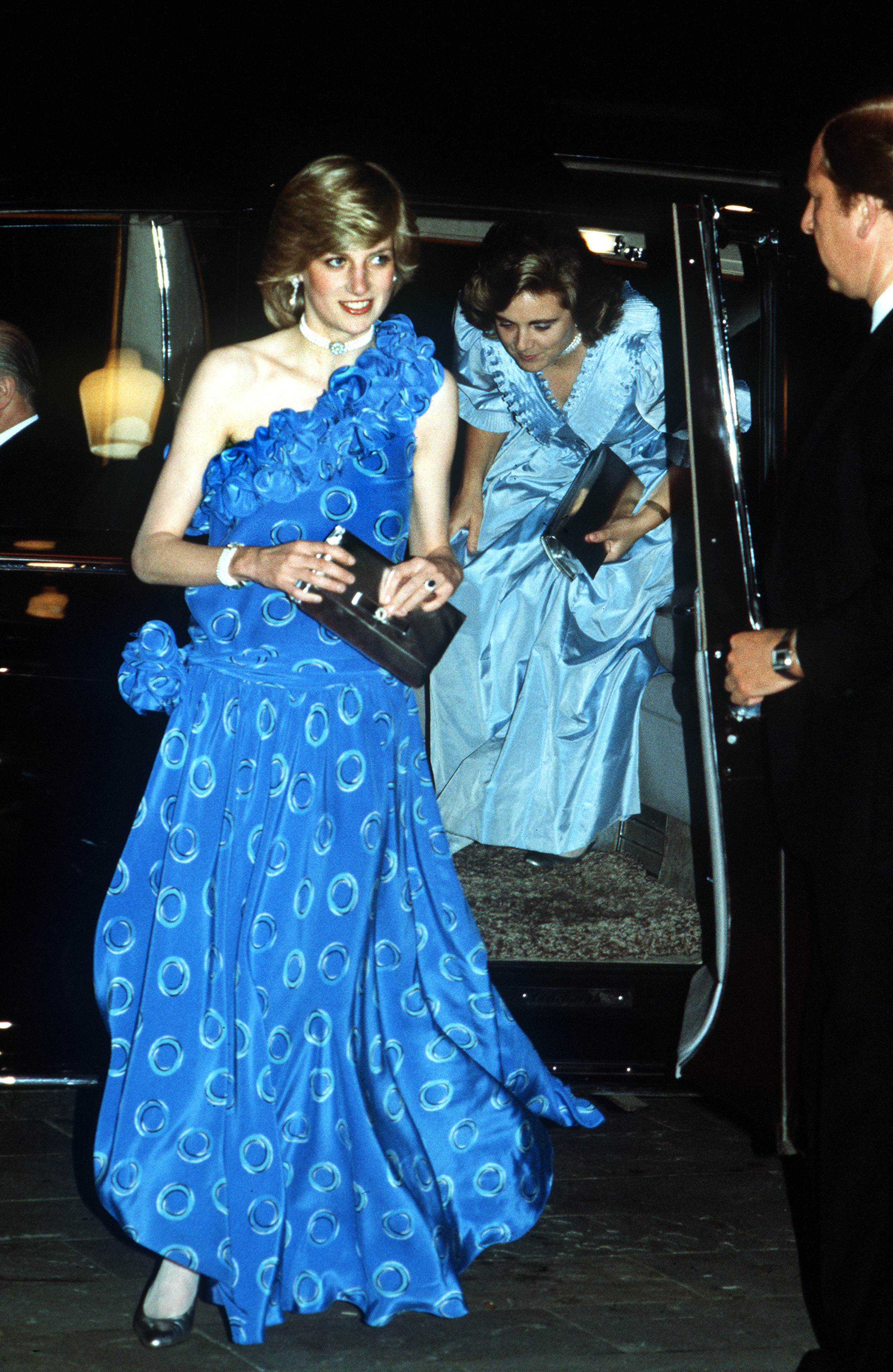 She was already pregnant with Prince William at the time, but Diana kept her style playful instead of stiff and stuffy. The princess wore a one-shouldered ruffled ball gown from Oldfield, which she helped create. According to the designer, Diana wanted to explore her own sense of style instead of worrying about royal tradition.
"The English rose syndrome was never my bag," the designer said. "I liked to see her in much simpler things."
6. Lit up in yellow taffeta from Murray Arbeid
Princess Diana loved to attend movie premieres in gorgeous evening gowns. In 1985, she arrived at the premiere of the film 2010 wearing a long-sleeved yellow taffeta dress from Murray Arbeid.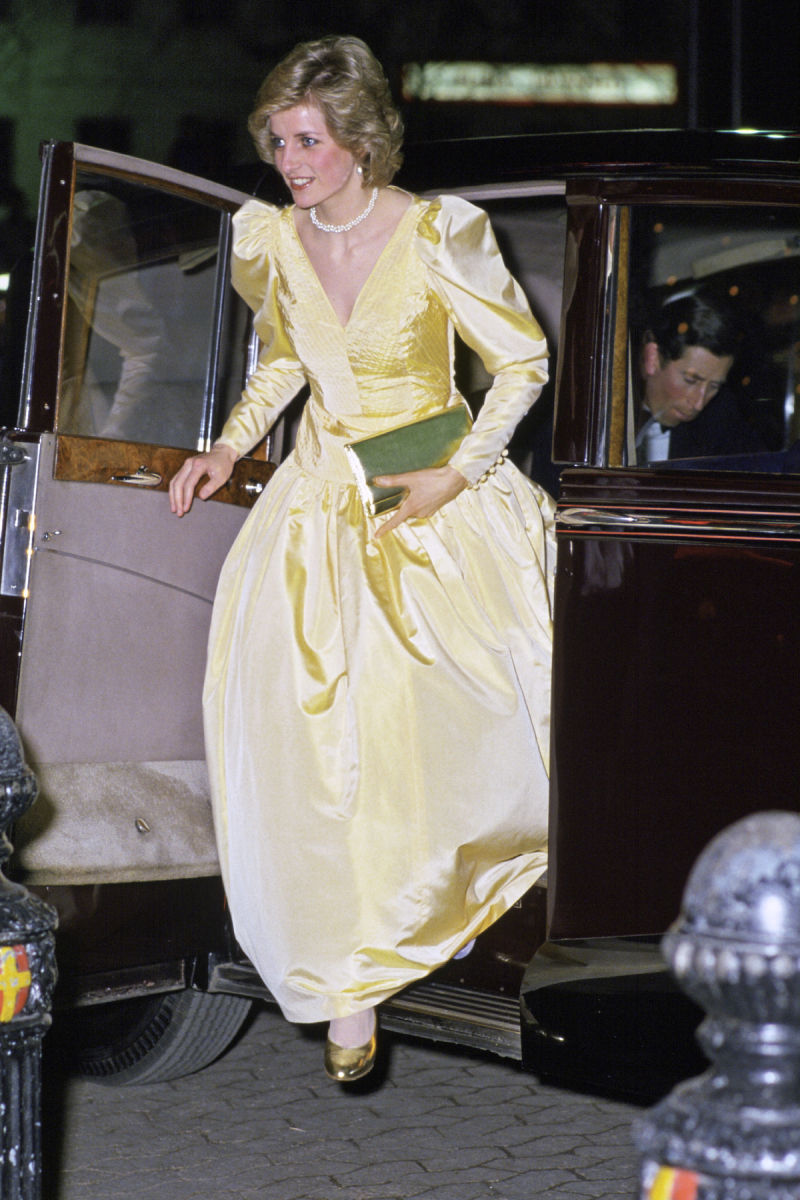 Taffeta was Arbeid's favorite fabric to work with, and he joked that he should have won a Nobel Prize for creations in taffeta. When Diana walked the red carpet at this specific film premiere wearing yellow, it appeared as if she was being lit from within. Absolutely stunning.
5. Princess Diana wore a daring dress at the 1996 Met Gala
One of the biggest red carpet events of the year is the Met Gala fundraiser for the Metropolitan Museum of Art's Costume Institute. The celebrity-packed spectacle usually features movie stars, pop stars, and supermodels. But in 1996, the Met Gala red carpet featured a princess.
After her very public divorce from Prince Charles, Diana stepped out in December 1996 wearing a daring midnight blue silk slip dress with black lace accents from John Galliano, the new head designer at Dior.
It was a fitting style choice, since that year's theme was legendary French fashion designer Christian Dior. The style icon passed away in 1957, but his fashion house remains one of the leading luxury brands on the planet.
According to a 2010 biography about Diana, she worried that the dress might be too racy and embarrass her then 14-year-old son, Prince William. Still, she decided to take the risk and wore the dress paired with a pearl and sapphire choker that was made famous by the number 2 look on our list.
Other accessories that Diana wore that evening were a silk cover-up, a quilted Dior bag (which is now known as the Lady Dior), her sapphire engagement ring, and sapphire and diamond cluster drop earrings. Both the ring and the earring were passed on to Kate Middleton after Diana's death.
4. Diana worked the red carpet at every James Bond premiere
James Bond films had a resurgence in the 1980s when Roger Moore and Timothy Dalton played the popular MI6 agent. And Diana never missed an opportunity to walk the red carpet at the premiere of a Bond film.
In June 1983, Diana wore a stunning white, one-shoulder evening gown covered in silver bugle beads from Hachi to the premiere of Octopussy.
Diana wore a stylish open-back lamé dress from Bruce Oldfield to the premiere of A View to a Kill In June 1985 — which was very similar to the "Dynasty Di" dress.
In June 1987, Diana walked the red carpet at the premiere for The Living Daylights wearing a white, strapless Emanuel dress that was fit for a princess.
And in June 1989, Diana attended the premiere of A License to Kill wearing a white, crystal-beaded silk chiffon asymmetric gown. Once again, this dress was from Japanese designer Hachi.
3. The Princess of Wales' final red carpet appearance
On June 3, 1997 — just eight weeks before Diana passed away — she attended a performance of Swan Lake by the English National Ballet at Royal Albert Hall.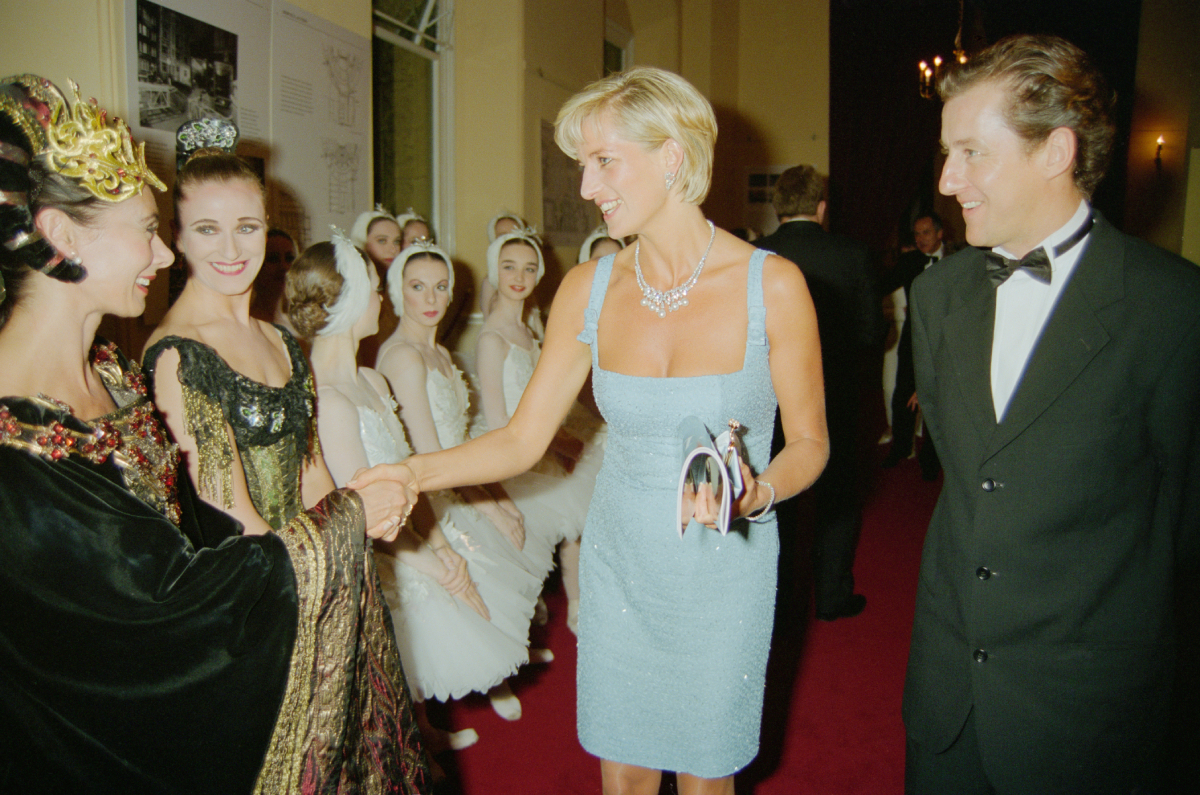 The princess wore an ice blue beaded shift dress from French designer Jacques Azagury, plus a necklace on loan from royal jewelers Garrard.
2. The John Travolta Dress is now part of a royal historic collection
For a 1985 event at the White House with President and First Lady Ronald and Nancy Reagan, Diana wore a midnight blue velvet evening gown from Victor Edelstein. She paired the dress with a pearl and sapphire choker. And the look became famous because Diana was photographed that night dancing with John Travolta as the Reagans watched.
Two years later, Diana wore the same dress at a presidential state banquet in Bonn, Germany. For that occasion, the Princess of Wales brought out a new suite of jewels — the Sultan of Oman Sapphire Suite — which she received as a gift during her tour of the Middle East with Prince Charles in 1986.
The modern set with geometric crescent designs included a necklace, a pair of earrings, and a bracelet. Diana wore them for the first time in public at this dinner in Germany, pairing them with the Spencer Tiara. The gown is now in the collection of the Historic Royal Palaces charity.
1. Princess Diana wows in 'The Revenge Dress'
We might be stretching our definition of a red carpet with this entry — but this iconic dress can't be ignored.
In 1994 — on the night that Prince Charles admitted in a TV interview that he had cheated during their marriage — Diana showed up at a Vanity Fair summer party at London's Serpentine Gallery in a stunning and chic off-the-shoulder cocktail dress from Christina Stambolian now known as the "Revenge Dress."
Royal tradition had a strict set of etiquette rules for Diana that demanded conservative wardrobes during her public appearances. But after her split from Charles, the Princess of Wales was ready to wear more daring ensembles to symbolize her newfound freedom and independence.