Is 'Prison Break' Season 6 Happening or Did Dominic Purcell's Update Further Confuse Fans?
Fox's hit series Prison Break followed Michael Scofield (Wentworth Miller) as he broke his wrongly accused brother Lincoln (Dominic Purcell) out of prison. For four seasons, the show developed a cult following that ultimately led to a fifth and "final" season in 2016. Rumors of season 6 have gone back and forth but it's star Purcell that's still saying the project is in the works.
Season 6 of 'Prison Break' rumors are out of control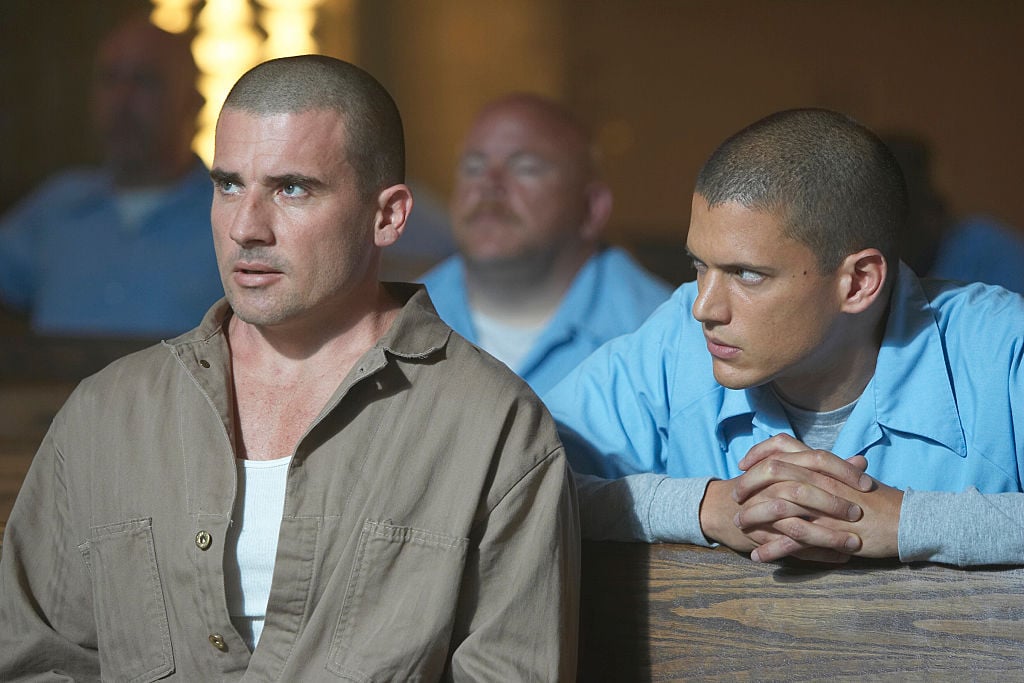 The story of brothers saving each other resonated hard with viewers. For years, many have begged for another season to tie-up loose ends and, to some degree, the bosses were listening. Following the run of Prison Break, Fox opted to continue the story through a made-for-TV movie called The Final Break. Not surprisingly, it was a huge success, leading creators to opt for a fifth season. Fans didn't love the way the "final" season played out and since then, rumors of a redemption season 7 have run rampant.
In May 2017 the FOX Television Group CEOs Dana Walden and Gary Newman revealed the network would "definitely consider doing more episodes," Walden said via TV Line. "I know the producers are thinking about it. We want to make it special with intermittent encores."
By January 2018, FOX confirmed via TV Line season 6 was on the way.
Newman later stated that the series "would not feature an entirely new cast." He added that series creator Paul Scheuring "had an idea for another season. He came in and pitched it. But it's super early. We haven't seen any written materials yet."
Along with that, co-showrunner Vaun Wilmott added that "ideas are percolating," and "if the right storyline comes along, I am sure the gang would be back to do it again."
In June 2021, Purcell took to social media which further confused fans because it's not the first time the star's mentioned the project.
Dominic Purcell continues advocating for season 6 after Wentworth Miller said he's out
RELATED: 'Prison Break' Star Wentworth Miller Has a Poignant Reason for Leaving the Series
Purcell must get a lot of fan comments about Prison Break because he's posted about its return multiple times depite nothing to show for it just yet. In June 2021, he took to social media to address more of those rumors.
"I'm tired….I get you all want #prisonbreak6…As do I. It's in motion. It truly is. It will eventuate. It's happening. A show like #prisonbreak is a big deal. It takes time and execution. It deserves a fitting finale. My only wish is you all chill and trust my word. We will deliver. Much respect to all fans of @prisonbreak#prisonbreak much love…( not really I don't know you) .ps. I'm posting #meatpies from now on. I'm developing #aussie#meatpies global…cheers dom [beer emoji]," he wrote on Instagram.
Fans didn't hesitate to ask if Purcell is "with Went or not?" adding he's "just creating hype."
The post contradicts previous posts (via Digital Spy)when Purcell stood by his Prison Break costar, Miller.
Miller, who came out as gay in 2013, revealed in 2020 he would not reprise his role if Prison Break Season 6 came to fruition.
"I just don't want to play straight characters," he said in a now-deleted Instragram post. "Their stories have been told (and told). If you were a fan of the show, hoping for additional seasons… I understand this is disappointing. I'm sorry…If you're hot and bothered [because] you fell in love with a fictional straight man played by a real gay one… That's your work."
Purcell chimed in to show support saying, "It was fun mate. What a ride it was. Fully support and understand your reasoning. Glad you have made this decision for you health and your truth. Love ya brother."
'Prison Break' bosses continue teasing fans
The decision whiplash is real. Previous announcements have led to further confusion as they all contradict each other. Fox Entertainment CEO Charlie Collier said via Newsweek:
"There's no plan right now to revive Prison Break or any of the other franchises, but when the creators come with a story that they think is the right time to tell, we are so ready to listen because those are some franchises of which I'm so proud and feel so fortunate that they're in our stable."
Others from the series followed suit — until 2020 shook things up even more, discussing the potential futures of 24 and Prison Break.
"We continue to talk about 24 and Prison Break as potential spinoffs," Thorn told Deadline. "There is nothing that is ready to announce on either front but if there is a way to do another 24, we would be thrilled to do it. But it has got to feel special and worthy of doing as opposed to just another season. We want to make it feel as an event."
So, what is really happening?
Is season 6 of 'Prison Break' happening or not?
RELATED: Arrowverse and 'Prison Break' Star Wentworth Miller Opens up About His Battles Against Homophobia
Series creator Paul Scheuring previously announced he'd written the first script for season 6, adding that stars Amaury Nolasco (Fernando Sucre) and William Fichtner (FBI special agent Alexander Mahone ) will return to reprise their roles.
"We are developing a new iteration of Prison Break," network president Michael Thorn confirmed. "It's in very early stages of development, but we're really excited about it."
Until Prison Break has an official renewal announcement, all of this is more conjecture. Either way, we'd love to see everyone on the same page.