Priyanka Chopra Jonas Says Her Mom 'Had No Hope' for Her Getting Married Before Nick Jonas
Priyanka Chopra Jonas' mom must be overjoyed by the exciting announcement her daughter made with her husband Nick Jonas.
Moms are notorious for saying things that mean well but don't sound so supportive. Like the time Priyanka Chopra Jonas' mom, Madhu Chopra, said she "had no hope" of her daughter ever getting married. It sounds a wee-bit harsh at first. But there could be a sliver of truth behind the sentiment. Knowing Chopra Jonas made it to the altar, it's easier to understand why her mother said it.
Why no one thought Priyanka Chopra Jonas would get married
Madhu, like most moms, worries about her daughter. One concern she expressed was that Chopra Jonas wouldn't ever get married. Even Chopra Jonas' grandmother agreed, citing the Quantico star's inability to cook. And that's not all the family matriarch had to offer in the way of advice.
Chopra Jonas' mom also jumped in with career suggestions. After a successful Bollywood career in India, Chopra Jonas spread her wings and moved to America to try to break into the most famous entertainment industry in the world: Hollywood. Madhu warned the now-39-year-old that she might be too old to act in LA. Instead, Madhu insisted her already wildly successful daughter launch a production company to focus on a career offscreen, sort of like a backup plan.
Well, Chopra Jonas is doing both. The Miss World 2000 winner has become a larger-than-life presence both onscreen and with Purple Pebble Pictures, a production company she launched with Madhu.
Chopra Jonas and her mom's plans for Purple Pebble Pictures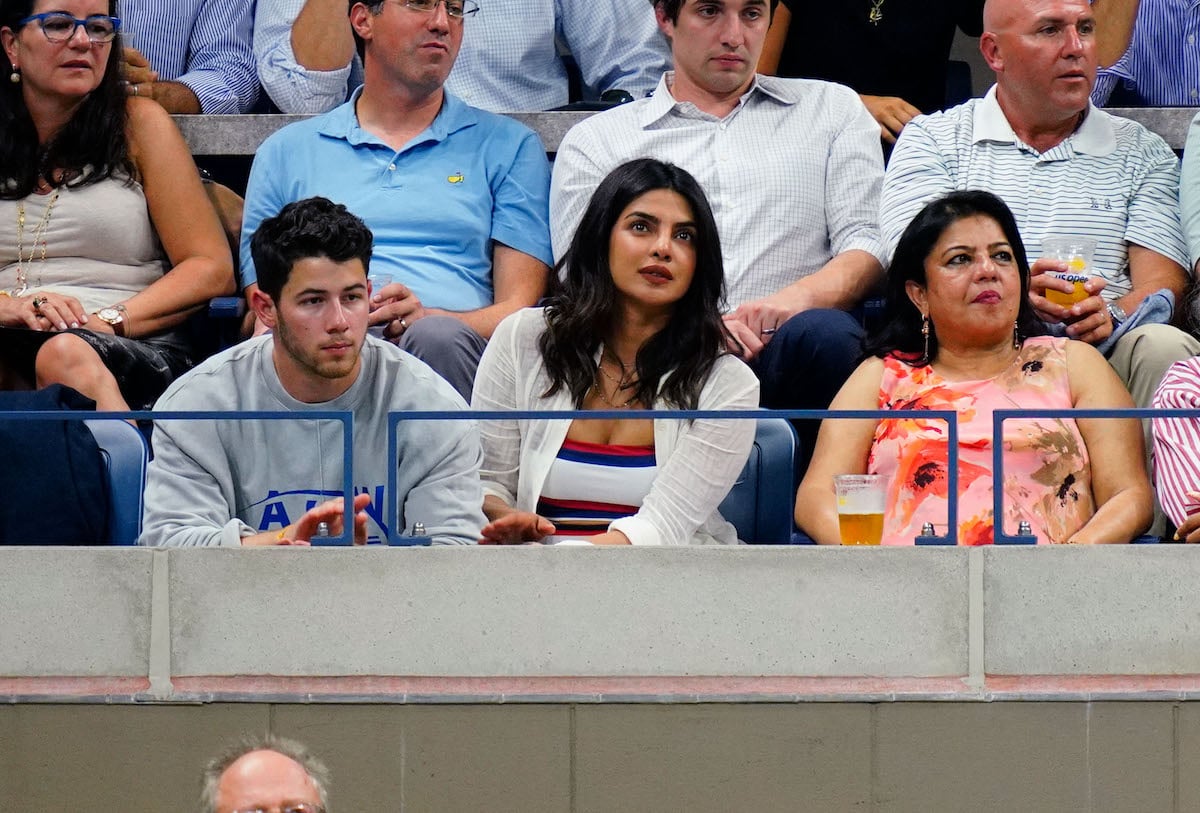 Vanity Fair interviewed Chopra Jonas who revealed insights about her plans for their production company. Purple Pebble Pictures is already producing hits. The White Tiger star co-founded the company with her mother in 2016. Chopra Jonas plans to use her latest successes as a platform to empower others.
Her latest deal with Amazon, likely made possible with her fan-favorite spy series Amazon's Citadel, will allow her to do "very hyper-specific storytelling." Chopra Jonas is on a mission to feature South Asian women-centric tales, helping to represent a culture not commonly found in Hollywood. In the role of a producer, she's ready to "fight for characters" who can "normalize different cultures."
Chopra Jonas isn't the only Hollywood actor expanding into production. Margot Robbie's LuckyChap Entertainment was behind I, Tonya. Elizabeth Banks is behind Brownstone Productions, responsible for Pitch Perfect. And there are plenty of others, including Charlize Theron's Denver And Delilah Productions (Bombshell), Queen Latifah's Flavor Unit Entertainment (Bessie), and Reese Witherspoon's Hello Sunshine (Big Little Lies).
Priyanka Chopra Jonas and Nick Jonas finally address the kid question
With so much going on for Chopra Jonas and Nick Jonas, fans have continually wondered if they'll start a family since they wed in 2018. And Priyanka shared in previous interviews about her mom's hopes for a grandchild soon, too. Priyanka is knee-deep in a variety of career endeavors, including developing Sheela and Citadel, making it seem impossible to plan for children. 
But if you've read the latest headlines, you already know the big news. A Jonas baby has already arrived! People shared the details of Priyanka and Nick welcoming their first baby via surrogate. "We are overjoyed," the couple said regarding their new daughter, born on January 15, 2022. The couple has not revealed much else about surrogacy. They're "respectfully asking for privacy" to enjoy their new bundle of joy.
Chopra Jonas' mother must be proud. She may have expressed concerns over the years about marriage, career paths, and grandchildren. But Priyanka is clearly hitting home runs these days. Congrats are certainly in order with the new baby. With a 20-year career spanning 50+ films, the cover of Vogue India 11 times, and recent successes in Hollywood, she certainly deserves her mother's stamp of approval.