Psy Praises BTS's Suga and His Professionalism During 'That That' Music Video Shoot
BTS's Suga recently worked with Psy on a song and music video. Psy also praised the rapper for his professionalism during the video shoot.
Two of the biggest names in K-pop, Psy and BTS's Suga, recently collaborated on a catchy track called "That That." Both stars also appeared in a fun, cowboy-themed music video.
Upon the release of the song, Psy opened up about working with Suga. The legendary "Gangnam Style" singer even praised Suga for his professionalism.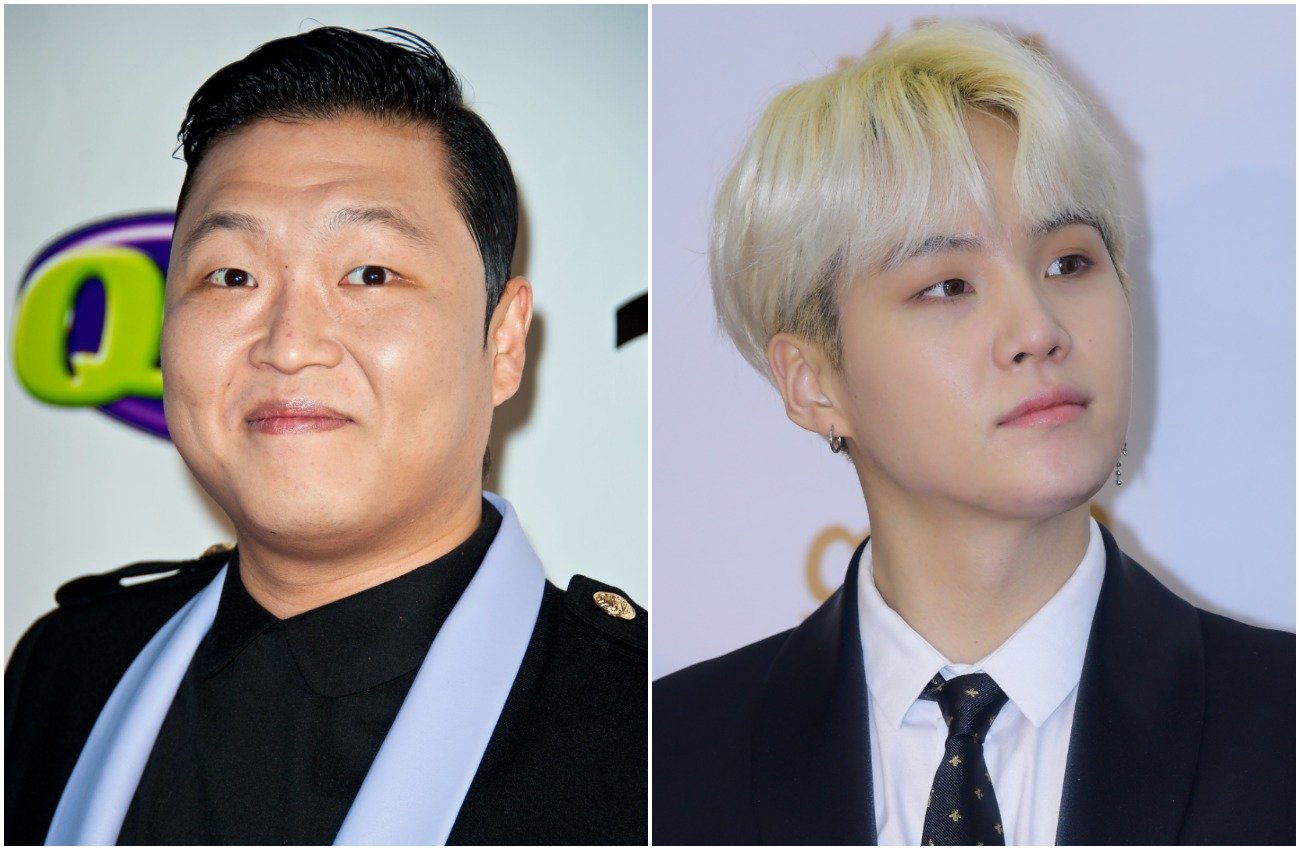 How Psy and Suga started the collaboration
Psy was a guest during a recent episode JTBC's Knowing Bros. There, he explained how he and the BTS rapper came to collaborate.
"I got a text message from an unknown number," Psy said. "It said, 'This is Suga. I would like to talk with you.' So I met with him."
Psy continued, "He's good as a performer, but Suga is really good at writing songs. He's produced for IU and Heize. He's produced for a lot of other artists, and he wanted to give me a song at the end of his production project."
Psy explained that Suga gave him the instrumental that would eventually become "That That." Sometime later, Suga himself ended up being featured on the song.
In a video on Psy's Twitter account, Suga also explained, "To be honest, I haven't gotten that close with anyone I collab with, it's because I'm not usually the type to meet up with collaborators in person. But [Psy] he wanted to see me in person."
Psy praises Suga's professionalism during 'That That' music video shoot
Psy has also opened up about filming "That That" with Suga. During a showcase for his recent comeback, Psy talked about how professional Suga was on set.
"Suga dedicated so much time and effort to bring 'That That' to life," he said (via Koreaboo). "When we were shooting a music video in Incheon in March, it was very cold and windy, but he still strived to film the best scenes."
He added, "Thanks to this collaboration, I could walk down memory lane as well. Seeing how passionate he was and how much he loved music, I naturally recalled my bygone days and pushed myself to work hard like I did in the past."
Psy and Suga became 'best friends'
Psy and Suga are 16 years apart. However, as they explained in another video on Psy's Twitter account, despite the age difference, the two of them became close while working on "That That" together. 
"When meeting younger artists, I don't want to make them feel uncomfortable," Psy explained. "I don't want to be someone who's hard to approach. He just wasn't my junior in the business, but also he truly feels like a friend."
Psy continued, "It was hard to feel any age gap. If he thinks of me as a bestie, that's great for me."
Meanwhile, Suga also said, "At first, because he's many years my senior and someone who's well-respected in the business I was quite nervous."
"It felt like working with a childhood friend so it made the songwriting process that much more fun," Suga added, "We became besties in a way."