'Psych': Dulé Hill Says Co-Star James Roday 'Improvising in the Middle of a Scene' Led to His Character, Gus, Getting Aliases
Dulé Hill, better known as Burton "Gus" Guster on Psych, had many hilarious aliases during the comedy's 8-season run. In nearly every episode of the USA Network original series, fans aka Psych-Os could count on Shawn Spencer (James Roday) introducing his sidekick and longtime best friend with a laugh-inducing alias. Similar to pineapples that make an appearance in every episode, the silly aliases became a hallmark of the show and remain a favorite among viewers.
'Psych' debuted in 2006
In 2006, Psych premiered on the USA Network. Created by Steve Franks, the program followed Shawn as he put years of being trained to closely observe his surroundings by his father, Henry Spencer (Corbin Bernsen), to use. After getting accused by the police of committing a crime he actually solved, Shawn convinced detectives he had psychic abilities. From then on, Shawn and Gus worked with the police to help solve cases. They even opened up their own psychic detective agency, aptly named Psych.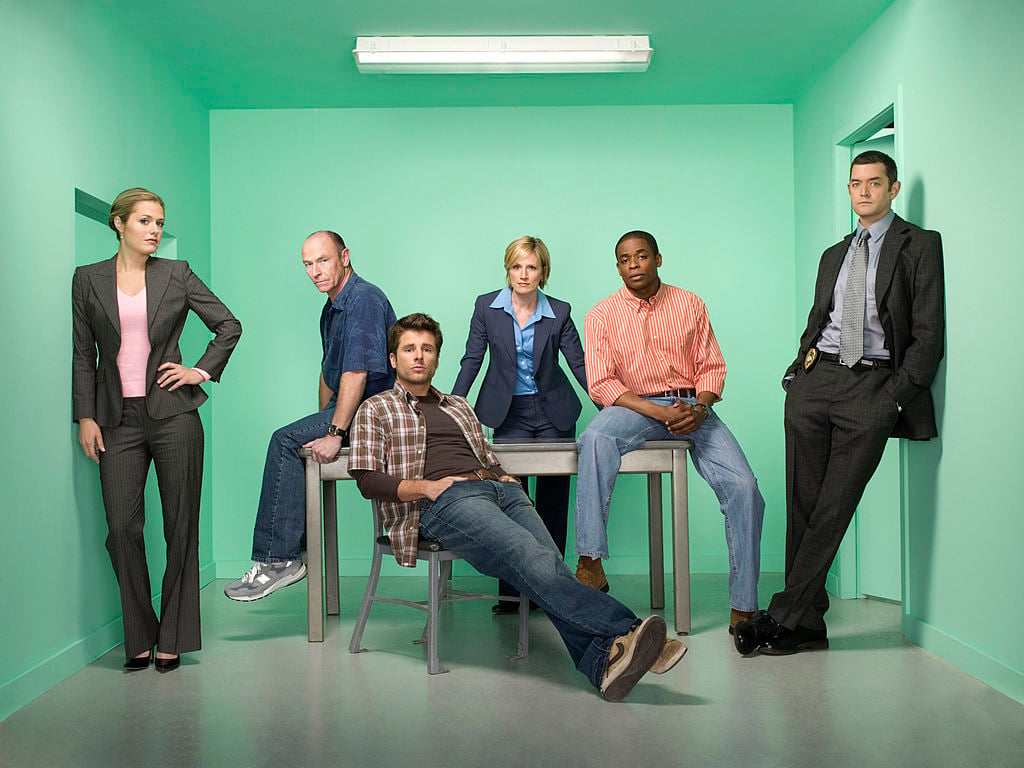 Psych ended after 8 seasons and 120 episodes in March of 2014, according to IMDb. During that time, the show garnered such a large, devoted audience that the cast reunited three years later in 2017 for a TV movie, Psych: The Movie. Viewers responded so well to the first film that another one, Psych 2: Lassie Come Home, is set to premiere sometime in 2020 on Peacock, NBCUniversal's subscription service. 
Dulé Hill: Aliases began with James Roday improvising a line
During a 2013 interview with HuffPost, Hill opened up about his character's aliases and how they got started. When asked to name his favorite alias, Hill, who now stars in Black Monday, shared they came about when his co-star, Roday, had been improvising. 
"I always say the first one — Gus Sillypants Jackson —because that one was James Roday [Shawn Spencer] improvising in the middle of a scene," Hill said before adding that his second favorite had been Lavender Gooms because it had been his great aunt's name. "We had already done the pilot and were working on the series, and I remember James saying 'This is my partner, Gus Sillypants Jackson.' But I stayed in it, and that started the whole thing."
The episode Hill is referring to is Psych Season 1 Episode 5: "9 Lives," according to the show's Wiki on Fandom. From then on Gus's aliases got sillier and sillier. They ranged from Burt the Billowy Bear and Clementine Woolysocks to one of our personal favorites, MC ClapYoHandz, where Gus indulged Shawn by clapping his hands instead of giving him his usual look of disapproval.
The character's aliases have become so popular among viewers that videos featuring every single one ever mentioned on the show have popped up on YouTube. And, of course, lists have been generated by other sources too.
He says James Roday came up with 'whole pineapple thing' 
In the same interview, Hill shared some insight about the origins of the show's other trademark, pineapples. Every episode of Psych has a pineapple hidden somewhere in a scene. It became a game among fans to point it out. Over the years, the pineapple became the show's sort-of mascot.
After calling Roday "an improv genius," Hill explained the original pineapple bit hadn't been part of the script.
"A pineapple was on top of my refrigerator in the pilot, and he just, by chance, happened to see it and that's what started it," he said, referring to Roday, who made a joke about taking pineapple for the road.
Here's hoping we get to see more improv work from Hill and Roday when they reprise their roles as Gus and Shawn!