Queen Elizabeth Allowed Princess Diana To Humiliate Prince Charles One Final Time After Their Nasty Split
Princess Diana humiliated Prince Charles one last time prior to their divorce in 1996. In a new biography of the Prince of Wales, titled The Untold Story, author Ross Benson claims that Diana went against Charles' wishes and attended a State banquet at Buckingham Palace just to embarrass him. While Queen Elizabeth had the authority to stop Diana, she allowed her to go without incident.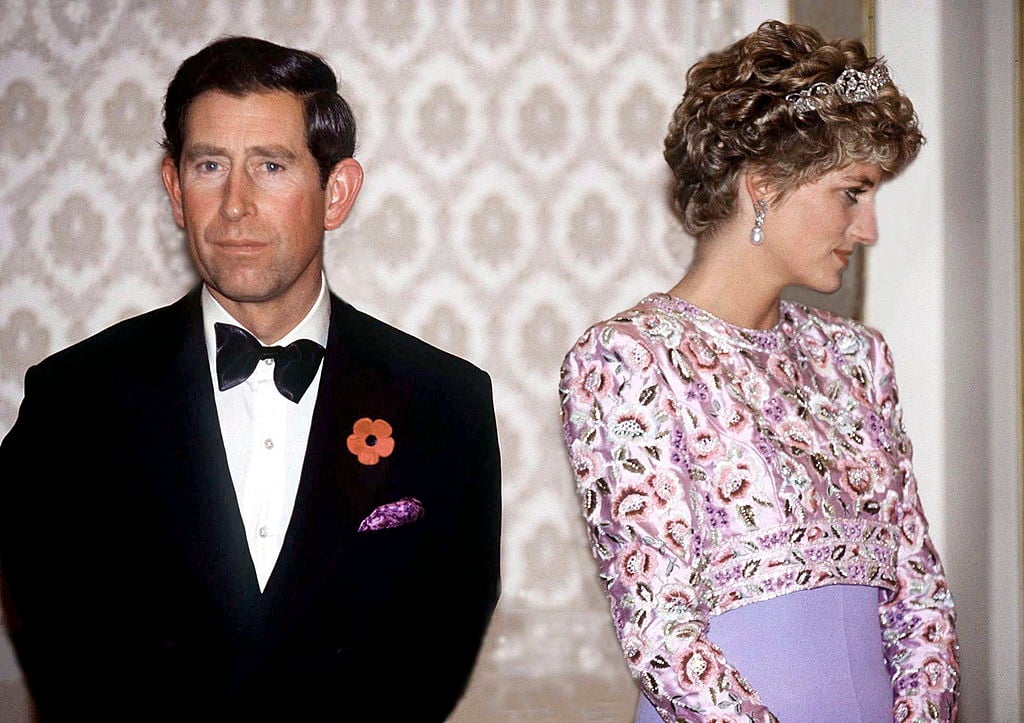 Queen Elizabeth allows Princess Diana to humiliate Prince Charles
Once Diana left Charles, she was not expected to attend any future royal engagements. Charles allegedly went so far as to ban Diana from royal events, including a State banquet that was held in honor of Portugal's president, Mario Soares, in 1993. In light of the ban, Charles did not expect Diana to appear at the dinner and was completely caught off guard when she showed up.
Prior to the banquet, Benson claims that Diana called Queen Elizabeth to inform her of her intentions. Elizabeth knew that Princess Diana's presence would humiliate her son because of their recent split, but she allowed Diana to go anyway.
According to Express, Elizabeth was the only person who could enforce the ban and prevent Diana from making an appearance. But instead of saving Charles some embarrassment, Elizabeth stepped aside and caved to Diana's demands.
Why didn't Queen Elizabeth stop Princess Diana?
Benson says that Diana called Her Majesty out of the blue and told her that she was going to the banquet. It is unclear why Elizabeth did not stop Diana, but Benson claims that it was because she was frightened of her daughter-in-law. More specifically, Elizabeth was afraid of Diana's influence over her two sons, Prince William and Prince Harry, and did not want to step on her toes.
Elizabeth reportedly thought that Princess Diana held power over the future of the monarchy. With that in mind, she did not want to stand up to Diana and push her away — even at the expense of her own son. This is why Elizabeth allowed Diana to attend the banquet.
During the dinner, Diana made her presence known and stood right at Charles' side, which completely humiliated him. At the end of the day, the move made it clear that Diana had out played everyone, including the queen.
Princess Diana makes amends after the divorce
Although Diana wanted Charles to pay for what happened, inside sources say that their relationship improved once their divorce was settled. Without the stress of marriage weighing them down, sources claim that Charles and Diana made good friends and enjoyed a healthy relationship in her final days.
This is reportedly why Charles was present to transport Diana's body following her tragic accident in Paris. He also made sure she was treated with the utmost respect in the days leading up to the funeral.
Charles and Princess Diana were married for over a decade before their split in 1992. The couple, however, had experienced numerous problems well before that. One of their issues was that they were poorly matched to start. It didn't help that Charles had an affair with his longtime lover and future wife, Camilla Parker Bowles, during their marriage. Fortunately, it sounds like they made amends after the divorce and had some good years before her passing.
Queen Elizabeth honors Princess Diana
As far as Queen Elizabeth is concerned, it is clear that Princess Diana held a special place in her heart. In the days following Diana's tragic death, Elizabeth withdrew the flag at Buckingham Palace and later flew it at half-mast out of respect for her funeral. The move was completely against royal protocols, which state that the flag should never be flown at half-mast.
Queen Elizabeth also went against the rules when she flew Charles, William, and Harry back to the country to attend Princess Diana's funeral. All three of them rode in the same airplane, which is against royal protocols. Heirs to the throne are not supposed to fly together as an accident could wipe them all out in one fell swoop.
Charles has not responded to the claims in Benson's book.