Queen Elizabeth Broke This Royal Protocol For Sophie, But Not For Princess Diana or Sarah Ferguson
Queen Elizabeth might have a favorite after all. Royal experts believe Her Majesty has shown favor to Prince Edward's wife, Sophie, on several occasions – even going as far as bending some royal protocols for the Countess of Wessex. Here are all the ways in which Elizabeth proved that she favored Sophie over Princess Diana and Sarah Ferguson.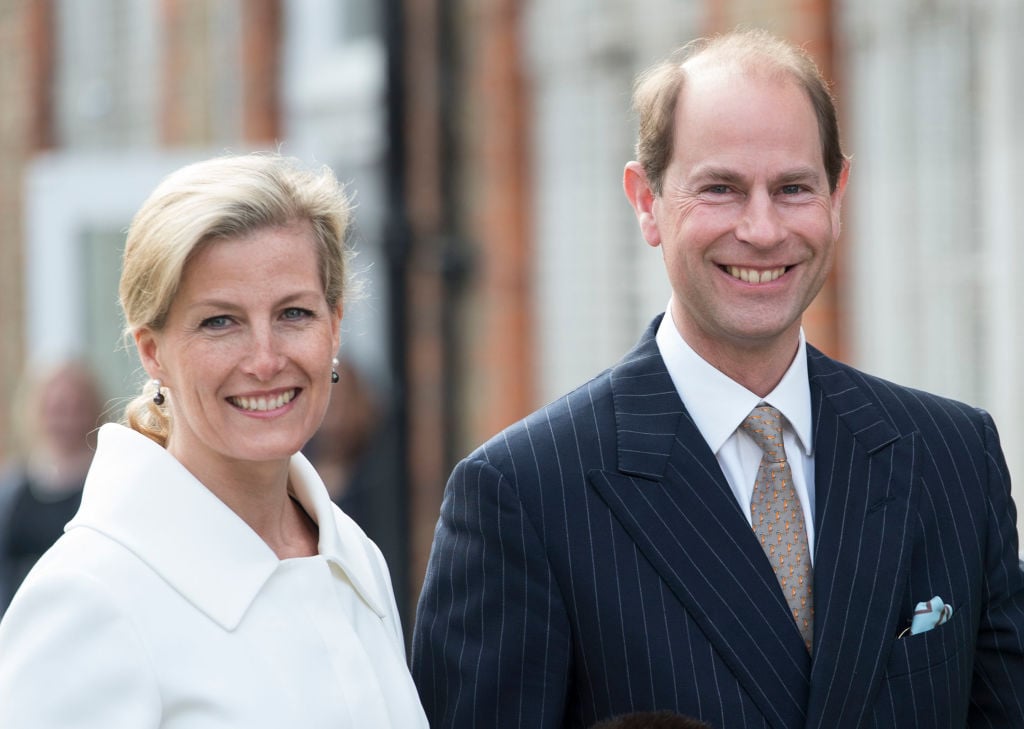 Queen Elizabeth breaks a rule for Sophie
Elizabeth is usually a big stickler for the rules, but not when it comes to Sophie. In fact, there is one royal protocol that Elizabeth completely ignored for Sophie but kept in when it came to Diana and Ferguson.
According to International Business Times, Queen Elizabeth permitted Sophie to stay the night in the palace when she was dating Edward. Under normal circumstances, only spouses are allowed to stay in the palace with their husbands.
Sophie and Edward weren't even engaged at the time, so it was a pretty big move to allow her to have a room in the palace. It is also interesting that Elizabeth did not do the same favor for Ferguson or Diana, both of whom had to wait until there were married before they were allowed to spend the night in the palace.
"That Edward should wish to have his girlfriend beside him as much as possible was perfectly natural," royal author Ingrid Seward shared. "That the Queen should allow it to happen under her roof marked a significant change in attitude and approach. Both Sarah and Diana had moved into the Palace, but not until they were formally engaged."
Seward added that Queen Elizabeth likely made an exception for Sophie because she wanted Andrew's girlfriend to see what it was really like being a part of the royal family. It is unclear if Elizabeth's tactic worked, but Diana and Ferguson definitely took notice.
Princess Diana and Sarah Ferguson complain about Sophie
Sources claim that Diana and Ferguson were surprised by what Elizabeth did for Sophie and were not shy about voicing their frustrations.
The two also reportedly held a good deal of resentment towards Sophie, mainly because they did not get the same treatment from Queen Elizabeth. If the reports are true, then we can hardly blame them.
Unfortunately, both Princess Diana and Ferguson's marriages failed to stand the test of time. Diana separated from Prince Charles in 1992, the same year that Ferguson and Andrew announced their shocking split.
Sophie, on the other hand, has enjoyed a near-perfect union with Edward, who is the only child of Elizabeth and Prince Philip that has not experienced a divorce. Charles, Andrew, and Princess Anne all separated from their first spouses.
Inside Queen Elizabeth and Sophie's close relationship
It is clear from Elizabeth's behavior that she adored Sophie from the very beginning. After all, she would not have broken a serious royal protocol if she didn't like Sophie.
While Elizabeth's other children have divorced and moved on with their lives, her relationship with Sophie has grown even stronger over the years.
This past summer, for example, Sophie spent several weeks with Queen Elizabeth at Balmoral. Her Majesty spends every summer at her Scottish estate and only invites her closest relatives to visit.
Sophie is also frequently spotted alongside the Queen at royal events, and sources claim that Elizabeth often asks Sophie to ride with her on her way to functions.
Other royals have noticed Elizabeth and Sophie's unique bond, which is truly unlike any other in the family. Unfortunately, they cannot really do anything about it as Elizabeth has made it clear that she adores Sophie in every way possible.
What about Kate Middleton?
To be fair, Elizabeth has made similar concessions to Kate Middleton over the years. When Middleton was dating Prince William, for instance, Elizabeth permitted them to live in the same house.
Queen Elizabeth also shares a close bond with Middleton because she will one day sit beside William on the throne. Although she won't be called the Queen of England, Middleton will have a lot of the same duties as Her Majesty, something Elizabeth can definitely relate to.
So who is Elizabeth's real favorite? Despite her closeness with Middleton, royal watchers are still convinced that Elizabeth favors Sophie above everyone else.
There are some sources who even claim that Elizabeth views Sophie as a daughter and trusts her completely.
Queen Elizabeth has not commented on the reports surrounding her relationship with Sophie, but there is no denying that the two share a unique bond – even if it is at the expense of the other royals.