Queen Elizabeth Has a Super-Secret Way to Tell Her Staff She is Ready for Her Next Dinner Course
Queen Elizabeth has spent her entire life living in palaces with large staffs who tend to her every need. After nearly seven decades on the throne, Her Majesty's daily routine has become well established. This is especially true when it comes to meals. According to a new book, the queen has a super-secret way to let her staff know she's ready for the next dinner course.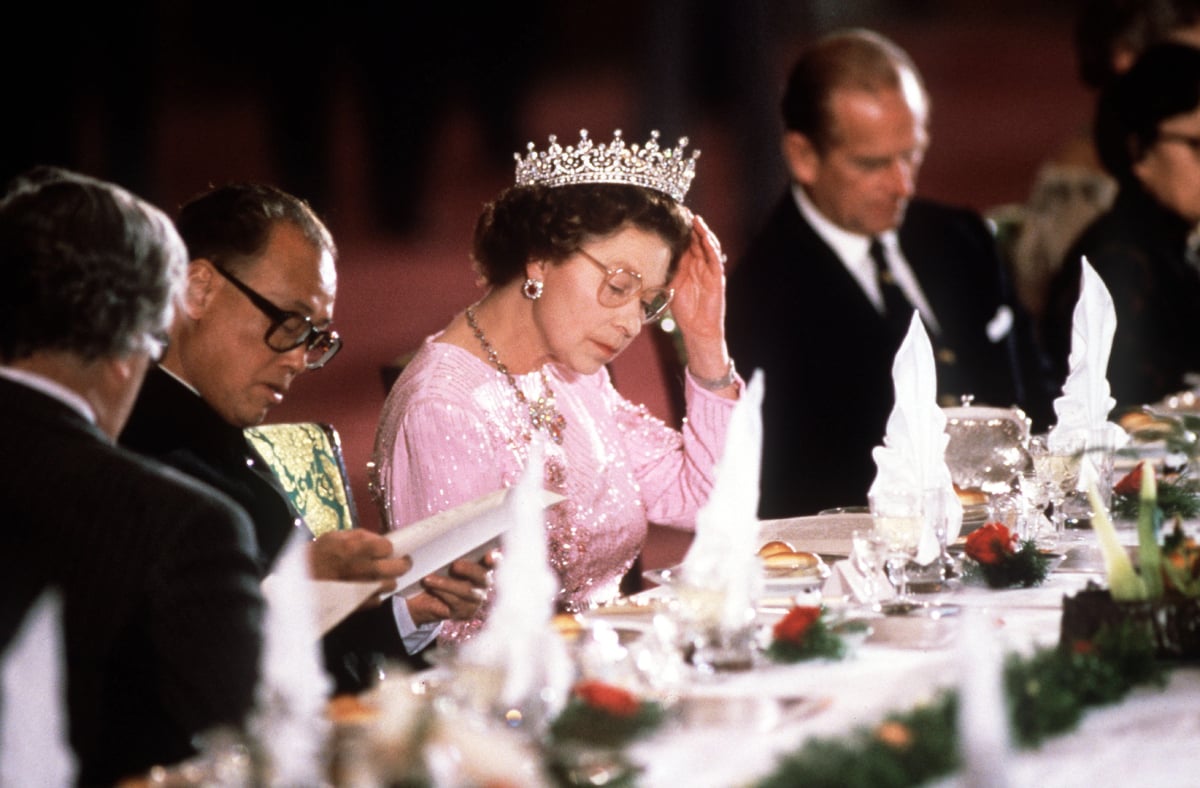 Queen Elizabeth is 'not a foodie' says a former royal chef
With access to the best chefs and the finest foods, royal fans might picture Queen Elizabeth indulging in decadent feasts on a daily basis. However, according to The Today Show, former royal chef Darren McGrady says that's not the case. McGrady says that Her Majesty is "not a foodie."
"She eats to live, unlike Prince Philip who loves to eat and would stand and talk food all day," McGrady said. "When she dines on her own, she's very disciplined. No starch is the rule."
A typical day of eating for Queen Elizabeth begins with a cup of Earl Gray tea (no milk or sugar) and biscuits (cookies). For breakfast, the queen usually enjoys a bowl of cereal with fruit, her favorite being Special K.
She keeps her midday meal pretty light and simple, with grilled chicken and salad or fish with veggies. Queen Elizabeth also enjoys high tea with a spread of finger sandwiches, scones, and cakes.
There is 1 dinner rule that all royals must follow
At dinner, she prefers "a relaxed meal of lamb, roast beef, mutton, grouse, or salmon." The queen sometimes enjoys a dry Martini with her dinner. For dessert, she prefers strawberries, white peaches, and chocolate before ending the day with a glass of Champagne.
When Queen Elizabeth is hosting a dinner at the palace, there is one rule that all royals must follow. According to Express, the one custom that all royal family members must adhere to when dining with the queen is to follow her lead.
Royal etiquette dictates that everyone dining with the queen should look at what she does and then follow. First, dinner guests should not take their seat at the dinner table until the queen does. Next, guests shouldn't start eating until Her Majesty takes her first bite.
While eating, dinner guests should mirror the queen when it comes to utensils and cutlery. The meal ends when Queen Elizabeth is finished eating.
Former royal butler Paul Burrell says that when someone makes a mistake, the queen doesn't try to embarrass them. Instead, she will cover it when she can so no one feels awkward.
Queen Elizabeth has a secret way to communicate with staff during dinner
According to PureWow, a new book about Queen Elizabeth reveals that she has a secret way of communicating with her staff during dinner. In the book Long Live the Queen! 13 Rules for Living from Britain's Longest Reigning Monarch, author Bryan Kozlowski writes that Her Majesty's page has a special job.
Kozlowski reveals that the queen's page watches the monarch during dinner. McGrady told him it's the page's job to signal the kitchen and waitstaff for the next dinner course.
"Once the Queen puts down her cutlery, an ever-watchful page behind her presses a button on a handheld zapper, which sends a literal green-light signal to the kitchen, ushering in the next course," Kozlowski writes.
The same rules for dinner also apply to the courses. When Queen Elizabeth is finished, so is everyone else. When she finishes her salad, soup, or appetizer, the page will push the button for the next course. The staff will clear the table, no matter if the guests are finished with the course or not.