Queen Elizabeth Has Always Treated Sarah Ferguson Better Than Camilla Parker Bowles, Despite Similarities
Queen Elizabeth has welcomed Meghan Markle into the royal family with open arms, but this hasn't always been the case for women who marry into the House of Windsor. Sarah Ferguson married Prince Andrew in 1986, and Camilla Parker Bowles married Prince Charles in 2005. And, even though Fergie and Camilla have many similarities, the two have had very different experiences as royals.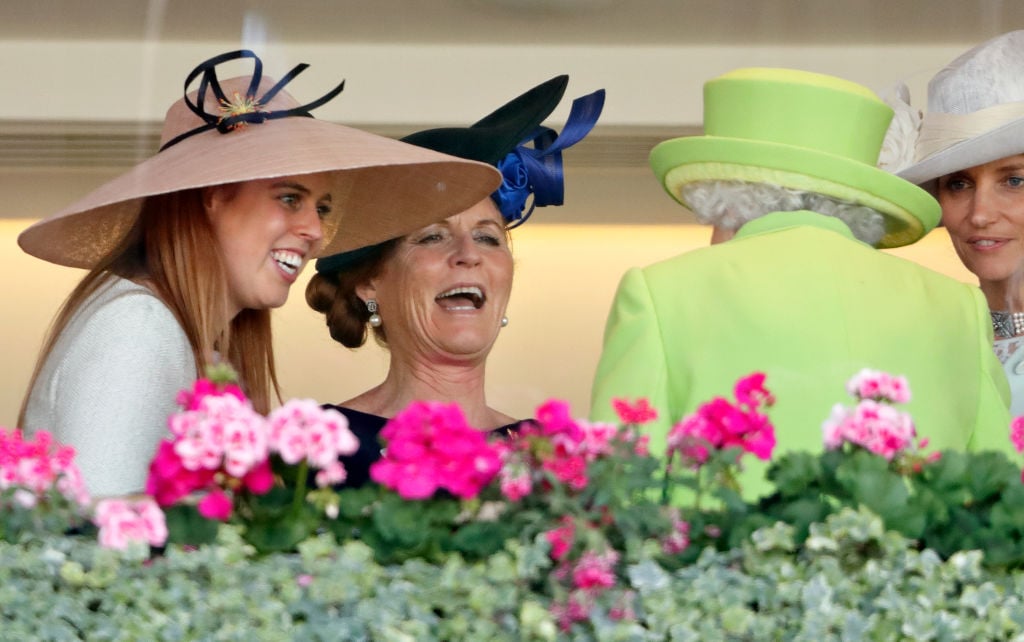 Both women had previous relationships
Camilla met Charles in the early seventies and they had a brief romance until Queen Elizabeth intervened. The 25-year-old Camilla had had previous lovers, and royal expert Richard Fitzwilliams says Camilla's history meant she was not a suitable wife for Charles.
"She mixed in a similar set to Charles, and they were undoubtedly ideally suited," Fitzwilliams told The Express.
It was a different time, and the expectation was that Prince Charles – the heir to the throne – would marry a young, innocent virgin bride. This ruled out Camilla and paved the way for the forced marriage between Prince Charles and Diana Spencer. Charles loved Camilla, and he was reportedly heartbroken when she married Andrew Parker Bowles in 1973.
Sarah Ferguson, on the other hand, had also had previous boyfriends before dating Prince Andrew, but the royal family didn't seem to care.
"The Queen Mother went further and said that any girl of 26 would have had previous boyfriends; it was perfectly natural, and she thought Sarah would be ideal for Andrew," wrote Ingrid Seward in the biography Sarah: HRH The Duchess of York.
Queen Elizabeth is reportedly a "huge fan" of Ferguson, and the Monarch has 'an enormous affection" for her. And, that continues to be the case despite the fact that she and Prince Andrew divorced in 1996.
Could Prince Andrew and Sarah Ferguson be getting back together?
Despite divorcing more than twenty years ago, Prince Andrew and Sarah Ferguson have remained friends. Not only do they attend various royal events together, but they also still live together in Windsor.
Ferguson is no longer an official member of the royal family, but she still spends time with her former in-laws and is currently staying at a shooting lodge on the Balmoral estate near the Queen's summer residence at Balmoral Castle.
An insider says that Queen Elizabeth invited the Yorks to her estate as a family, which is a sign that she gives her approval to Prince Andrew and Fergie getting back together.
"Prince Andrew and Sarah are at Balmoral as guests of the Queen and are expected to be there for a number of days," says the source. "It's not the first time they've been there as a couple in recent years but it's significant because of all the rumors about them getting back together."
The insider says that Balmoral is a quiet, remote place where the royals can "work things out in total calm." And, considering Prince Andrew was a friend of Jeffrey Epstein – who recently died in his jail cell while waiting to go to trial for sex trafficking allegations – Balmoral is exactly where he needs to be.
Queen Elizabeth finally accepts Camilla Parker Bowles
Even though they both married other people, Prince Charles still loved Camilla, and the couple began having an affair when he was married to Princess Diana. After Charles divorced Diana and Camila divorced Andrew Parker Bowles the couple continued their relationship. And, after Diana's tragic death, Charles and Camilla stopped hiding their love for one another.
It took a long time for the public to approve of Camilla, and it was extremely difficult for Queen Elizabeth to acknowledge the relationship. She even refused an invitation to Prince Charles' 50th birthday party because she knew Camilla would attend.
However, Queen Elizabeth finally gave in in June 2000 and she met Camilla at King Constantine's (former King of Greece) 60th birthday celebration. The Queen's "grudging acceptance" of Camilla seemed to be the turning point for public opinion, and by the time she married Prince Charles in 2005, nearly two-thirds of the British public supported the union.
Queen Elizabeth and Prince Philip did not attend the private civil ceremony at Windsor Guildhall. But, they were a part of the Service of Prayer and Dedication at St. George's Chapel at Windsor Castle, and they also attended the reception afterward.