Queen Elizabeth Is 'Very Sad' Meghan Markle Is Returning to the UK Without Archie, Expert Claims
Prince Harry and Meghan Markle may have gotten Queen Elizabeth's blessing for their exit from the royal family, but one expert believes the Sussexes' move may have the queen missing baby Archie Harrison. The baby will reportedly stay in Canada during Prince Harry and Meghan's trip to the UK, a detail that's said to have left the queen feeling "very sad."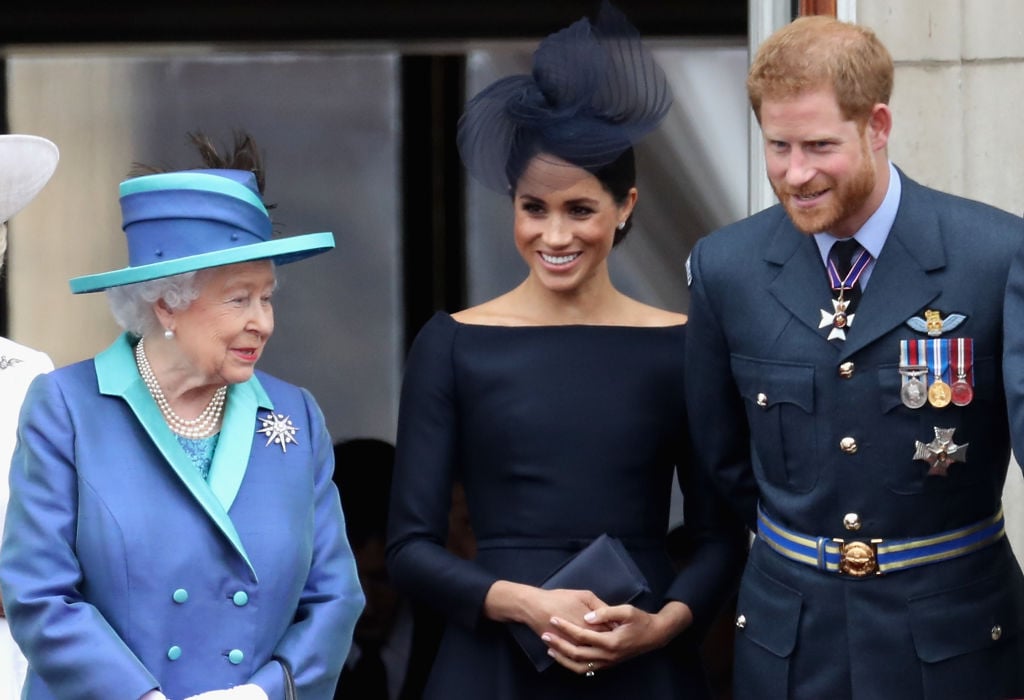 Prince Harry and Meghan felt they had to leave
Prince Harry and Meghan made a huge life decision when they announced they'd be taking a step back from their royal duties and moving to Canada with Archie. Queen Elizabeth honored their shocking request and released a statement that offered her support of their plan.
"Harry, Meghan and Archie will always be much loved members of my family. I recognise the challenges they have experienced as a result of intense scrutiny over the last two years and support their wish for a more independent life," the queen noted in a statement.
The Sussexes want to protect Archie
Harry's close friend JJ Chalmers shared some inside perspective about why the Sussexes felt this move was so necessary.
"I think the decision that [Prince Harry] has made, at the forefront of that is to protect his family, because that's the number one rule is to be a father and to be a husband," Chalmers said during a January appearance on The One Show.
He added: "Any husband wants to protect their wife and any father wants to protect their children."
Chalmers further discussed how Harry's own personal experience played a role in their decision, noting, "And ultimately he grew up in the limelight and he knows how this can end if it's not handled correctly."
Prince Harry and Meghan return to the UK, but without Archie
Before they make their official exit, Prince Harry and Meghan have a number of royal engagements on their calendar. Harry left Canada to attend a summit in the UK on Feb. 26 for his Travalyst eco-friendly travel project before heading into the studio to record a song for charity with Jon Bon Jovi.
Meghan will be arriving soon, but reportedly without Archie. "Meghan is leaving Archie in Canada for this trip," The Times reports. "When the Duchess of Sussex returns to the UK from Canada for a final round of engagements with Prince Harry, who arrived last week, she is expected — again — to leave behind their nine-month-old son."
Queen Elizabeth is reportedly sad about Archie staying behind
Of course, leaving Archie behind means none of the royal family gets to see him during Prince Harry and Meghan's visit, something that reportedly makes the queen "very sad."
"The news will be disappointing for the queen and the royal family, who are understood to be 'very sad' that they have seen so little of Archie since his birth," royal correspondent Roya Nikkhah wrote.
There's some speculation that Archie could reunite with the queen soon, however, as he may make an appearance at Princess Beatrice and Edoardo Mapelli Mozzi's wedding on May 29. It's unclear if he'll be too young to attend.
It's also possible that Archie could grace the balcony of Buckingham Palace for Trooping the Colour, for the Queen's birthday.
In January, it was also reported that the queen was "very sad" that she had "barely seen" Archie and was concerned about the family moving away.
"She will be very sad to have barely seen Archie, and that he will miss out on growing up with his cousins and wider family," a source told The Sunday Times.