Queen Elizabeth Orders Prince William and Prince Harry to Put on a United Front Despite Remaining Tension
Queen Elizabeth is doing everything in her power to keep the monarchy united. Amid a period of high turmoil for the royal family, sources claim that Her Majesty is forcing Prince William and Prince Harry to put on a united front. The only problem is there is reportedly still a lot of tension between the brothers, who cannot seem to get along behind closed doors.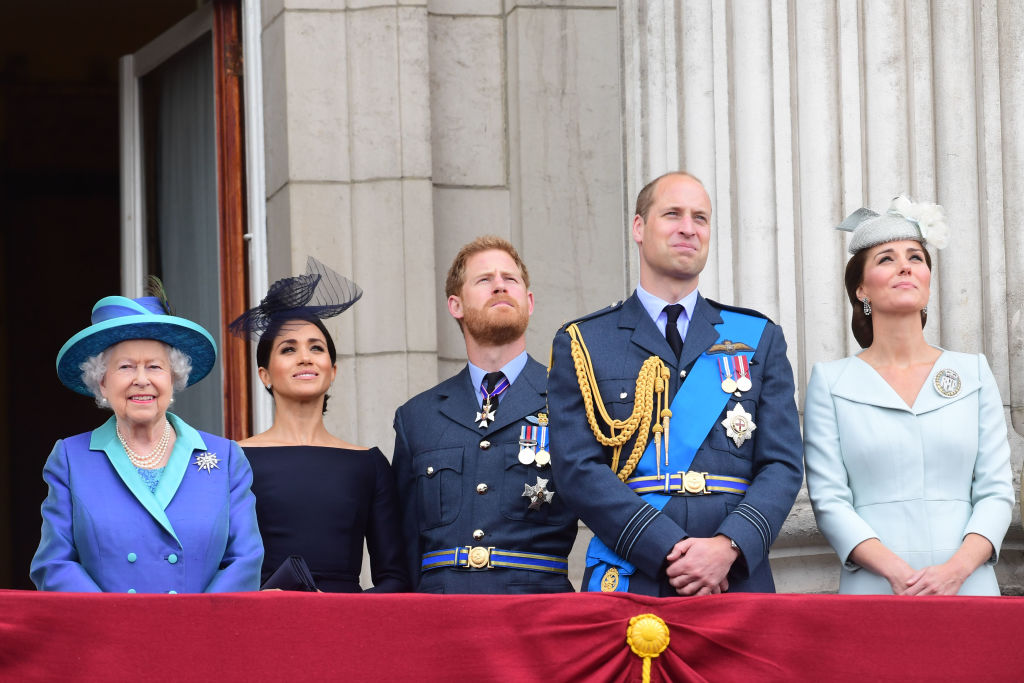 Prince Harry to return to the United Kingdom
Prince Harry and his wife, Meghan Markle announced their exit from the monarchy at the beginning of January. The Duke of Sussex spent the next few weeks in meetings with high ranking members of the royal family before reuniting with Meghan in Canada.
The two are staying in a luxurious rental house on Vancouver Island with their young son, Archie Harrison. It is still unclear where the family will buy a second home, but inside sources say that they are all happier living outside of the royal spotlight.
"Harry's much happier in Canada and feels a lot more relaxed," an insider dished. "So far he doesn't regret the move."
Although Prince Harry and Meghan, Duchess of Sussex, attended a summit in Miami this month, they have largely kept to themselves. That might change, however, as Queen Elizabeth has reportedly requested that Harry and Meghan return to the UK for one last royal engagement.
The couple is expected to make an appearance at the Commonwealth service in March, which will put them in the same room as Prince William and his wife, Kate Middleton.
Are Prince Harry and Prince William still feuding?
William attended the meetings with Harry in the weeks following his big announcement. But now that Harry is living in Canada, a source claims that he and William have only spoken on the phone a few times – and their conversations have been about "business matters."
The insider added that William and Harry have been handling Megxit very differently. Prince Harry has always been known as being a lot more emotional than Prince William, who does a better job keeping his emotions in check.
"Harry's more sensitive and emotional than William — he takes everything so personally. He can be rather impulsive at times," the insider explained. "[William] doesn't let things let things get to him, like Harry does."
The source noted that Prince William is still a very loving person, he just expresses his feelings in a different manner. He is also more level-headed than Harry, who has a reputation of getting himself in trouble from time-to-time.
Although they are different on many levels, William and Harry have both leaned on their spouses to help deal with the drama. That has not resolved the issues between them, but it is something they might be able to use to come together.
Queen Elizabeth pushes for a united front
We do not know if Prince Harry and Prince William are still feuding behind the scenes, but it definitely sounds like that there are some unresolved issues between them.
With that in mind, Queen Elizabeth is reportedly looking to put the drama behind her as quickly as possible. According to Us Magazine, she has asked William and Harry to put aside their differences when the Duke of Sussex returns to the UK next month.
"The Queen's hoping everyone will put on a united front when Harry returns to London in March — even though there's still tension behind closed doors," the source stated. "It'll be interesting to watch their body language and see how they are together."
Buckingham Palace has not confirmed that Harry and Meghan are going to attend the upcoming Commonwealth service. If they do show up for the event, it will likely be the last time we see the couples together at an official royal event.
Prince Harry and Meghan's exit is expected to become official this spring. Apart from moving to North America, the couple will be severing their financial ties to Queen Elizabeth and the crown and will lose their HRH titles.
Queen Elizabeth prepares for Prince Harry and Meghan Markle's return
As far as Queen Elizabeth is concerned, a source claims that she has instructed all of the members of the royal family to be on their best behavior when Harry and Meghan return to England.
She has also told the royals that they should do nothing that might "obstruct" the couple's desire to live outside of the spotlight. Whether or not that actually works, of course, is another matter entirely.
We can only hope that the royals will be able to put aside their differences when Harry and Meghan come home in March, especially if they ever hope to convince them to return to their royal duties.
Prince Harry and Meghan Markle have not commented on the reports surrounding their reunion with Prince William, Kate Middleton, and Queen Elizabeth.