Queen Elizabeth's Reaction to Prince Harry and Meghan Markle's Exit Sends a Strong Message About Who Is in Control
Queen Elizabeth may have approved Prince Harry and Meghan Markle's exit from the royal family, but she also sent a strong message to the couple in her statement.
Prince Harry and Meghan Markle's announcement about taking a "step back" from their royal duties was a shock to many, but Queen Elizabeth signed off on the move, sharing in a statement that she was supportive of their decision. Taking a closer look at the queen's statements about the matter, one royal expert noticed that she offered subtle clues that she's in control.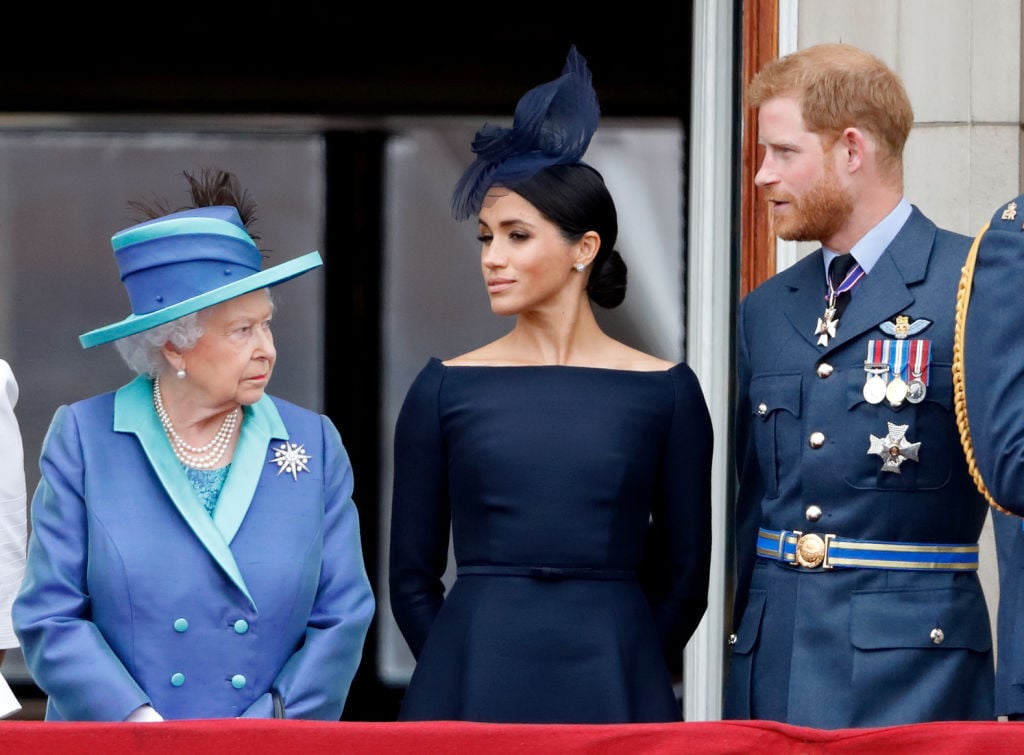 Queen Elizabeth called a special meeting
After Prince Harry and Markle's bombshell announcement that they'd be leaving the royal family, Queen Elizabeth met with Prince Harry, Prince William, and Prince Charles to discuss Harry and Markle's future, after which she issued a statement in support of their exit plan.
In the statement, she noted: "My family and I are entirely supportive of Harry and Meghan's desire to create a new life as a young family."
She added: "Although we would have preferred them to remain full-time working Members of the Royal Family, we respect and understand their wish to live a more independent life as a family while remaining a valued part of my family."
Once things were finalized with the Sussexes' exit, Queen Elizabeth revealed the details of their plan, with some brief remarks about the outcomes of their discussions, including a note that she's "proud" of Meghan.
In her statement, the queen noted: "Following many months of conversations and more recent discussions, I am pleased that together we have found a constructive and supportive way forward for my grandson and his family. Harry, Meghan and Archie will always be much loved members of my family. I recognise the challenges they have experienced as a result of intense scrutiny over the last two years and support their wish for a more independent life."
The statement continued: "I want to thank them for all their dedicated work across this country, the Commonwealth and beyond, and am particularly proud of how Meghan has so quickly become one of the family. It is my whole family's hope that today's agreement allows them to start building a happy and peaceful new life."
Her statement "shows who is in control"
The queen's statement was brief and supportive but certainly shows who's in charge," according to royal expert Richard Fitzwilliams. Fitzwilliams told Express: "In this statement, the queen shows who is in control. It also underlines the fact that there is no half-way house when you are a working royal."
Fitzwilliams added: "Harry and Meghan won't use their titles or perform royal duties but over and above the line drawn here, the queen is showing her displeasure at the way they have behaved despite her emollient words which are so supportive."
The expert further noted how taking Harry's military appointments away from someone "who has served in Afghanistan twice emphasizes that the queen feels he has let down the monarchy. The royal family was already reeling from the crisis with Andrew, when Harry released a statement without telling senior royals who had, apparently, been involved in discussions on this for months."
"The Queen has shown dedication to duty her whole life and clearly feels let down," he added.