Queen Elizabeth Released 1 Photo That Made Prince Harry and Meghan Markle Feel Royals Were 'Conspiring' Against Them, Author Says
Many royal watchers believe Prince Harry and Meghan Markle have a feud with other members of the royal family. This rift started a few years ago, but it was reportedly heightened in early 2020 when Queen Elizabeth released a special photo. A royal author wrote in his book that this photo made the Duke and Duchess of Sussex feel the institution was "conspiring" against them.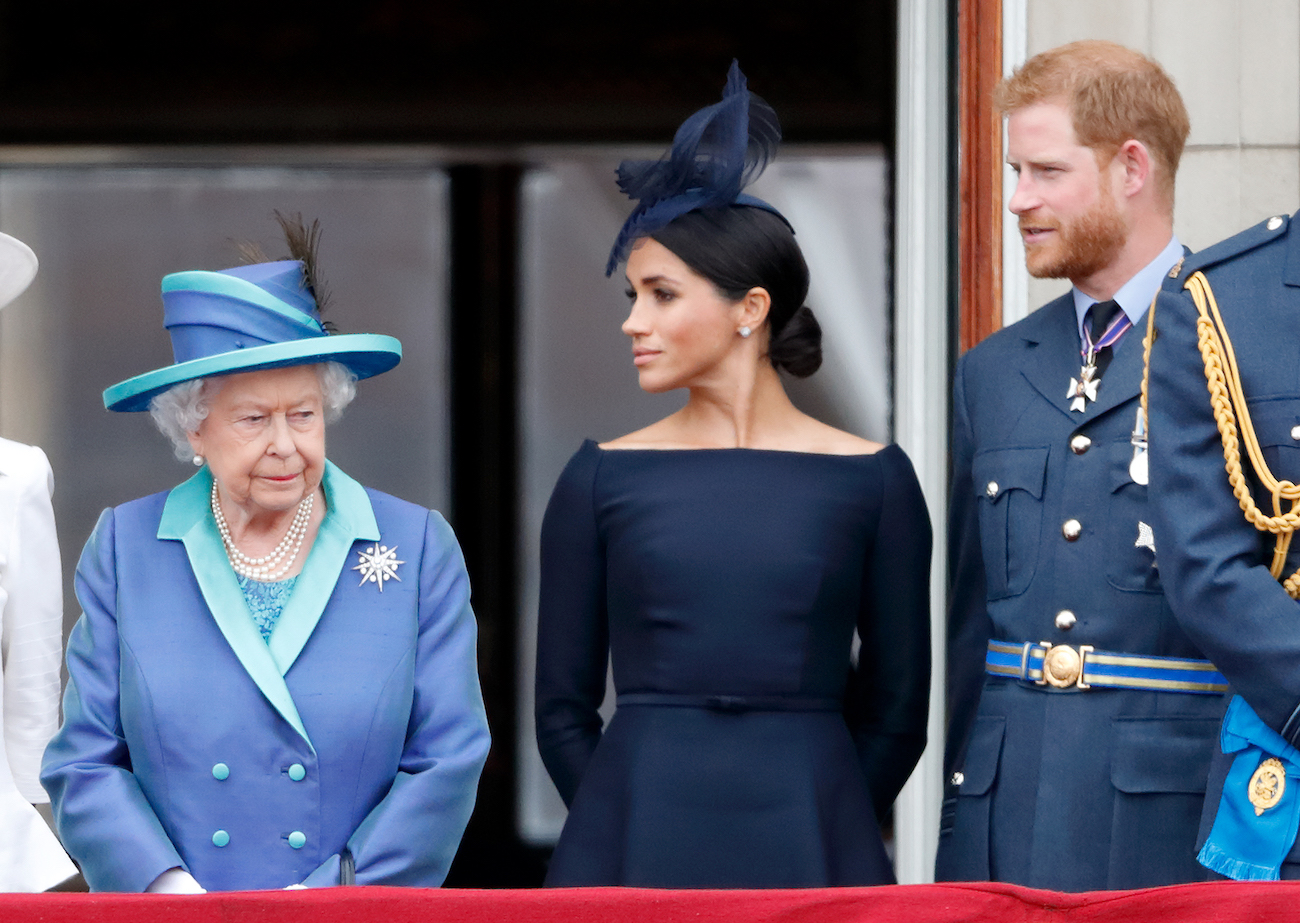 Does Queen Elizabeth have a good relationship with Prince Harry and Meghan Markle?
It is believed that Queen Elizabeth does have a good relationship with Harry and Meghan. Despite the alleged rift between the Sussexes and other members of the royal family, the couple still talks positively about Her Majesty.
During the infamous interview with Oprah Winfrey in March 2021, Harry said, "My grandmother and I have a really good relationship and understanding, and I have deep respect for her."
Meghan also said that the queen had "always been wonderful" to her. She described their 2018 visit to Cheshire together and noted that Her Majesty made Meghan feel comfortable. Meghan remarked to Oprah, "It made me think of my grandmother, where she's always been warm and inviting and really welcoming."
In June 2021, Harry and Meghan welcomed a daughter, whom they named Lilibet after Queen Elizabeth's childhood nickname.
Queen Elizabeth released 1 photo that allegedly made the Sussexes feel royals were 'conspiring' against them
Although the Sussexes seem to have a great relationship with Queen Elizabeth, they were reportedly not happy when Buckingham Palace released a photo in early 2020.
According to author Andrew Morton, Her Majesty released a New Year photo that showed her with her son Prince Charles, grandson Prince William, and great-grandson Prince George. This led Harry and Meghan to question their place in the royal institution.
"The royal couple suspected that the entire institution was conspiring against them," Morton wrote in his book Meghan: A Hollywood Princess (via Mirror). "As they saw it, the evidence was all around them. The unspoken code was straightforward: the future of the monarchy was assured, with or without Meghan and Harry."
The Sussexes stepped down as senior royals afterward
A few days after the photo came out, Harry and Meghan shocked the world by announcing their decision to step away from the royal family.
"After many months of reflection and internal discussions, we have chosen to make a transition this year in starting to carve out a progressive new role within this institution," they said in a statement on Instagram. "We intend to step back as 'senior' members of the Royal Family and work to become financially independent, while continuing to fully support Her Majesty The Queen. It is with your encouragement, particularly over the last few years, that we feel prepared to make this adjustment."
The Sussexes also shared their plan to spend more time in North America, and a few months later, they officially moved to California. They have been living in Montecito ever since and are taking on various jobs in the entertainment, startup, and publishing industries.