Queen Elizabeth Reportedly Had Concerns About Meghan Markle's 'Behavior and Attitude' Before the Royal Wedding
Queen Elizabeth is a private person who lives by the motto of "never complain, never explain." As such, it is difficult to tell how she feels about various members of the royal family. This includes the controversial Meghan, Duchess of Sussex.
While some people believe Her Majesty gets along well with Meghan, reports say that she may have had concerns about Meghan's "behavior and attitude" years ago.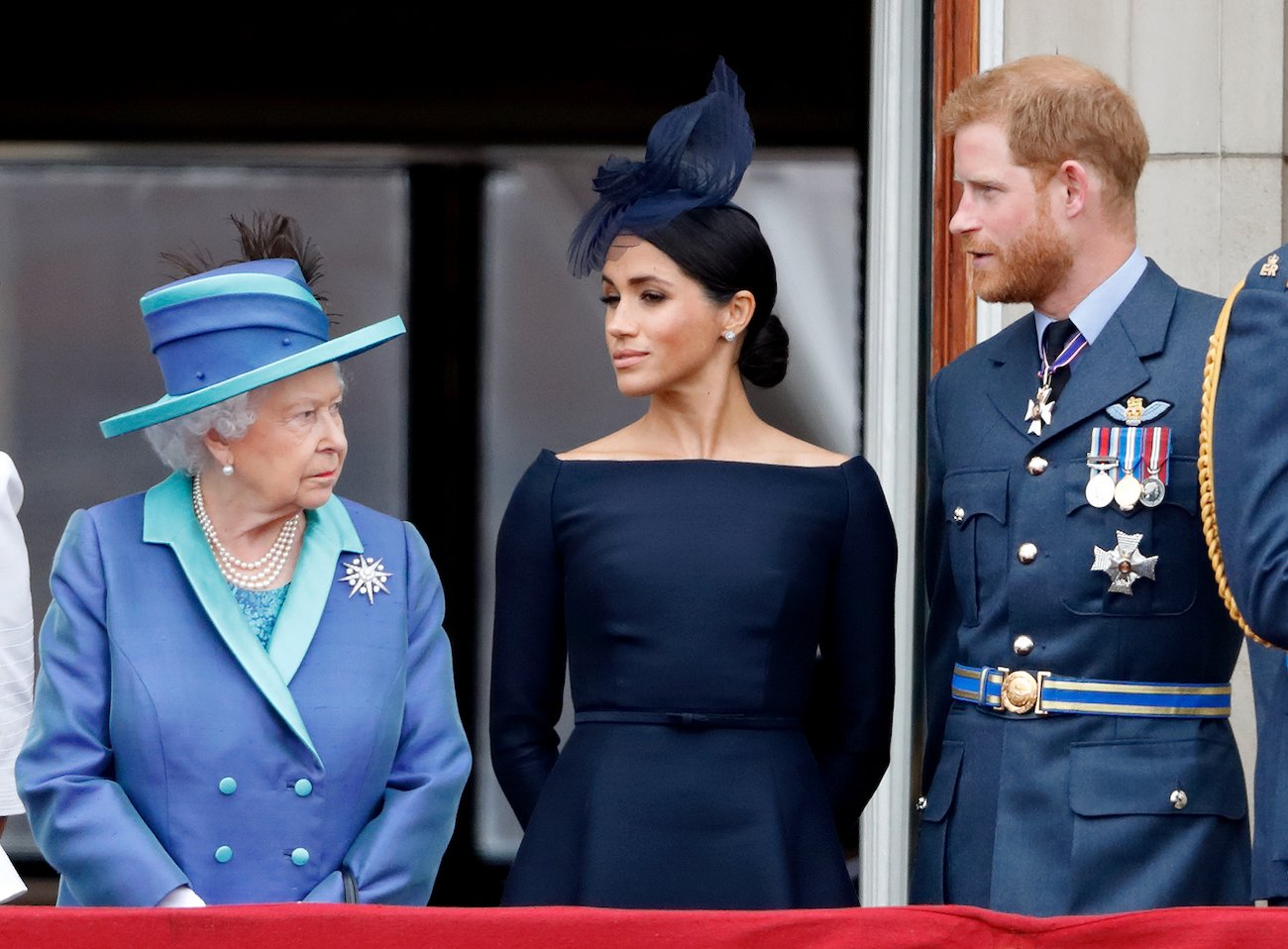 Meghan Markle claims to have a good relationship with Queen Elizabeth
In her tell-all interview with Oprah Winfrey, Meghan said she has a good relationship with Queen Elizabeth.
"We had one of our first joint engagements together," Meghan said, referring to the pair's 2018 visit to Cheshire. "We had breakfast together that morning, and she'd given me a beautiful gift… We were in the car going between engagements, and she has a blanket that sits across her knees for warmth. And it was chilly, and she was like, 'Meghan, come on' and put it over my knees as well."
Meghan added, "It made me think of my grandmother, where she's always been warm and inviting and really welcoming."
According to the biography Finding Freedom by Omid Scobie and Carolyn Durand—which had some contributions by Meghan—her first time meeting the queen went extremely well.
"The conversation flowed naturally before Meghan had to leave — a full ten minutes after their one-hour time slot," Scobie and Durand wrote in the book. "The Queen, arguably the busiest woman in the country, never ran over schedule. It was a good sign."
Queen Elizabeth reportedly had concerns about Meghan Markle's 'behavior and attitude'
While Her Majesty may have initially taken a liking to Meghan, she allegedly had concerns about some things Meghan did as well.
In 2018, royal reporter Dan Wootton wrote for The Sun that Meghan clashed with palace staff before her wedding. The duchess-to-be reportedly "had her heart set" on a certain tiara and allegedly reacted poorly when she could not have it.
Wootton wrote, "There was a very heated exchange that prompted the Queen to speak to [Prince] Harry. She said, 'Meghan cannot have whatever she wants. She gets what tiara she's given by me'… The message from the Queen was very much Meghan needed to think about how she speaks to staff members and be careful to follow family protocols."
Wootton also said that Her Majesty warned Harry about Meghan's "behaviour and attitude."
Prince Harry and Meghan Markle ignored warnings about their relationship
Harry and Meghan may have been in love and had a whirlwind courtship, but some friends and family members did not believe everything the two did was a good idea. The couple reportedly ignored warnings they received from friends and family.
As alleged in Finding Freedom, Harry's brother, Prince William, and a childhood friend named Tom Inskip both suggested Harry not get too serious with Meghan too quickly.
Meanwhile, Meghan's former agent, Gina Nelthorpe-Cowne, told her being royalty would not be an easy life.
However, both Harry and Meghan may have brushed aside these warnings, and the couple married just after two years of dating.