Queen Elizabeth's Final Proposition About Prince Harry and Meghan Markle's Exit 'Shocked the World' and Was 'Ruthlessly Clear,' Experts Claim
Prince Harry and Meghan Markle's decision to exit the royal family may have shocked many but Queen Elizabeth knew she had to react quickly to keep the situation from blowing up, experts believe
When Prince Harry and Meghan, Duchess of Sussex announced their plans to take a step back from the royal family, Queen Elizabeth acted quickly to ensure that the details of their proposition were ironed out. The queen worked with the couple and other senior royals to finalize the plan, releasing a statement in support of Prince Harry and Meghan. The queen's final plan for them "shocked the world," but was "ruthlessly clear," some experts believe.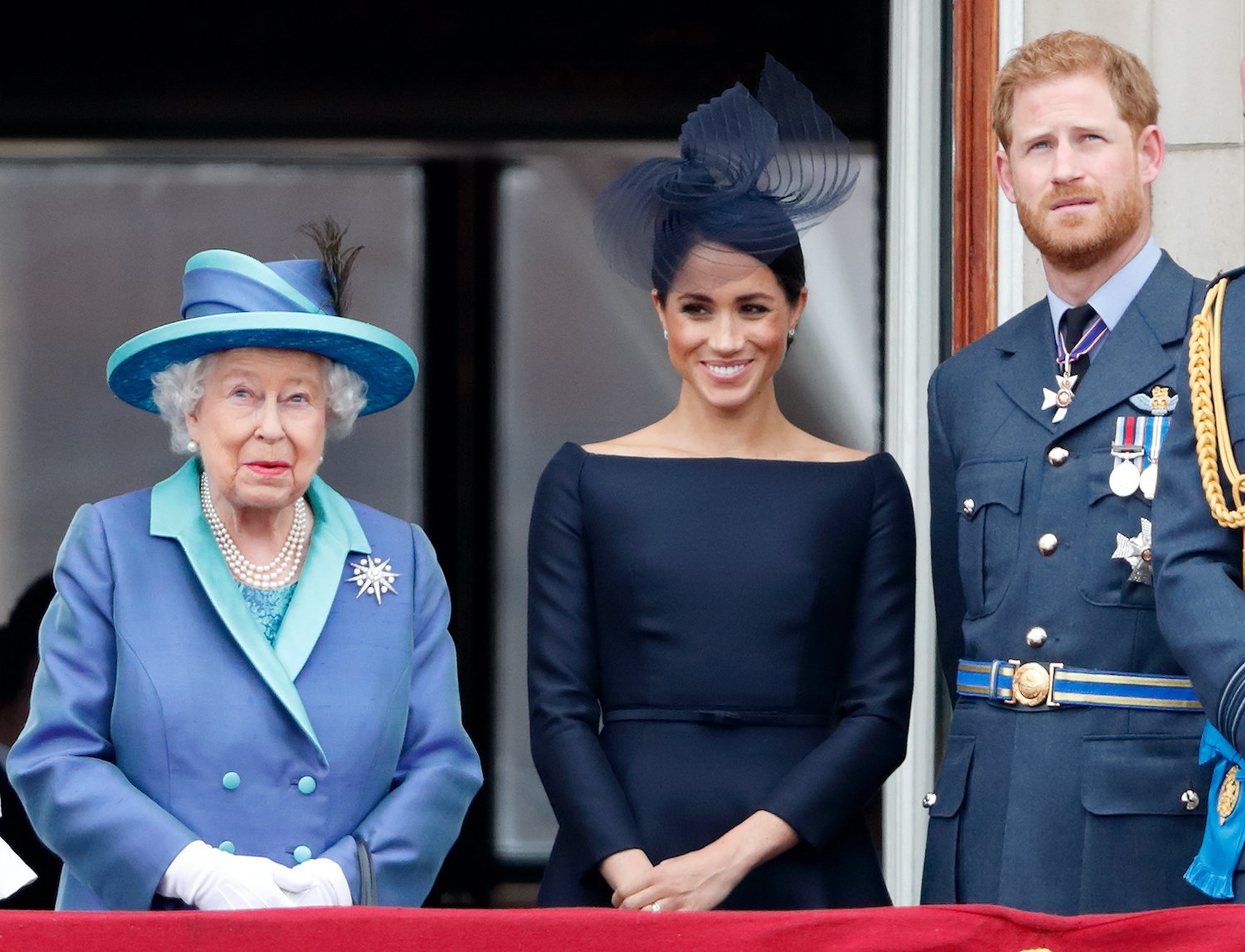 Prince Harry and Meghan wanted to step back
In January, Prince Harry and Meghan made a bombshell announcement — a desire to take a step back from their senior royal duties and split their time between North America and the U.K. Queen Elizabeth pulled together a meeting with Prince Harry, Prince William, Prince Charles, and herself to figure out the details.
Once things were finalized, she released a statement supporting the Sussexes' exit, which included the agreement for Prince Harry and Meghan to give up their HRH titles and any public funding.
Was the queen surprised by the Sussexes' announcement?
It's unclear if the queen was aware of the Sussexes' plan ahead of their announcement. In the documentary, The Queen: Duty Before Family?, royal commentator Wesley Kerr said he believes that it did come as a surprise. "The palace let it be known that there was surprise that this statement had been issued."
"I think the queen was rather surprised to be given a public ultimatum," Kerr explained, pointing to the Sussexes' request in their statement, "that we are going to be different sorts of royals, that we are going to collaborate with the queen, perhaps on our own terms."
"The queen clearly adores Harry but absolutely refused to be pressurized by him," the documentary narrator noted. "There was no way she would accept his conditions. She issued a firm riposte setting out her own position."
She reportedly had to deal with the situation quickly
Despite reportedly being caught off guard, Queen Elizabeth reacted quickly and made certain that the situation was dealt with before anything got out of hand.
"All of a sudden the queen shocked the world," royal expert Julie Montagu said, noting, "coming out and saying 'hold on a minute, this is complicated, nothing has been decided and we need some time to figure it out.'"
"Harry's announcement put his grandmother in a difficult position and his timing could not have been worse," the narrator stated.
Royal author Tom Quinn believes that the way the queen handled hashing out the details of the exit plan was helpful in keeping things from blowing up.
"The queen would have been aware that this was a storm, that if it wasn't dealt with quickly it could blow up into something really damaging," he explained.
"The queen, with so many years of experience, realized that she had to intervene," Quinn added. She took control by calling a summit to discuss the plan.
"Her final proposition was ruthlessly clear," the documentary's narrator explained. "Harry and Meghan could be in or they could be out."